Written by

Eric North aka "The Happiness Warrior"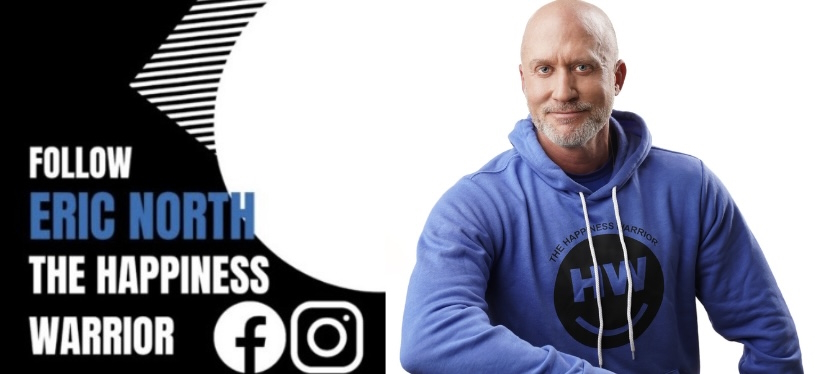 As the Happiness Warrior, I define happiness as the joyful alignment of our authentic selves with our core values. Happiness is the embodiment and expression of our authenticity in our daily life and actions. Truth, intention, and empathy are the self-provided tools we all have within us to give us happier lives that we deserve.
When we give ourselves permission to live truthfully, we can finally know what happiness really feels like. Happiness is something that's embedded in the subconsciousness of all humans. It's what gives us our humanity, yet so many of us struggle to be happy and live our lives in difficult circumstances. We can feel stuck, and our personal happiness can be hard to find or believe in. We might even feel ashamed into feeling guilty that we're too happy!
KNOW YOUR UNALIENABLE RIGHTS
Almost two hundred and fifty years ago the United States Declaration of Independence stated that all men are created equal and that all of us have certain unalienable rights including Life, Liberty, and the pursuit of Happiness. These principles are for all of us to enjoy as a rightful privilege and we've fought and sacrificed to live by these words. As our founders believed, happiness is for everyone, not just a few. Happiness is more than just a feeling but a "basic human right" for all to experience in unashamed exuberance and joy.
In a world where chaos and confusion are our normality, happiness is something that can feel out of touch with our perception and reality. Each day we go about our lives trying to survive while subconsciously processing the insidious voices that seek to divide and disunite us. We're programmed to live in fear, envy, and despair. Hurtful words of otherness and prejudice are all too commonplace and very hurtful. These distractions are purposely intensified to gain control of our thoughts and actions.
It might seem like it sounds too hard, but we can choose the attitude we need to be happy and create our new reality. We can believe that we deserve to be happy and take steps to ensure it happens. We touch the dormant happiness that lies within us. We need to reach an understanding that discrimination and hate are vicious distractions that divert us from our truth and keep us from finding true happiness. It's a fight that we can win. We can reinvent ourselves in a happier paradigm when we connect with the inner peace that comes from within. We can be connected to the positive energy of the universe.
In this upside-down world of ours there are also many happy people living happy lives. They may go unnoticed, but they are always there to help. We may display resentment while secretly admiring them. They try to make others feel welcome and heard. They step up and help when needed and they make an impact on everyone else's lives. There are no secrets to happiness but there are specific things that happy people do every day in their lives:
1.       They care about their health.
2.       They have healthy friendships that enhance their lives.
3.       They have morning routines.
4.       They are grateful every day and always seek to be better.
5.       They practice mindfulness and know that the attitude they take in life is theirs alone to choose.
6.       They understand that the process of healing is continuous.
7.       They have given themselves permission to be happy and share their joy.
I've always said that good guys are smarter and will always win. There's the law of karma and cosmic balance and the vast energy of the universe. We can develop a warrior's mindset and stand by our words and actions. We can live in a mindset for happiness and be the leaders and change makers that are so badly needed.
HEALTH IS HAPPINESS
I've had a lifelong commitment to the health and care of my body and believe in the power of healing and renewal. When we take better care of ourselves there's an exponential benefit to our sense of our inner peace, our ability to create more happiness, and the foundation for a more fulfilling life. All of us have different abilities and activities that we are physically able to do. But we can focus on what we ourselves can do and not fall into the unhappiness cycle of comparing ourselves with others. Healthy food, grooming, exposure to sunlight, and a mindset to prioritize sleep are things that all of us can do.
When we feel good, we are able to do anything. Everything will fall into place, and we can weather any storm. We can face any obstacle with a feeling of strength, capability, and inner wisdom.
THE PEOPLE WE SURROUND OURSELVES WITH TELL OUR STORY
The goal in life isn't to know a ton of people and create a false sense of popularity and acclaim. The real goal is to develop deep friendships and relationships with people who are willing to shout our name in a crowded room. Who cares about our happiness and outcomes and feels that something's missing when we aren't there. True friends celebrate your successes and happiness. They want you to achieve the important things in life and they want you to be content and at peace.
As easy as this sounds it's also one of the hardest to live by. Only when we're able to set boundaries and let people know that they've let us down are we able to rise and live in more happiness. Too often in this world we settle for less and our lives suffer and become stagnant. We can combat this by learning to live in our truth without any need for external validation or approval. Knowing when it's time to forgive, let go, and move on is one of the most important stages in anyone's life.  In these times when so many of the safeguards of politeness have worn away people show us who they are over and over again.
MORNING ROUTINES SET THE TONE FOR OUR LIVES
There's nothing more life-affirming than caring about our well-being and creating a healthy morning routine. Mornings are a time for affirmations, healthy rituals, exercise, breathing, and meditation. It's usually the quietest time of day and the most reflective. Routines are essential for aligning our purpose and intention with core values. This is the foundation for a happy life with more self-awareness and gratitude. A healthy routine is a healthy life!
GRATITUDE ALWAYS
No likes complainers and self-focused individuals. They are never demonstrably happy and are always dumping their self-created pain and misery on others and only thinking about themselves. They are the opposite of happy and fail to appreciate the good in their lives. They surround themselves with others like they go to great lengths to drag us into their dysfunction.
There's another path and one that's so easy and life-affirming. When we begin to realize our blessings, we can see how life is on the other side. It's cumulative and gives us hope and raises our self-esteem. In the face of darkness, we can be the light that binds us with others. As a community of like-minded humans, we can be the force that drives the darkness out!
CHOOSE TO BE HAPPY NOW – GIVE YOURSELF PERMISSION
Nothing is more powerful than giving ourselves permission to be happy. Through a happier mindset we can think for ourselves and live in freedom of expression of mind. A mindset that needs no external validation and rests easy within ourselves.
I believe that happiness is less elusive than it seems. It's just a change in attitude and mindset. Happiness that comes from within is our authentic being that we share with others. It's a feeling that life can take on more meaning and is based solely on how we feel about ourselves.
I don't believe that happiness is a choice as much as an attitude and mindset. Without a doubt, the easiest way to start living a happier life is to give ourselves permission to be happy. No one else can do that for us. It's a sole responsibility and one that can change the direction of our lives. Bad things can happen to good people and good things can happen to bad people. Happy people know that a fulfilling life is balanced and that obstacles are points to learn and grow from.
Remember, just because we thought or did something wrong in the past doesn't mean we can't be against it now. It means we grew and became more thoughtful.
MINDFULNESS IS HAPPINESS
A mindful perspective is a valuable gift that helps us find peace and acceptance for others. We never know what someone else is thinking about or what they've been through. Think before acting in judgment and be slow to cast doubt and shame.
In these very divisive socio-economic and political times, it's easy to get lost in incorrect information, loose facts, and self-destruction. Most often the people with the loudest voices and most strident opinions are insecure and unsure of themselves. They are spreading damage without realizing the damage they are doing to themselves. Conspiracy theories are the gateway to mental illness, alienation, and low self-esteem.
We can rise above when we can live in our own truth and authenticity. Facts before feelings. Our intuition is always guiding us no matter how hard we try to suppress it. Our inner voice is all we need to know and one that we can always trust. It's our spirit telling us what's right and wrong. We will always fail when we ignore it.
HEALING
Healing is a journey through one's existence. Our life journey is full of chapters and stories with many challenges and obstacles. Embrace forgiveness, release, and breathe. Love yourself now and stop waiting for something in life to happen before we are forgotten. Be open to change and renewal, it's the way forward in a world that's uncertain.
SHARING HAPPINESS
It's a proven fact that happy people like to share their happiness. This is how happy people leave good memories and are welcoming and open with others. It's how we learn to trust and how we create a world where the greater good is the outcome. It's the opposite of selfishness. It's how we make the course of our lives a magical journey. If we think of a time when we were happiest it's almost always found in the joy of connection and memories of others.
As the Happiness Warrior, I believe that all people are equal and that no one is inherently better than anyone else. As the old saying goes "We are born with nothing and leave this world the same". We are all related to some degree with the same long-ago origins and ancestors. There's common sense and there's the common good, both are much the same. There's one good side and one bad side and too many are stuck in limbo in between. We're humans and we're all made of the same stuff.  We can all be much happier in good times and bad when we listen to the power of our inner voice and know that happiness comes from within. There are so many ways to explore and define happiness. Life can be a magical journey beyond expectation. It's never too late to change our ways and help others. Each step grows and we gain more clarity. Happiness is life without any boundaries!