Written by Eric North aka "The Happiness Warrior"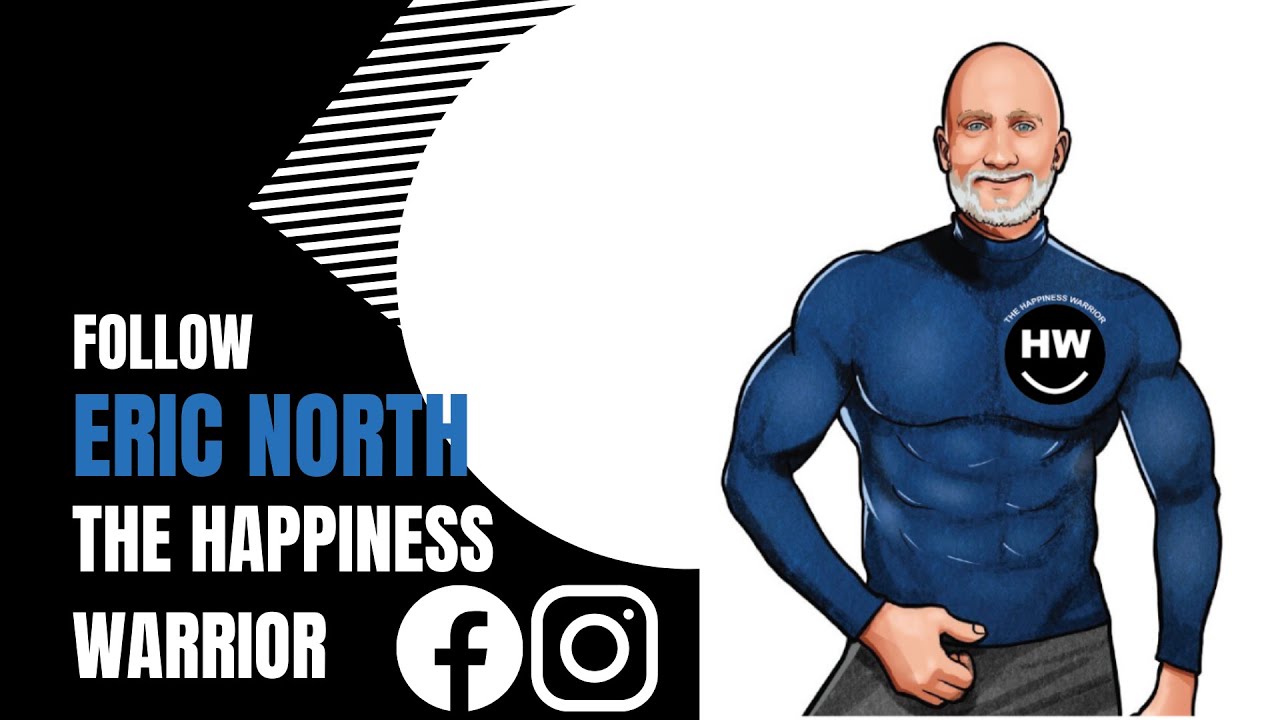 "Vulnerability is the core of shame and fear and our struggle for worthiness, but it appears that it's also the birthplace of joy, creativity, of belonging, of love"—Brene Brown
When I was a kid I used to stutter. Sometimes it happened randomly, but most of the time it was when my brain was processing information too quickly or I was feeling anxious. My Father made no secret of the shame and embarrassment He felt by my stuttering. He would make excuses for me and put me down in front of other parents, and strangers, and worse, other kids! For many years I would avoid situations where I might stutter, just the act of speaking in the classroom in front of the class would cause my heart to race and I would get light-headed. This continued even through college, although I was able to control it better the older I got. Gradually, the stutter faded away and I began to live a more normal life and learned to forgive my Father. As the Happiness Warrior, my fears are more rational and based more on my physical safety. I no longer have any fear of anyone or anything, and my mindset tells me that nothing can hurt me unless I allow it. Today I feel grateful for self-awareness, healing and forgiveness, that's helped me to create a happy and fulfilled life that always moving forward.
We all hate to fail, and we all hate to live in fear, but often this self-imposed mindset comes from a fear of shame or potential embarrassment. The fear of others seeing us fail, the embarrassment or shame that comes with being viewed as a "loser". This is called the "fear of failure". People who have feelings of fear of failure are motivated to avoid failing not because they can't handle their more basic emotions of disappointment, anger and frustration but because they are afraid of shame. Too many of us associate failure with shame and one that is hard to climb out of. This feeling of shame keeps us from living the lives we deserve and prevents us from creating happier lives.
10 Signs Associated with Fear of Failure or Shame:
Failing makes us worry about what others think about us.

Failing makes us worry about our future.

Failing makes us feel that we will become insignificant.

Failure makes us worry about how smart of capable people think we are.

Failing makes us worry about disappointing people whose opinion we value

Failing makes us provide excuses for ourselves before doing something.

Once we fail at something, we have trouble imagining what you could have done differently to succeed.

We become sick or make up physical symptoms to avoid completion of a task or going to event.

We often get distracted by tasks that prevent us from being prepared for something.

We tend to procrastinate and "run out of time".
FEAR CAN BE GOOD FOR US
If processed in the right way, understanding fear and anxiety can lead to breakthrough self-discoveries, innovation, and creativity. Fear is important to keep us safe, but it can also cause us to avoid change, fail to adapt, and therefore become unhappier. But, if we learn to recognize fear as a tool, it can become a competitive advantage and be used to help expand boundaries, explore new things, and create more energy and passion for what matters.
A little bit of fear is healthy and good for us emotionally and physically. When we're under stress, we produce excess adrenaline and dopamine, which speeds up heart rate and blood pressure, and floods muscle with oxygen to prepare for adversity and the unknown.
One way to understanding fear is to realize that most of things we think are going to happen don't happen. Anxiety becomes a self-defeating loop that prevents forward movement.
The fear of failure helps to increase creativity, motivation and tenacity. The more often we navigate failure successfully, the stronger and more resilient we become. All of these lessons eventually build our level of confidence and self-esteem. Failure can also teach us many important lessons about other people and inspire us to take more risks and do more with our lives.
OVERCOMING FEAR
"Courage is an act of suppressing and overcoming fear, of telling yourself that regardless of the outcome, you will prevail," "By overcoming a fear, by recognizing that what you imagined would stop you didn't, you build self-confidence and courage."
Overcome your fear of happiness, give yourself permission to be happy.

Own the fear, compartmentalize, and process it separately from everything else that's going on in your life. This is a good way remove an irrational fear by making it smaller.

Focus on what you do know and what you can control.

Visualization is a powerful tool, see yourself in a positive light and use that to move forward.

Set small goals, one step at a time is the best way to build momentum.

Explore all possible outcomes good and bad, which one's more likely to happen?

Develop contingency plans. Create a "ready for anything" mindset.

Learn to think positively about yourself, give yourself a morning affirmation that resonates and make it a habit (do it for 21 days and it will become part of your healthy routine).

Realize that missed opportunities are created by fear.

Overcoming fear helps us to learn and understand the benefits of risk-taking.

Think about what you believe is the worst that could happen and take steps to prevent it, mindfulness and intentional will create the outcome you desire and help conquer fear.

Educate yourself and gather information to understand your fear and use fact-based critical thinking.

Practice, rehearse, role play.

Peer pressure can be positive or negative. Some people will help you recognize your fears and help you overcome it.

Learn to recognize when you're overthinking. Look for patterns that repeat.

Ask for help, help is never hard to find if you can ask for or accept it. Asking for help is a sign of strength!

Learn from others and follow their footsteps, you may exceed the performance of whoever inspires you.

Be willing to adapt and realize that change is inevitable and happening at every moment. Live in the moment.

Focus on the accomplishments of others and realize that moving forward involves discarding your fears and being at peace with yourself.
There's almost always a sweet spot where courage overtakes fear, learn to recognize this and you'll find more clarity and accomplishment in your life. Conquering fear will help you to lead a happier life that's full of gratitude, good memories, and adventure.