Written by

Eric North aka "The Happiness Warrior"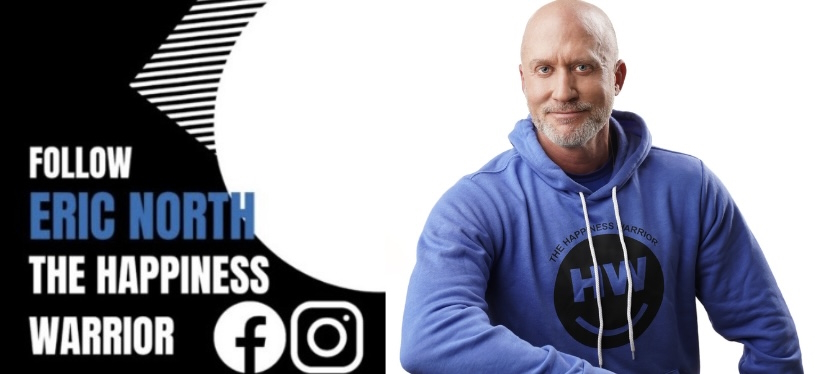 I've always had a very strong sense of memory and I even have lingering scenes in my head from my first year of life. It's hard for me to forget and I can still feel both love and stabs of pain from things that happened long ago. As The Happiness Warrior I strive to live life on my own terms and choose to see my path as a magical journey that I have the power to create. The empathy and guidance of the most important people in my life help keep my spirit strong and purposeful. I can always feel their love and goodness even though many of them are long gone.
I know that the past is unchangeable and that I can't live with the self-created suffering and mental anguish that comes from regrets and anger. Life has its challenges, but I know that my thoughts and mindset are my own destiny, and my path is more fulfilling when I live with a strong sense of empathy and gratitude. I've learned to let go and take each memory for what it is and the wisdom that it provides. Letting go is the way to happiness and letting go is the freedom that we are all looking for!
I can remember things that happened twenty years ago in the same detail that I can remember something from a week ago. There are great moments that I never want to forget and others that remind me of the skills I've used to survive and thrive even after great disappointment and betrayal. I've been hurt by others so many times with an accumulation of pain and anger and in the past, I would replay them many times in my head. I have a hard time forgetting and a harder time forgiving, and it caused me to suffer. It's probably my worst trait and yet one that's so deeply embedded and was so hard to get rid of. In my past it made me lonely; it made me depressed, made me want to disappear, and sadly it made me want to lash out and hurt back.
As The Happiness Warrior I want to share with you how I've learned to control my expectations, forgive others, and most of all forgive myself. With this mindset I've been able to compartmentalize and remove past hurts, smile at and forgive people who've hurt me, and move forward in life with my truth and authenticity. No regrets, no more ugly thoughts taking up space in my brain, and a feeling of peace and joy in life's journey with no worries about the path ahead. I know that letting go of life's unnecessary worries about things that will never happen will always give me the tools to master life and the ability to raise my thoughts, energy, and vibration.
Anger is ugly emotion and not letting go is something that we will all regret. Not letting go of the past harms our present and makes us worry about our future. It takes up so much space in our heads that we could be doing something more productive with. It's a vicious cycle of hurt and fear of vulnerability.
WHY IS IT SO HARD?
Letting go can feel scary, it can make us lose touch with everything that we perceive as real and force us to reinvent who we are and what we believe in. Letting go is freedom in its purest form and a healthy reminder to live and feel beyond our ego and make more sense of our lives.
When we let go, we free our mind of the bonds and constraints of our prejudices, judgements, and fears. People who are afraid to let go are afraid of change. We see this every day in the lives and world around us. Fearful people who hurt others with harsh words or hide behind self-created walls and barriers. Sometimes we think that anger is all we have left to hold onto, and we don't see the beautiful life that's just on the other side. If it's so close, why do we fight it so hard?
LETTING GO OF JEALOUSY
As The Happiness Warrior, I know that jealousy is a big part of not letting go. We are so attached to our egos and the responses that it requires that we forget that we're not living our lives with a happier view. Instead, we seethe and rage at a perceived enemy that's often just an illusion or fantasy. Life is hard enough without jealousy and nothing gets us more stuck in a spiral that takes up more and more of our precious time and energy.
The best way to look at jealousy and remove it from our thoughts is to acknowledge that there's a problem and realize that the only solution is to look inside ourselves and focus on our motivation. This might feel "too hard" but how much more do we want to harm ourselves? Do we want to hurt back or move forward feeling more complete and more fulfilled with ourselves and our decision making? Insecurity is an ugly emotion that always does us harm.
Is jealousy how we want others to see us?
SPITE
Spite is behavior that is costly to our wellbeing and purposely harmful to others. Spite is the opposite of letting go and is usually aggressive and hurtful in nature. No one escapes the pain that spite causes, especially the perpetrator. The target is usually confused, uninformed of the other's intentions, and can experience great physical and mental anguish. Spite and other forms of hatred can feel good in the moment and raise endorphins but the high quickly crashes to a soul-destroying low point once we realize the impact of our actions. Spite and angry words can kill as much as any deadly weapon.
When we let spite into our lives it can often spiral out of control, and we quickly find that our lives are consumed with hurt and rage. One of life's great questions is why do so many of us willingly go to great lengths to harm others for some perceived slight or miscommunication? It's appropriate that such an ugly word as spite is just what this sort of behavior means. Words have spirit and spite makes it harder to forgive ourselves. It creates a negative shift of our emotions and shakes our self-worth and confidence. Signs of spiteful behavior:
-          Display of rigid beliefs.
-          Always right and never apologize or take ownership of their behavior.
-          Lying and gaslighting.
-          Embarrassing others in public.
-          Displaying anger and bullying.  
LETTING GO OF THE PAST
When we're able to let go and start accepting things for how they are we can often find the clarity and motivation to let go of past hurts and suffering. It's already happened, we can't take it back. When we can realize this, we can prevent the loss of so much time wasted on needless suffering, stress, negative emotions, self-created doubts, and fear. Letting go of the past means setting ourselves free to live our life with our own vision and intention.
LETTING GO OF THE FUTURE
In today's uncertain world filled with dramatic events, upheavals and suffering it's easy to look at the future with a pessimistic viewpoint. Our lives are full of negative people, alarmist media, and downright ugly public behavior. To change this point of view we must do some work, or we will never be happy:
1.       Remember that our worst fears never come true
2.       Reflect on the worst that can happen and how you will survive and thrive.
3.       Worries are often set aside when we concentrate on our work and defining our purpose
4.       Stay in the present and if your mind starts to go dark, focus on what's good in your life at that moment or think of three things that make you happy.
5.       Think about your last scary moment, how did you rise out of it?
6.       Ask for help, talk to others that appear to have a positive mindset. Look for happy people, they are always nearby and ready to help.
7.       Visualize a positive outcome and believe in yourself and your powers.
LETTING GO OF OTHERS
The first step in letting go of others is to think about how much we care about what others think of us. Are we living our lives for someone else and feeling out of alignment and uncomfortable with our true selves? If we spend most of our time with people that we can't be honest with, we are only hiding from ourselves. Living by other's expectations, values, and judgments is living a half-life with fewer chances of happiness and a cycle of negative emotions and frustration. When we learn to value ourselves and understand our feelings, we can begin to realize that our destiny is ours to control, and we can create the path in life that provides more fulfillment, happiness, and a greater connection with others:
-- Try to look for the best in every situation and imagine how capable and confident you are moving forward in life. Obstacles are there to teach us and setbacks are lessons in survival and resilience. We can find happiness in adversity and change when we believe in ourselves.
-Let go of blame and victimhood. Both take up too much time in our heads and never provide positive outcomes. Learn the difference between being a target and victim and feel what it means to be empowered. Try thinking of yourself as a target rather than a victim and watch yourself rise and feel empowered.
-Put yourself in someone else's place and try to understand their perspective.
-Forgive yourself quickly for making mistakes and gain wisdom.
DEVELOP A SERENDIPITOUS MINDSET
When we employ a serendipitous mindset, life can become a magical journey. Always be grateful for the unexpected gifts that appear in our lives no matter how small and remember that fear of the unknown only creates stress and anxiety. I believe in the power of quantum physics in activating our intention. I start every morning telling myself aloud that it's "going to be a great day". It's hard to have a bad day with this mindset, if not impossible!
-Life can be magical and a great adventure with a serendipitous mindset.
-Outcomes can be better than expected if we flow with the universe and join the universal energy source
--You realize that helping others provides better choices and outcomes in life.
--You always look for the bright side and are grateful for life's lessons no matter how hard they are.
 Letting go is something that we all struggle with to one degree or another. How we choose to live and accept the things that we cannot change is what defines us. A mindset of empathy for others, truth, and the realization that our lives are our own creation are the keys to more happiness and greater fulfillment with life. When our minds are free of the bondage that comes from regrets and poor choices, we can live our best lives and make the world around us a better place!
IG  @TheHappinessWarrior1
www.thehappinesswarrior1.com
Tw: EricLNorth1
FG https://www.facebook.com/prcindc/?ref=bookmarks
ericn@prcindc.com
ericn@stretchworkz.com