Written by

Eric North aka "The Happiness Warrior"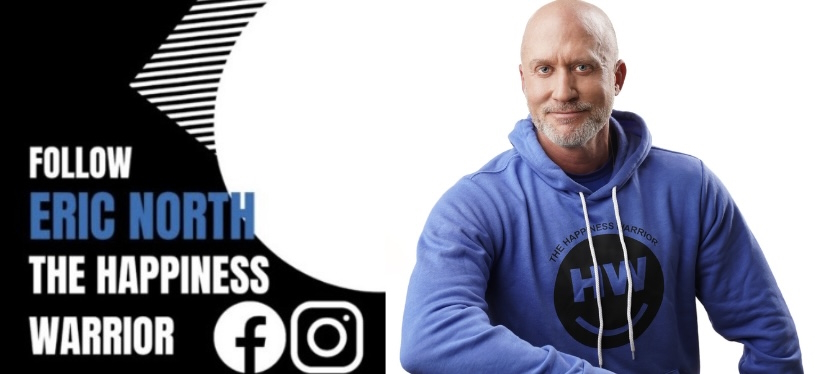 As The Happiness Warrior, understanding happiness is something that I still find myself contemplating and even questioning at times. There are many definitions and theories about happiness, but my brand of happiness comes from cultivating empathy, helping others, self-awareness, building self-esteem, and inner reflection.
Creating happiness is my mission as The Happiness Warrior and finding ways to help others find happiness and fulfillment in their lives is everything to me. There are days when there's too much going on in the world to feel an elated sense of happiness, but the feeling that develops from the darkness only heightens my sense of right and wrong and makes me yearn to do more.
EMPATHY
We can't be happy unless we understand the power of empathy. Empathy is self-created and learned from taking notice of the people around us. It creates the best outcomes and helps us thrive and find happiness in even the darkest situations. When we open our minds and hearts to the life-giving universal energy source and understand that we're all connected, we can create the happy lives we yearn for and deserve!
As children empathy is something that we learn to develop and tend to. Empathy is the path for us to move forward with purpose in our own lives and create more happiness in the world around us.  I know that with empathy and love in my conscious thoughts I can forgive more easily, attempt to understand other viewpoints, and raise my vibration to connect with the universal energy source.
Empathy is my creed and the heart of my five nonnegotiable Happiness Warrior core values.
GIVING OURSELVES PERMISSION TO BE HAPPY
Most unhappy people only need to give themselves permission to be happy to feel their mood lift and their mindset change. These people need attention and someone to notice, respect, and listen to them. It may take time, but with regular practice and self-discipline happiness can grow.
We all understand that the world is not always a happy place and many lead miserable, unhappy lives and go about their days with a feeling of heaviness and resignation. Life isn't fair and life doesn't always go as planned. The game of life is our reality and how we choose to play it determines our fate and level of happiness.
How we find happiness is as much of a mindset as well as a reality of our own creation. Happiness is a state of mind with its own responsibilities and choices. I choose to be who I am because my brand of happiness comes from serving others and watching them rise and grow to be their best.
Happiness comes from within and is at its finest when we are serving others and care about the greater good. We can all be Happiness Warriors when we take the time to love ourselves and realize that life is a great game with more than its share of setbacks that are more easily forgotten when we develop a less egotistical, community-minded, and winning mindset.
HAPPINESS IS A STATE OF MIND
As The Happiness Warrior, I don't see happiness as much of a choice but rather an ability to deal with our present circumstances and choose to love ourselves better. When our lives are filled with purpose and gratitude for the gifts that life provides, we'll find ourselves happier and fulfilled.
Our brains are designed for activity and learning. If we're afraid of change and sit life out, we will hide from change and our minds will focus on negative feelings and self-created negative emotions.
Life will have its moments of pain and sorrow, but when we embrace change and believe in ourselves, we can feel good more than we feel bad and stop chasing happiness with desperation and frustration. We won't be happy all the time, but even the worst of times can be used to help us rise and find the balance of happiness that keeps us growing and our motivation strong.  It's important to make the realization that hard times are part of the lesson and help us to learn the joy that comes from the freedom to master our lives.
When we realize this, we can create the life that we want to have and fill it with service to others and the self-discipline needed to make it happen. Hard times help us savor happiness all the better.
HAPPINESS COMES WHEN WE'RE OUR BEST
I've always lived by one simple rule: When life gets hard, I need to do everything better, even the smallest things. My frustration at things that I can't control is always lessened when I give my best effort with mindfulness. When the world feels confusing, we are our best defenders when we are happy, purposeful, and look for the good in life. These are some of the ways to focus on keep on the path of being your best and being happy about it:
– Balance and optimism help us to focus on always being our best.
– Fulfillment that comes from helping others is the key to happiness
–  Life Mastery is the happiness that comes when we know our strengths and understand our powers, this is always evolving. Most of the problems that we have in our present life are a result of only focusing on the short term. When I was young and unhappy, I always told myself that I was gaining the skills and values needed to have an amazing life on my own terms when I was ready for it. It may make us feel uncomfortable but at the same time we're building new habits and systems. We can reinvent ourselves and navigate through life's unknowns and risks more easily without stress or worry.
– Try looking at life as a "big game" and tell yourself that you're going to win!
ARE WE HAPPIER WITH AGE?
Finding Happiness with aging is an essential part of living a good and productive life. All of us today can make proactive choices and decisions that can impact our future happiness and life fulfillment. Practice long-term thinking and think with an optimized viewpoint. We choose our future when we create our future. Thinking ahead helps us to maximize the time we spend on skills now that will serve us well in the future and create the lives we dream about.
CHANGE THE SETTING
Everyone needs a chance to get away to be alone and get in touch with their thoughts and truths. It doesn't have to be hidden away or remote but somewhere that makes us feel calm and more relaxed. Just sitting under a tree on a bench in a crowded city park can take the heart rate down and help find peace of mind.
I can be in a crowded subway in NYC and running fast through my day and suddenly feel myself spinning too fast. I know that if I take a moment to breathe deeply and close my eyes, I can give my consciousness the reset that it desperately needs. Just a second or two can do the trick and help change a moment of fear into a place of clarity. This simple act of self-care can be all we need to take the pressure off when it's most needed. 
LIFTING OTHERS UP MAKES US HAPPY
In Africa there is a philosophy called Ubuntu which is prevalent across the continent with many versions of the word with the same meaning. To summarize it means that our communal bonds are what bind us together. Community and family is valued and precious. We are not separate individuals as Western culture tries to make us believe but the unified energy that comes when we find belonging and deep bonds in our community.
We rise when we lift others and connect to the universal energy source. When we learn to care about the greater good our vibration lifts and our connection grows. Helping and listening to others is a means to finding inner happiness and creating more joy and fulfillment in our lives.
LOVE YOURSELF FIRST
The path to spirituality, renewal, and regrowth comes when we learn to love ourselves for who we are. When we love ourselves, we cultivate our happiness from within without the need of external sources of pleasure. Happiness and success grow and expands when we love ourselves more and realize that we can be loved in our authentic selves. Get to know yourself and find more love in your life and relationships.
When we love ourselves, we can experience the great mindfulness that comes when we live in the present. When we can be still and feel our heartbeat and breathing and live in the moment. Mindfulness is the key to everything that makes us who we are. Without mindfulness we can find that our lives have less meaning, time moves faster, and we feel less and less like ourselves. Learn to live in the present and understand its meaning, and we will all be happier.
Try to understand that we cannot only learn to change ourselves, but we can change the world around us too. Learn to love and embrace your uniqueness and you will be happier!
The Happiness Warrior brand of happiness is not something we can hold or touch, but a feeling that grows within us that helps us achieve balance and optimism in a rapidly changing world. Happiness is fulfilling your purpose and understanding our truths. We can all be our own Happiness Warriors!