Written by

Eric North aka "The Happiness Warrior"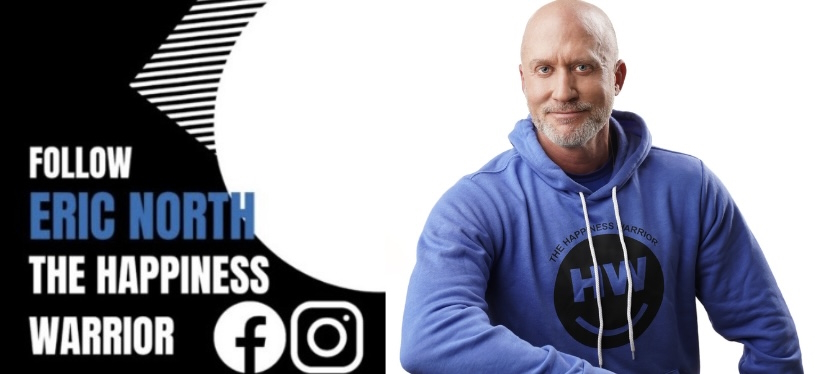 Have you ever had a period in your life when things felt like they were too much? You felt confused, easily flustered, and unable to think of any possible way to move forward. Sometimes it feels like we can barely take anything else only to find another problem that sinks us even deeper. We can't sleep, we can't focus, lash out at others, and nothing feels right. This is the misery that comes from overthinking and not being mindful. Why is it so easy to give up and stop fighting for ourselves?
Momentum and happiness can seem like a distant promise when we are overwhelmed and hurting. It can feel like our mind is stuck, all hope is lost, and self-esteem has disappeared. This is what overthinking feels like. A perilous self-created condition that holds so many of us back without any reason or hope. It's the dark side to our happiness and one that we know so well.
Overthinking is an enemy of our own creation and one that we can conquer when we change our mindset and learn to be happy in our authentic being. I've always thought that sometimes we have to go to the bottom to feel our rise to the top. Even in our darkest moments a light can shine and guide us through it.
FINDING BALANCE
As The Happiness Warrior, I believe that mindset and attitude are two values that go together. They complement each other. Create our choices and opportunities. They help guide us when we're feeling stressed and confused. They are the tools and weapons we need when we feel doubt and confusion creeping in. They are the balance that helps us find peace in our lives.
Overthinking creates problems that don't yet exist, holds us back from using our creativity, and keeps us trapped in situations that are hurting us. We care too much about what others think and less about ourselves. Learn to say no and show up for your life and see life's picture change.
In these trying times with so much misinformation, thinking for ourselves with clarity is always our greatest salvation. The truth is somewhere beneath the surface, know when to listen and when to tune out.
While these tools are found within all of us, too often we are told that we can't do something or are not good enough. We succumb to the pressure to conform and adapt to their rules. Instead of using our abilities to create happy lives we begin to overthink and question our judgment. We lose touch with our inner voice and yield to the voices of others. We measure our own accomplishments against people we don't respect. We begin to hesitate, and we stop taking part in the story of our lives.
If the years of the pandemic have taught us anything it's that we deserve better and need to be able to readily adapt to changing circumstances of our lives. Why do we do the same thing over and over again and expect different results?
MINDSET AND ATTITUDE
Mindset and attitude are the foundation to creating a happier life and being able to think clearly for ourselves. By developing the right frame of mind and attitude we can more easily navigate through this increasingly stressful and confusing world. This world that we've all created and have the ability to change for ourselves. When the world feels upside down, mindset and attitude are the tools that we can use to set things right!
As hard as we might try to maintain a great attitude and positive life-affirming mindset, life tends to get in the way. We must be vigilant and self-aware of the dangers lurking in our subconsciousness and daily lives. In the blink of an eye our circumstances can change. A thoughtless decision made in the past can come back to haunt us. Our words that we use with a careless rush of angry endorphins can turn us into pariahs. Why do we want to hurt ourselves when we always know better?
HAPPINESS CREATES EMOTIONAL STRENGTH
I've long believed that worrying about something that may or may not happen in the future is the path to self-destruction and unhappiness. It may start small with an irrational fear that's lingered in our subconsciousness without resolution. Or it might be a full-on emotional and physical paralysis brought out be a terror that doesn't exist or already happened. These are the clues to look for to help understand our own decision making and overthinking patterns:
1.       Are you living in the past and fear the future?
2.       Are you worrying about factors that you can't control or foresee?
3.       Do you allow your ego to suffer from unrealistic expectations?
Never expect that anyone should do anything but be pleasantly surprised when they do. Expectations might make us feel good at first, but they can also destroy our spirit when they inevitably crash.
1.       Know that expectations are a product of our fragile egos.
2.       The future that we predict will almost never happen.
3.       Be grateful for the lessons and perspective that come from disappointment and use it to work for you in the future.
4.       Be self-aware and secure in your own identity and ability to solve your own problems.
5.       Stop judging yourself for your emotions and feelings. Stop judging others for the sake of comparison and look inwards to yourself. Often the feelings we have about others mirror our feelings for ourselves.
Aren't you more worthy than that?
HAPPINESS IS OUR NATURAL CONDITION
When we're able to begin to unravel that complexities in our lives that come from overthinking we can begin to find our authentic selves and create more happiness in our lives. Discovering who we really are is often the most pleasurable and productive thing we can do with our consciousness.
When we listen to our inner voice with confidence and gratitude we can begin to live the lives we deserve. We can remove the cycle of dependence and misery that comes from living our lives for others. When we live our lives for ourselves in our truth we can always be better and find greater happiness.
KICK WORRY TO THE CURB
One of my greatest tricks for overcoming any fears or obstacles in my life is to define the target of my concern and state the problem aloud. When I do so, the opposing force immediately feels smaller, and I feel instantaneously more in control. The problem might still be there, but by saying it out loud I've already started to give myself the ability to harness it and give it less power. This helps create wisdom and life mastery as we learn to make better choices and decisions in life.
All lives have problems, but not all of us see our problems in the same way. Fate may be a determination, but I believe we can change fate through our thoughts and actions. Create distance from your adversaries and issues and watch them become smaller. What we don't dwell on quickly becomes insignificant.
Self-discipline is the truth that leads to happiness. Know that you have what it takes and that your happiness depends on it.
BUILD CONFIDENCE NOW
When we are trapped in a cycle of overthinking and loss of momentum it's easy to stop taking care of the other important elements of our lives. Our relationships, nutrition, physical activity, grooming, and self-image can suffer as well. It's often at our lowest points that we can begin to see the truth in ourselves. Suffering can be the impetus to change our values and poor habits to look inwards to see the value in who we are.. When we take care of our bodies we are truly taking care of ourselves in a holistic manner. A healthy body is a healthy mind. When we are kind to the vessel that carries us through our lives we can begin to live in our lives with peace of mind, confidence, and gratitude.
-          Empower your health by adapting an exercise program that makes you feel good emotionally and physically. Walking is always a good choice if you are able, but I say do whatever makes you feel purposeful with a sense of accomplishment. The mental rewards are always beneficial.
-          Focus on resilience, adaptation, and flexibility. All of these are mindful ways that we can use to help us rise above adversity and make decisions based on logic and reason.
-          Make form and function a part of every exercise or physical activity. Concentrate on posture, muscle flexibility, and the natural movement of your body. When we are careful and respectful of our body we age better with less pain and increased functionality. We can create a happier perspective for ourselves and others. Choose to be a good example and the benefits will show up for themselves in every aspect of our lives.
-          Learn to breathe properly. There are many benefits in understanding how breathing affects both our mindset and our ability to pull ourselves together in difficult situations. Everything we need to know is within our consciousness when we find more peace within ourselves.
We all share this world together, how we experience it and enjoy our lives is set by our attitude, mindset, and our desire to set a good example for others. The greatest gift of humanity is our desire to help others.
We can stop overthinking when we realize that most of our problems and fears are self-created. Live in the present and know that all will be well. Our greatest fears may never come true.