Written by

Eric North aka "The Happiness Warrior"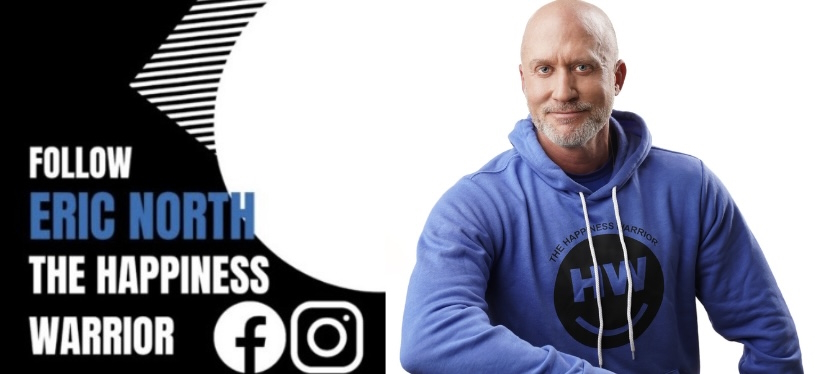 "
Things become rubbish when they are treated as rubbish
." — Shoukei Matsumoto
As humans we have many powers that most of us never fully realize, purposefully ignore, and willfully suppress. We often complain, live in a state of inaction, seek attention, and languish in our unhappiness. We use excuses to allay our fears that keep us from moving forward. We forget that happiness is always right before us and instead choose to use angry words and misinformation as weapons to harm ourselves and others. We create walls and defenses that hold us back from being happy. The keep us from feeling the life-changing energy that comes when we connect our body with our spirit and mind.
Happiness is always right before us and ready for us to experience. Why do we want to destroy ourselves with self-created thoughts and emotions? All of this is unnecessary and causes our soul to suffer, our bodies to betray us, and our minds to become disconnected with our physical being. When we choose a more holistic path of self-discipline and love. We can turn the paradigm around and create the happy and purposeful lives that we deserve. We can live in harmony with our bodies and our mind. We will raise our vibration and live in our truth and authenticity.
As The Happiness Warrior, I believe that we are better than this and each of us has more potential than we've been programmed and misled to believe. When we step back and examine our lives, we can take inventory of our skills and raise our value and live in balance. When we look deep enough, we can also find our compass and navigate our path towards greater happiness and fulfillment. Like it or not, life always gives us choices that can change the scope of our lies and being.
If we dig beneath the surface and see ourselves clearly, we can learn to overcome life's greatest obstacles, self-inflicted pains, and transgressions. We can learn to be happy when we appreciate the vessel that gives us life and the connection with our mental well-being.
We can change our mindset to be our best at any time. Every day will be better than the last when we know it's true and believe in ourselves. We are capable of being strong and resilient when we know ourselves. Flexibility can become a way of life and choices and opportunities will abound. We can rise and find out who we truly are when we are at our most vulnerable and allow ourselves to search for answers. On this journey, we can learn to connect our mind with our body and feel the gratitude that rises when we feel truly alive. Happiness can even be found in the stories of our darkest struggles and most challenging obstacles.
As The Happiness Warrior, I live in a state of awareness that fills my intention and enhances my thoughts and actions. It's a state of mind that goes beyond the mental and delves deep into the physical side of who I am. This body-mind connection serves me every day. This is the life-giving connection that I tend to so carefully and deserves so much respect. The core of my being is knowing myself inside and out. I alone am in charge of my happiness.
Every morning when I awaken, I thank the universe for another day and promise myself that I will do my best. That I will live without regret or remorse and listen to my body when it gives me pain or signals a warning. I tell myself aloud that I will "have a great day!". I'm ready for whatever comes my way and live in the present.
I know that words have spirit and carry great power. I carefully use them to help others as well as myself as I go through my life. Everything and everyone matters, and no one is overlooked. I acknowledge those that seem forgotten and whose voices long to be heard.
I believe that life is a great game on an intricate playing field. Honesty is the only rule that matters and provides the foundation for quantifiable success. When we connect with our bodies and live in authenticity, we are building better lives and creating greater physical and mental health. Our bodies rule our minds, and our health is ours alone to tend and foster.
Life is hard enough, but when we take care of our bodies, we are also taking care of our minds and building healthier habits. When we align ourselves with this basic truth we can easily rise and renew and reinvent our true selves. Self-discipline can be our triumph rather than a burden. Time moves more purposefully when we're aligned with our intention and purpose. Be kind and respectful to yourself and feel your connection to the universe strengthen.
PAIN IS A TEACHER
I've always been very diligent about taking care of my body, maintaining a strong cardiovascular system, and using good judgment for what I consume. It may be genetic, but it was also how I was raised. Good habits start at home and repeat throughout our lives. The mind-body connection is the path to a better paradigm, but one that can be so easily lost or casually disconnected.
Last year I thought that despite the pandemic I was in good shape. I lifted weights at home, did a ton of pushups, took long walks with my dogs, and daily bike rides in the woods. Throughout this time, I was tethered with pressure of reinventing my businesses and protecting jobs that I had created.  It was a challenging time for all of us, but I knew it was my duty and one in which I would not fail. At the same time, I was also a bit impatient to begin a new career path and my imagination was inspired. I wanted to do something more important than myself and make more of a difference. The Happiness Warrior was my calling in the pandemic that so perfectly became who I am.
To be truthful, it wasn't easy and sometimes I felt overwhelmed, and was often distracted. Life was moving so quickly, and I had sometimes lost touch with my intuition. The right path might be the hardest but it's the one that provides us with the truth. I was learning a lot about myself but lived with a lot of pressure and tension.
THE CRASH
One beautiful morning I had an enlightening phone call, and my mind was distracted with exciting news. Naturally, I thought of clearing my head with a bike through the woods. I was alone in the forest on a familiar trail. Suddenly I found myself flying through the air and tossed hard on the ground. I was mentally distracted and disconnected with my physical self and did not see the pothole in my path. As I lay on the ground, I could see my skin where it had peeled from my body. The pain was incredible, and I was a bloody and broken mess!
When I came down from my shock, I realized that my injuries were severe. Everything hurt and I could barely walk.
Suddenly, I was disabled and dependent. Healing would be a long process but despite my pain and the recovery ahead, I knew that this would be a great lesson and one that would make me better than I'd ever been before.
I spent 6 hours under anesthesia in painstaking surgery to repair my body. When I came back to consciousness, I only felt gratitude and strong will to heal my body. I had chosen a mindset where healing began the minute I awakened. I knew that the journey would be arduous, but I felt no shame or regret. The only way forward was to take control of my recovery and triumph in my strength of will. For many weeks I couldn't walk but each day I grew stronger, and self-discipline was my mentor. Today I'm fully recovered and enjoying my new abilities and live in a state of gratitude and happiness. Attitude is up to us to choose.
MIND-BODY CONNECTION
The mind-body connection is the full union of the physical, energetic, and mental bodies. When we are in the mind-body connection, all functions of our body, energy, and mental health are optimally balanced. It's important to understand that when we're living in the mind-body connection, our awareness is expanded, and our reality is under our control.
As I began to regain my strength after my accident I began to dig deep into the reasons for my accident and the harm I had been inflicting on myself. I had worked too intensely and been too hard on myself. The lessons were in front of my eyes, and I made a vow that I would never know this pain and self-inflicted agony again. I had ignored my body's injuries from the past and began to remove self-denying thoughts from my consciousness.
Happiness is a state of mind and body. Both are connected and essential for life.
ATTITUDE HELPS HEALING
Our bodies are constantly reacting to our feelings and the emotions we experience. Our thoughts and feelings can trigger a chain reaction of physical responses that are detrimental to our health and mental state.
I chose an attitude of forgiveness for myself and the intention that I would recover and be a better version of who I am and what I stand for. Nothing could stop me except myself. Inner strength is a blessing that we should all remember. Getting a second chance on anything is a gift that will always be expanded when we do our best.
HAPPINESS MAKES US HEALTHIER
The way we're programmed to think often correlates to how we heal and take care of our bodies. Happy people are more apt to start exercising and caring for themselves better after accidents or surgery. They know the importance of doing their best and caring about the needs and welfare of others. Happy people use their struggles to help others and never forget the power of kindness and gratitude. We try to see things through another's eyes with empathy and compassion. Happy people know that their bodies are their foundation and treat themselves with love and respect.
Happiness has been proven to help:
- Lower stress and blood pressure.
- Create greater friend and support networks.
- Create better nutritional and sleep habits.
- Improve the immune system and cardiovascular health.
- Assist in healing and recovery.
Life gives us so much to appreciate and sometimes takes it away. The mystery of the future always lies before us but when we treat ourselves with respect, we can navigate our adversities and challenges more clearly. We should all know the happiness that comes when we treat our bodies as well as our mind and spirt. The mind-body connection is the path to happiness and finding greater purpose in our lives. Be proud and strong and show the world who you are. Life's struggles are always behind us, and our dreams are closer when we love who we are and take care of ourselves. Good health to all!