Written by

Eric North aka "The Happiness Warrior"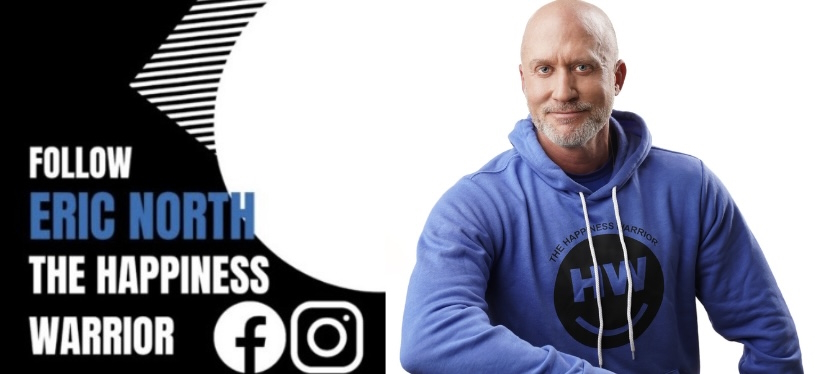 As The Happiness Warrior I don't believe in hoping for things to happen or waiting for life to catch up, I've learned to let go of the past and forgive myself for earlier mistakes and failures. I've learned to appreciate the present in all its complexity and let gratitude guide my way. Humility is a wise teacher and one that always helps us grow.
I believe that wisdom and life mastery come when we can let go of our fears and see beyond ourselves. Our lives are enhanced when we know that our choices matter, and intuition is our guide. We can create a sense of gratefulness that comes from our hearts when we care about the good of all and understand the scope and power of our individual actions.
We can forge core values to guide us and welcome life's challenges with enthusiasm. We can show up for our lives with courage and grace when we are self-aware and consciously practice gratitude in our thoughts and mindset. We are at our best when we can live our lives with purpose and know the happiness that comes from living through intention and following our dreams.
I like to look at life as a great game and one that must be played with skill, patience, and self-awareness. Challenges are welcomed and boredom is never allowed. Self-awareness and logic play a key role, but nothing is stronger than my senses of adventure and longing for knowledge. I use the power of gratitude to drive my spirit and momentum.
I'm a creature of habits and affirmations. I believe that words have power beyond our scope or imagination. We are the product of our thoughts, ideas, and our ability to adapt. We can change and be grateful for growth or we can shrink away from the light and never feel fulfilled or truly happy. Gratitude is never separate from our intention. If we believe in ourselves, therefore we know we can do it. Be a warrior in spirit and show up and be grateful for all that has happened in your life. Know in your heart, that both the good and the bad have shaped who we are today and made you whole.
GRATITUDE IS PERSONAL
Almost twenty years ago I had a near death experience that would shape the rest of my life. In the blink of an eye everything had changed, and everyone I knew had counted me out. In the ICU I was semi-conscious and unable to speak, but I could clearly hear my doctor sending my mother home to wait for me to die. They had given up on me before I was ready. Although I was unconscious, I clearly remember shouting in my head, "F-k you all, I'm going to live". 
The next day as I regained consciousness, I remember the kind faces of my care team hovering over my hospital bed. I was grateful beyond all measure and humbled to the core that they had stayed with me believed in will to live. I had a long road to recovery and my body and spirit were broken, but I felt the joy of life and was happy and grateful beyond all measure.
The worst thing that someone can tell me is that I can't do something. It's impossible for me to let someone else take my power and my tenacity will always prevail. As usual in my life, I defied the odds and began to plan my recovery and renewal. It may have surprised my family and physician, but I knew I was going to make it and prove them all wrong. Others might have given up on me, but I vowed to rewrite my story and turn my life around. The power of our memories is strong and some things we should never forget.
THE TRUTH
One truth has always guided me, "happiness comes from within and not from other people". To be happy we must know ourselves to better guide our intention and spirit. I used the power of gratitude to become strong once again and happiness fueled my journey. I learned to be more aware of the world around me and live in my authenticity.
The old me had been cast aside and new choices and opportunities soon abounded. I used the power of my mindset to renew my life, increase gratitude, and strengthen my purpose. 
Sharing our truth and values is everything…What kind of human do you want to be?
MAKING CHOICES
I've always believed that all our choices in life are often right in front of us waiting for discovery. Most of the time these choices are clear, but we often forget or ignore our intuition and instead make quick decisions that can harm or alter our lives in ways we can't imagine. It can just take a second to make the most important decisions in our lives. Good choices are evident in their simplicity and truth. Take the path of gratitude and be grateful for your options. The wrong path can appear shiny and tempting, but we know deep inside when we've made the wrong decision.
We can live safely, avoid chances for expansion, hide from change, and shrink from criticism. Or we can live boldly and make choices that serve the good of all versus shrinking from our duty and taking short-cuts and living in the shadows. How do we want to be remembered?
When we live in a mindset of gratitude we can more easily live boldly, create more opportunity, and raise our vibration: We can raise our potential to:
-Make bigger wins that have meaning.
-Create growth and purpose.
-Expand our mindsets and be more accepting of others.
Or we can live "safely" and:
-Miss opportunities and stagnate.
-Make choices that limit our growth and limit our potential.
-Expect disastrous results from avoiding change.
-Be more judgmental, less accepting of others, and unable to see the bigger picture.
Most of our worries never happen and perspective broadens as we move over time. It's better to be vulnerable and more clearly understand the conditions that we operate under. Growth can be as painful as it can be exciting, but it will always alter our lives for the better and make our stories richer.
The most important part of the game of life is attracting others that believe in us and want to participate in our lives. The exchange of thoughts and ideas is how we come together and raise ourselves in a new direction.
DON'T TAKE ANYTHING PERSONALLY
Control of others starts with judgment and shame. Our society is designed to police itself through control of other's thoughts and emotions. The paradigm is slowly shifting but much work is still needed. Equity and equality come through action and words have lasting power. How we use them and share and portray our values is how we change the world. Be grateful for your inner spirit and the opportunity to show the world who you really are. Be grateful for what makes you special.
PASSION CREATES GRATITUDE
Nothing worthwhile or lasting is ever accomplished without a strong sense of passion. Passion is more than our dreams, but the fire that ignites are actions. It's the source of being human and the fulfillment of our gratitude and happiness. It's a driving force that creates energy and raises our vibration. It's the lifeblood of being human and sharing our dreams with others.
As humans we rise when we reveal our true selves and live in gratitude for who we are and what who can be. Passion is a celebration of life.
A REASON TO LIVE
Gratitude is an immeasurable and invisible force that plays such a huge part in our lives. Something as small and shiny as a pebble on a riverbank can bring us joy and remind us once again that we're meant to be happy and feel alive.
It's the ability to look at every gift in life and realize its source. Gratitude is something that we value that grows and makes us feel special. It's something we want to share with others who are struggling to find value and happiness. Gratitude is love for others but it's also about how we love ourselves and understand our value. It's a gateway to our hidden powers that we've so carefully kept hidden away.
Gratitude is something we acknowledge and pass to others. It's way to show respect for ourselves and reveal our authenticity. Gratitude creates humility which draws others to our cause. We can build a better world when we are listening with empathy and understanding. Let gratitude guide your way and watch your dreams come true!