Written by

Eric North aka "The Happiness Warrior"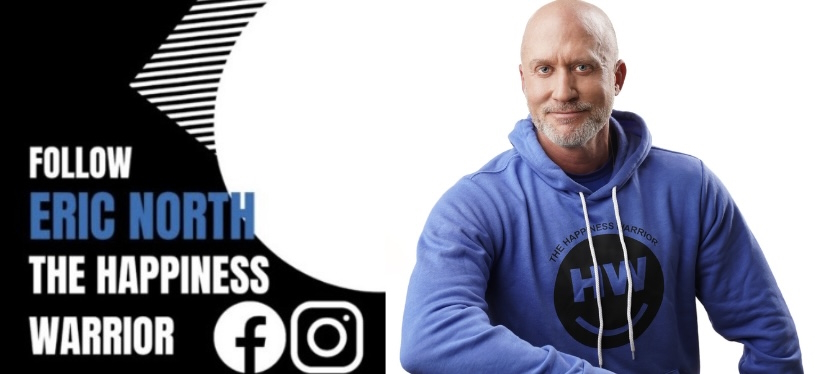 The quality of our life is reflected in what we do in our lives and our ability to believe in ourselves. Which actions we take and the decisions we make are the difference between living an extraordinary life or one with much sadness, confusion, and regrets.
Nothing in life is easy, but we all have the power to make choices that can impact our lives for the better and help us reach a place of greater happiness and fulfillment. When we can look at our lives as a great game that we participate in we can begin to make moves and decisions that change who we are and create our best lives.
As The Happiness Warrior I believe that each day we can be better than the day before. It's an undeniable truth and yet one that so many live in fear of and avoid at all costs. Fear is self-created and only as strong as our belief in ourselves. Look inward and know that you are fearless and capable. Don't be afraid to share your strength and wisdom. Just knowing that we can be better each day is the key to building greater self-esteem, feelings of gratitude, and accomplishment.
Personal discipline is a choice with many fine and inspiring examples found among us every day. These are the people that change the world and make it better. They are warriors for good, readily accept change, and set the example for those who are struggling. They don't complain and they never see themselves as victims. They are shining examples of how being our best is the key to greater happiness and meaningful bonds in our journey through life.
All humans know instinctively that we can all take responsibility for our lives and contribute to the greater good. Everyone matters and as individuals we can make the best of who we are and live by our personal values and authenticity. In being our best, we will finally find the missing piece that helps us find our authentic being and feel happy with our creation.
Knowing that we can be better every day is the difference that it takes to live our lives with forgiveness for ourselves and a richer and more purposeful existence. This is not measured by comparison with others but comes from deep within when we know that we are challenging ourselves to excel and move forward through life. Being our best means feeling a sense of accomplishment, greater empathy, and increased value for oneself. How we show up for our lives is the action that creates our reality. The present is all that matters, and we are only as good as the last good thing that we've done!
WHO WE ARE MATTERS MORE THAN WHAT WE DO
We live in a world where we hide behind words and definitions of ourselves and are rarely encouraged to reveal our true nature. We are Instagram fabulous and seek fame without any substance. Without even knowing it we trick our minds and alter our perceptions. Nevertheless, we know deep down that happiness comes from within and not from a vapid and shallow existence.
We can break this cycle when we are consciously being our best. We can be proud to show the world who we are and fearless in sharing our concerns and challenges. This is how we grow and be our finest at everything we do in life. When we care about our spirit and happiness, honesty and self-awareness increase and provide the clarity needed for growth and empowerment. Being our best in all that we do creates an unshakable foundation for creating the magical lives that we deserve and envision.
When we care enough to be our best, empathy for others will rise. No one stands alone in life and there is always someone who's helped us along the way. Happy people who live in peace with themselves give more and take less. Happy people are always there to help. Connections and community are an essential part of the equation for any worthwhile endeavor.
Pride in who we are is important, but no one is better than anyone else. Good habits and civil behavior show strength and attract followers. The world needs new leaders and guides to help us in these challenging times. We can all be part of the solution when we allow ourselves to thrive and be happy in the world around us. We can take things to a higher level when we are more connected and at peace with ourselves. We can raise our vibration and happiness through our careful thoughts and actions.
As a natural high achiever, I like to challenge myself and figure out how to adapt and thrive in different circumstances. It might be genetic, but my intention is always focused on setting things right and helping others who are searching for answers. I see people hurting and confused and I want to help. I know that my intuition and intention will guide me, and I encourage and listen. When we live in our truth, we are our best creation and as The Happiness Warrior, I'm here to help us find the way.
GIVE YOURSELF A TUNE UP
All too often we go about our lives keeping ourselves busy and distracted from unresolved problems and events in our lives. We haven't forgiven ourselves and feel like we have some unalienable right to gain closure. We give too much space in our heads for problems that we can control that squander our creativity and progress. The enemy is never the other person, it is always us and how we're conditioned to react to every obstacle in life as if it was personal and stacked against us. This is a very ego-driven mindset and one that will never make us happy. Forgive, move on, and most of all be grateful for every lesson that even the hardest times or most unforgiving people provide.
Set your consciousness to the present and listen to your intuition. This moment will change with each breath. Know that you have the choice to sink with despair or rise with courage and grace. Who do you want the world to see when you reveal your true self?
Imagine if you can begin to picture each new day as a blessing rather than a day of survival, chaos, and tedium?
STOP LIVING YOUR LIFE FOR OTHERS
When I was growing up, I knew instinctively that I was different. Shame was part of my daily life. I hid who I was and lived for others' expectations and dreams. I was hurting myself but lived in fear of discovery and felt shunned and shamed. I couldn't be who I was on the surface, so I built up my body and created a wall of power to protect me. I became strong and impenetrable. As much as I tried, I was never happy but felt safe in my hard-fought defenses.  
Later in life when I was able to be myself, I began to see the value in who I was and the importance of living by my core values. Happiness became my mantra, and I felt a calling to help others realize their own happiness and value for themselves. How can we be happy when we are living for others and letting them control our lives?
As The Happiness Warrior I believe that people show us by their actions and words if they are content and at peace. Do you surround yourself with drama to mask your own insecurities or do you live in harmony with yourself and others? Know when to let go of people who drag you down no matter how closely related. They do not want the best for themselves. Why would they want the best for us?
We are always surrounded by others who wish us harm or feel envy. Know when to let them go and know that they can do you no harm. Why would you listen to criticism or shame from someone that you don't revere and respect? We spend too much of our time and energy on people who don't deserve it.
WORDS HAVE SPIRIT AND NEVER DISAPPEAR
I believe that words have spirit and never go away. The words we tell ourselves are the same words that will tell us how we live. I tell myself before bed each night that "I did my best today and will do better tomorrow". It's a powerful affirmation and one that always helps me sleep with peace. We ourselves are our own best advocates and no one else has the power to take it from us. Use words of personal empowerment and honest gratitude and know that life will always take care of itself. The next step is always waiting for us to find it.
DISCOVER YOUR SUPERPOWER
Every human has their own superpower that they can rely on and gain strength. Too often these are stomped on by authority figures and insecure conformists. We all have something that's unique and beautiful. As The Happiness Warrior I believe that mine is my ability to find something positive or good to hold onto in even the most distressing situation.
Life is a great game and delivers many obstacles and setbacks. It's easy to succumb to despair and victimhood, but much more empowering to look at it as a challenge that you can win. There are lessons to be learned in the darkness that we can use forever in our lives. Life isn't fair, but when we're our best we have more control of our outcomes and destiny. When we're our best we can be our happiest. Life feels more fulfilling when we know that being our best is a conscious action that takes over and enriches our lives and everyone around us!