Written by

Eric North aka "The Happiness Warrior"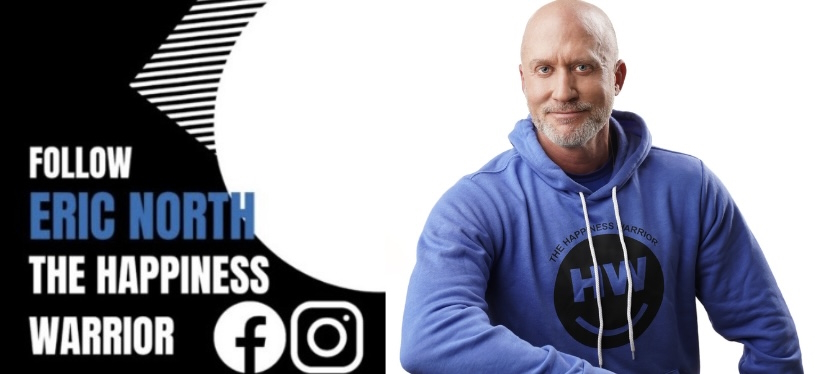 As The Happiness Warrior, I believe that it's in the darkest times and most trying challenges that we find the path to true happiness. It may not feel like it at first but when we find ourselves lost and in a dark place, there's always a tiny beam of light to guide us upwards from our deepest spiral. When we allow the light to enter and feel its power, it grows and guides us. When we make this choice, we feel ourselves being joyful again and life suddenly reveals new choices and possibilities. Our attitude and mindset changes and we recall what it's like to be happy and how important it is to share our joy with others. We know in our hearts that the tiny ray of light is there to guide us to a better place, and we respect it with gratitude. The growing light in our spirit shows us how to appreciate each moment and show ourselves more kindness and love. We raise our vibration and connect with others again.
We can always find this renewed sense of happiness when we start appreciating the smaller things in life that make our lives richer. Each day can be better than the last when we learn that happiness comes from within, and that the world is there for us to learn from.
When we start each day feeling good about the day ahead, we breathe easier, live more deeply, and feel fulfilled and happy with the power of intention.  This is how we learn to live life in the moment and understand the value and purpose that comes from our intention and self-awareness.
When we live in the moment when we know that each action or thought can take us somewhere new and create a new beginning. We can change our path and the paths of others with our words and actions. We can be warriors for our personal happiness and the happiness of the world around us that we create with our intentional being.
When I was young, I was restless to discover new things and always curious to learn more about the world. I wanted to do incredible things and do something that mattered. I started off fearless and bright, but all too soon, I realized that I was out of place and didn't conform to the narrow world of conservative values that I was raised in.
I knew that "fitting in" was the way to survive and I knew that nothing would come of my dreams other than being shamed and marginalized. Subconsciously, I told myself that it was better to stay under the radar and repress myself than revealing my true nature. So, I missed opportunities that would have made me happy, I retreated to a world of books, running alone on wooded trails, and lived my early years as best as I could. It made me shy, I stuttered into my middle school years and tried my best to make myself unseen and unheard. These behaviors continued into early adulthood, and I kept my sexuality and personal life just as closely guarded. I created a life that wasn't authentic and forgot to live in the present and live for myself.
In the world that I was raised in, being different or causing any discomfort for others was strongly discouraged and all too often resulted in public shaming. Anyone who wanted to be themselves was usually shunned, ignored, and generally dismissed with nasty looks, indifference, and anger. I learned to conform and hide myself and live my life for others. I tried my best to make myself feel whole, but I missed opportunities and gave up chances to explore and learn who I was. I knew that this time of my life wouldn't last forever, and I longed to be an adult and find freedom that I longed for.
In my hurry to grow up and be an "adult" I lost sight of the big picture and allowed dark influences into my life. Later, as a young professional adult, I found myself in an abusive relationship with an unpredictable and sometimes violent partner. We ran with a fast crowd and frequented all night parties and clubs. Our life felt explosive, and we rarely stopped to slow down. We traveled to beautiful places and met some incredible people, but I never really felt alive or present and happiness was an afterthought and felt uncomfortable.
As with all things that are unbalanced and uneven, I came to a very low place and felt my somewhat fragile and defensive façade crumble.  I was sad and depressed and knew that it wasn't who I really was. I realized that I needed to be alone and moved to a houseboat on a river in the middle of nowhere. I was shockingly alone for the first time in my life. I developed a new attitude and mindset and was ready for everything that was new and aligned with my purpose and values. My old life quickly receded from my mind and in time I began to laugh and feel happy again. I began to seek out happy people and lifted my spirit in the warmth of their laughter and good actions.
When I look back now, I know that the choices I made then have shaped who I am today. Life is about living in the present and forgiving ourselves for the past. When we give up on regrets life slows down and becomes more beautiful when we are focused in the present moment. Life is better when we live for each day and when we remove ourselves of shame and regret. Happiness rises when we realize that every moment in our life is a chance to learn and grow. Each choice has its consequences, and our actions and words matter.
MAGICAL MOMENTS
Keep your eye out for the magical moments, they're everywhere! Know in your heart that what you're experiencing right now in this moment will never happen again. Know that your words to yourself and others have spirit and remember the promises that we make to ourselves have meaning and life. We must value every moment as if it's our last and live with passion today and every day!
These are ways to live in the present and give life more meaning and fulfillment:
1.       Live in the present, just sit, close your eyes, and connect with the energy of the universe.
2.       Savor each moment as if it were your last.
3.       Avoid distraction and temptation.
4.       Travel light, free of possessions that aren't essential.
5.       Be your own best friend.
6.       Celebrate and value your imperfections.
7.       Practice compassion and empathy.
8.       Let go of expectations!
THE BUTTERFLY EFFECT
One way to understand the life-changing power of single moments is through the chaos theory concept called the butterfly effect. This is the linear association that comes from making one small step or change that can have enormous effects in a chain of unpredictable effects on a large scale. A small action that we make today can have consequences many years or decades later.
What you do now will have a unique and totally different result from what you might do at another time. As the old saying goes "every day is an opportunity to start a new chapter and write your story"!  
FORGIVING OURSELVES
Learn to forgive yourself for the past and start letting it take up space in your mind. Instead focus on a path of renewal and mindfulness, write down your biggest mistakes in your life and think about the growth that came from it. Vow to yourself never to make the same mistakes again and think about how difficult it made your life at the time. Creating unnecessary harm and drama is natural when we create a victim mindset. Empowerment comes from the knowledge that we can transcend and be better.
Think of your mind as having a "default mode" that can easily revert to its default mode. Then think of all the applications, systems, and processes that you've learned to master your life and make it happier and more fulfilling. If we delete the apps we go back to where we were!
1.       Think about cycles that we continually repeat. Old mistakes that we're aware of and have the knowledge to prevent. Think about how much it hurts when we do so.
2.       Practice self-awareness and honestly think about negative traits and behaviors that impact your life. Write them down and make two columns with negative actions that have occurred from this and on the other side write down what you've learned and how it makes your life better.
3.       Live in your intention and take action to apply what you've learned to your life.
4.       Analyze friendships and relationships and think about who's good for you and who's not. Remove negative influences from your life. This is an essential step that can make us feel guilty. Know that guilt is not real and feel empowered to make good choices for your life and happiness. Stop letting other people block your destiny.
5.       Ask yourself if you're happier and feel more connected with others?
6.       Start each day with an affirmation to set your course for the day. Mine is said aloud upon waking "Hey Eric, it's going to be a great day!  I wish that someone had told me this when I was young.
LIVE IN THE MOMENT AND EXPERIENCE LIFE FULLY
When we learn to live in the moment in gratitude for what life brings us, we can stop waiting for our lives to happen. When we live in the present, we can create the magical life that comes with just being. People who live in the moment are ready for anything without fear or hesitation. They know that choices expand and that they can create a magical existence. They don't hold back from enjoying life just as it happens instead of waiting for an imaginary future. They live in intention and create their reality through manifestation of their thoughts and visions.
As The Happiness Warrior, I believe that when we live an intentional life in the present, we can more easily let go of our pasts. Live life without feelings of remorse and regrets and move forward and create action and reinvented passion for our lives. The past is what shapes us and our failures are often the beginning of our greatest achievements. Our past can be forgotten and fade away, but the lessons are always within us and how we choose to live is the path to a magical life with the happiness that comes from within. Align yourself with the universal energy source and fill your thoughts with gratitude and empathy. Happiness is a balance of our thoughts, systems, motivations, and self-discipline.
All humans deserve to be happy, especially you!