Written by

Eric North aka "The Happiness Warrior"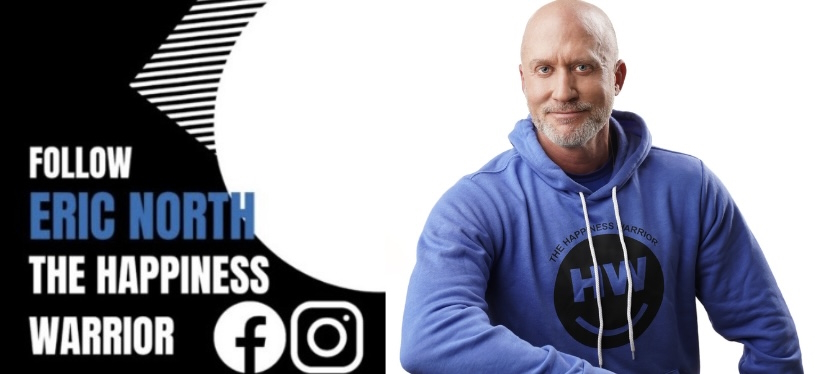 When I was very young, I remember being authentically happy. I was always smiling, excited, and exuberant about life. I asked a lot of questions, sang with ease, was hungry to learn new things, and very trusting of everyone around me. As I grew older and the real world became all too real, I began to understand that I was different from my peers and family and began to feel the hatefulness and hurt that comes from judgment and rejection. It was hard to understand back then, but I studied the appalling behaviors of most of the adults around me and realized that they were rarely happy. Honesty was not something that was held in high regard in my family or Southern culture in general and I learned to shut my mouth, observe, and take note. I was happy with my inner spirit and intention for my life, but the world of my upbringing was at odds with my authentic self, and I lived with much guilt and shame. I felt like an outsider almost from the start of my life and I lived and dreamed for a future where I could be whole and happier with who I was inside.
By my teens I knew that I was struggling with my sexuality and had created a carefully crafted outer shell to avoid detection. I wanted and "tried" to be straight, but I was confused, and often guilt stricken. The late Seventies the South wasn't a place where being openly gay was something that I couldn't comprehend or relate to. I felt increasingly untrue to myself and turned to drugs and alcohol to numb the pain. I lived fast and took many risks with dangerous people. I was self-destructive and reckless at times, but somehow held onto the deep belief that I would somehow persevere, and my life would be amazing. My desire to grow up fast was my path to self-destruction and redemption. I knew in my subconsciousness that I would someday be happy and live the life of my dreams!
When I turned eighteen, I set off into the world with a few dollars, my passport, and a cheap backpack. This was the adventure that I had always dreamed about, and I was exhilarated and excited to discover myself. I had lived in fear for so many years and for once in my life I felt the power of the universe holding me safe and guiding me. I knew that this journey was more about discovering myself than anything else.
In my travels and daily life over the years, I've learned so much about the inherent goodness of most humans and the joy of feeling connection. I was still closeted and working on my fears, but each day I was more whole and in touch with myself and closer to understanding the power of authenticity. I let my guard down and began to breathe easily in my own body for the first time in my life. I knew that the universe would guide me and keep me safe for being truthful with myself.
ALIGNMENT
As The Happiness Warrior, one of my core values and beliefs is that it's my responsibility and duty to create personal happiness and self-awareness every day to find balance and live in alignment with my authentic self. Our path is defined by the power of our intention and the value of our truths. This means looking at what we do every day and examining how we can be better and improve with the happiness that rises from a disciplined mind. Owning up to mistakes and acting not to do them again is both the process and the mission. Looking inward and examining our day-to-day actions and honestly asking ourselves if we're aligned with our thinking? Are we being authentic or are we seeking approval from others?
Knowing ourselves and knowing both our strengths and weaknesses is the path forward to living a happier life with the freedom that comes when we live in our authenticity. We can't build our bodies and minds to grow stronger unless we believe we believe that we deserve to live better and feel happier with the joy that comes from living in harmony with our subconscious thoughts and conscious choices and decisions. Intention creates the mindset that we deserve to be better if we are the driver of our actions. Our lives are happier when we respect the process that's needed to feel happiness when we're living in harmony with our authenticity.
As individuals we have the power to make better choices and change our life path. We can choose to live in truth and become more authentic or we can hide in the shadows. Nothing is stopping us from destroying the bad habits and negative words that we've always used for ourselves. We can begin anew, by creating a new inner-dialogue and daily affirmations. We can promise ourselves that each day is going to be "great" and create our own reality.
We can be our happiest and perform at our best when we allow ourselves to believe in the intention and self-empowerment that comes when we take better care of our physical and mental well-being. Our body is the vessel that holds us and caring for it is something that so many struggle with. Enlightenment comes when we realize how closely they are related to our happiness and well-being. This is the key lesson that so many are unable to see. This magic doesn't come from pills or fad diets, but from joy and happiness that comes when we realize the synergy between our body and mind and how we can enhance our lives and mortality.
Change is the only constant in life. How we adapt and flow with the feelings of gratitude that come when we take care of our body and mind is how we thrive and create happier lives. A healthy body and mind working together as one, is the foundation for refining and living our best and truly authentic lives.
When we face the truth, we prepare ourselves for living in the present and valuing each step that we make towards our goal of finding more inner peace, physical health, greater energy and synergy in both body and spirit. Our soul rises and we learn the secrets of life when we leave our egocentric and selfish fears behind. Life can be magical when we know ourselves better both inside and out!
CHARACTER—TELL US WHO YOU ARE
We often base our feelings about someone's authenticity based on their passion and commitment rather than seeing them for who they really are and what they stand for. It's easy to listen to someone's words and get caught up in their conviction while ignoring the traits and characteristics that reveal their inner truth. Authentic people reveal their true selves in their actions and values. Watch their actions and alignment with their spoken words.  If our truth is strong our actions have meaning. They are a sum of our power and intention. Personal excellence is a way of life as authentic people lead us through the darkest and best of times.
We all share negative traits and emotions at times and recognizing these for the destruction that they cause is the path to more enlightenment and gratitude. Much of our negative thinking is created from biases and unfounded fear. See these for the impediments that they are and forgive yourself for past actions. We can only be better when we see ourselves for the truth and leave the past behind.
Authentic people who live in their truth share these uncommon traits:
1.       They are realistic in their perception of the present reality.
2.       Are accepting and forgiving of themselves and others.
3.       Are thoughtful and employ reason and measure in their thoughts and words
4.       Have a welcoming and self-effacing sense of humor and avoid harmful sarcasm.
5.       Are in touch with their emotions and able to express themselves freely without fear of shame or judgment of others.
6.       View life as a journey of learning and growth.
7.       Are clear in their intentions and motivations
Inauthentic people generally are:
1.       Self-deceptive and portray a victim or martyr mindset.
2.       Desperately need approval and validation
3.       Exercise shame and prejudice.
4.       Have a hostile sense of humor are easily offended.
5.       Unable to express their truth and often lie to avoid the truth.
6.       Are slow (or never) to apologize and don't learn from their mistakes.
SHOW UP FOR YOUR LIFE
We can't show up for others until we learn to show up for ourselves. When we understand the value of showing up for our lives, we discover our inner powers and create more abundance and happiness. Be your best, look your best and show the world the respect and self-esteem you have for yourself. Enter a room and let people notice you. Self-awareness can make us feel uncomfortable but when we reveal ourselves for who we will live in the light that comes from living in our truth.
Know that you are enough, and that growth happens when we learn to accept ourselves for who we are. Self-acceptance allows us to live in the present and experience the happiness that comes when we know that it comes from within. Change your inner dialogue and tell yourself that you're your own best creation. Connect with the power of the universe to lift your vibration and feel your confidence soar. This is how we create the happy life we deserve!
CANCEL VALIDATION
Authentic and happy people who feel fulfilled are always able to transcend their moods and feelings. They know that they need less external validation for our lives and their actions come with conviction and purpose.
When we remove the self-created emotional drama and fears in our head, we can open ourselves to the momentum and flow that comes from living our lives beyond the constraints of our making. Turn your inner dialogue upside down and know that you're in control of your moods and emotions. Use them to your advantage instead of letting them tear you down. When we listen to our inner voice our authenticity and truth arise.
Ultimately, authenticity is a display of an unwavering self-confidence and synergy with our subconscious thoughts and inner spirit. Each step we take in stripping our defenses and fear-based alter-egos is another step to gaining more momentum and happiness in our lives. In a world with so much chaos and rapid change authenticity is the antidote to living an incredible life filled with promise to a life of self-deception and living for appearances only. If we really care about the lives and happiness of others around us, then we must be confident in ourselves. Happiness comes from within and when we reveal our living spirit our vibration rises, and we connect with the guiding energy of the universe. We are the creators of our own lives and stories. We are the makers of our dreams, and our authentic self is our guide and teacher.
Everything we need to know comes from within us when we believe in the power and beauty of ourselves!