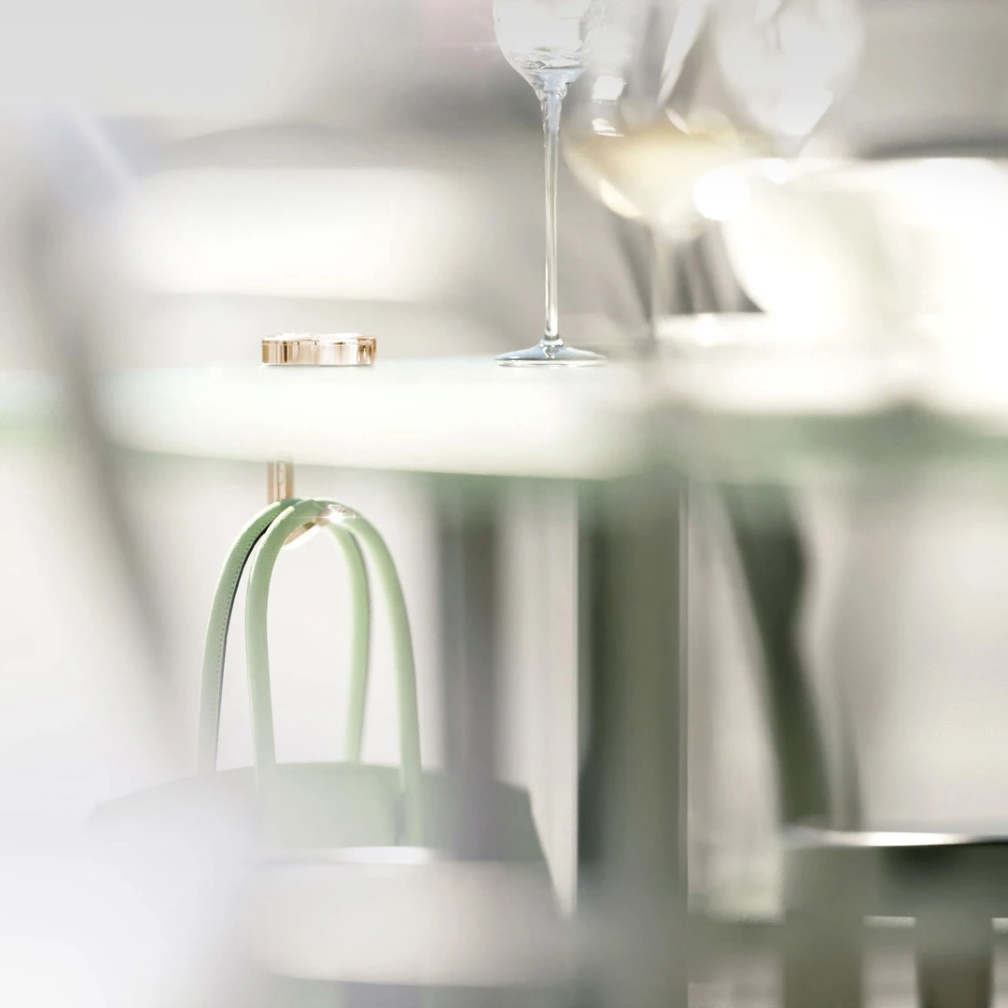 GET CARRIE'D AWAY WITH YOUR BAGS NEW BEST FRIEND
CARRIE Atelier has designed the ultimate bag necessity, suitable for haute couture collectors and always-practical purse owners alike. Their opulently-designed devices ensure your beautiful bag (and your precious belongings inside) are always close to you and sitting pretty.
The portable bag holding device lifts your purse off the ground, keeping it near you and within your eyesight at all times. By doing so, it makes it easier to take better care of handbags in restaurants, bars, cafés and other social environments.
The clever design of CARRIE helps to evenly distribute the weight of your bag, up to a maximum of 7kg/15.4 pounds. While an anti-slip feature keeps CARRIE securely on the table, your bag remains in perfect condition wherever you go.
CARRIE has an innovative foldable design with roots in Sweden. The vision is to make you feel that you can take your most treasured handbag out with confidence. Busy cafés and bustling restaurants are a perfect example of where CARRIE becomes a lifesaver – or bag-saver, if you will.
It only takes a fast-moving waiter or unintentional table-bump to find your purse near a spill. But where to put it? Without a place to hang your bag, you might find yourself holding it in your lap during your meal! CARRIE solves this by perching neatly on your table, holding your purse safely next to you.
It's a savior at your beauty bookings, too. Some spas, clinics and beauticians offer storage cubbies, but they're usually compact and take some maneuvering to fit your bag in. This could affect its shape and form. Stow your bag on a CARRIE at your hairdresser's appointments to keep it away from the floor and falling hairs. It's also a helper for your manicure sessions: it makes collecting your bag at the end easier, limiting the risk of messing up your freshly-glossed nails.
Similarly, it comes in handy for days spent outside with friends and family. We all love being in nature, however placing your bag directly on the ground could affect its colour and texture. Whether you're enjoying a social get-together at a park or enjoying some fresh air and a treat, CARRIE sits on outdoor benches and seating while looking effortlessly chic.  
CARRIE works on most bags that have a handle, from trendy-micro purses to your oversized work tote. It features a foldable design and weighs a petite 120 grams, thus ensuring it fits into the smallest bag without taking up too much space or adding bulk.
Despite being small and mighty, Swedish-designed CARRIE devices are fabricated from high quality scratch resistant material with your choice of rose gold, gold or silver plating.
Your CARRIE protects your bag, and a small dust pouch protects your CARRIE from scratches while you're on the go.
Carrie in Rose Gold; $155. Carrie in Yellow Gold; $155. Carrie in Silver; $140
Stockist:
www.carrieatelier.com