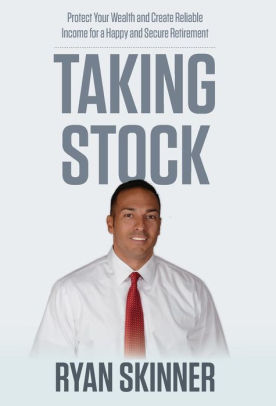 Bestselling Author and Recovered Heroine Addict turned Revered Financial Expert turned Radio Host RYAN SKINNER - NEW BOOK - "TAKING STOCK" IS AN AMAZON BESTSELLER!



Retirement Expert, Ryan Skinner, Hits Amazon Best-Seller List with Taking Stock
Ryan Skinner recently ranked on the Amazon.com best-seller list with the new book, Taking Stock. 
A trailblazer in the field of asset preservation and distribution with an empowering story of personal redemption, retirement specialist Ryan Skinner—co-owner of the Woburn, MA based firm Summit Financial Partners — recently hit Amazon best-seller list with Taking Stock. The book was released under the CelebrityPress® imprint, a leading business book publisher that publishes books from ThoughtLeaders® around the world and was released on July 19, 2018.
On the day of release, Taking Stock reached best-seller status on Amazon.com - reaching as high as #11 in the "Education Funding" category, as well as placing #48 in "Retirement Planning". The expert information shared in Taking Stock helped the book reach optimal best-seller placement and will help readers gain similar success in their endeavors.
CelebrityPress® describes the book as a different approach to explaining concepts and strategies in the financial industry. Instead of complex financial jargon that makes your head spin as you attempt to understand the requirements of a secure retirement, important concepts are paired alongside anecdotes from the lives of his clients, celebrities, and even his own life to help explain retirement planning in an enjoyable and informative way.
If you're uncertain about retirement, Taking Stock is here for you. Ryan explains how to analyze future financial needs, secure definite sources of income (annuities and maximizing social security and pensions), prepare for worst-case scenarios with disability and long-term care insurance, guarantee your legacy with estate planning and asset distribution, and so much more. Remember, hope is not a plan. The best way to acquire worry free financial independence is taking action, and opening the pages of Taking Stock should be your first step!
After such a successful release, Ryan Skinner, will be recognized by The National Academy of Best-Selling Authors™, an organization that honors authors from many of the leading independent best-seller lists.
Click HERE to order a copy of Taking Stock
A portion of the royalties earned from Taking Stock will be given to Entrepreneur's International Foundation, a not for profit organization dedicated to creating awareness for charitable causes.
About Ryan Skinner
A trailblazer in the field of asset preservation and distribution, retirement specialist Ryan Skinner—co-owner of the Woburn, MA based firm Summit Financial Partners—sets the standard for developing long-lasting personal relationships with his clients. He is driven by his passion to help people achieve "worry free" financial independence with solutions that provide safety of principle and guaranteed retirement income streams. When Ryan talks about ROI, he means "Reliability of Income."
Summit Financial Partners' approach to working with clients is one that is both relaxed and confident. Our sound and well-researched solutions provide clients with solid financial plans. His areas of particular focus include: preserving and protecting client assets to ensure financial independence; determining how to maximize Social Security and other retirement benefits to provide maximum retirement income; and developing advantageous strategies for estate planning and asset distribution.
"My ultimate aim for every client relationships I have is that I provide peace, so they can sleep without any worry about having enough money to live on and enjoy their lives with," Ryan says. "My many years in the financial industry have taught me one essential truth: at the end of the day, all people want is someone who is honest and who genuinely cares."

To contact and learn more about Ryan Skinner: www.summitfinancialpartners.org
A simply remarkable and inspiring story.