In an office that a dishwasher is being used communally, it is pretty difficult to set rules on how a certain appliance needs to be taken cared of. A dishwasher is a responsibility of no one until you hire a dedicated staff who will look after it. You cannot expect all your employees to be as tidy. Some of them are careless, messy and do not react on dirt. Due to neglect, a dishwasher can emit smell and contains grime which will be yucky to live by. Imagine that you need to get rid of this slippery grime on your own and you need to pick up the bits and pieces of food crumbs at the bottom of the dishwasher - not a nice feeling, right?  Attending to dishwashers are now part of a commercial cleaner's task. Thanks to our office cleaning provider that we do not need to deal with this issue anymore. But how exactly is the proper way of using and caring for this poor dishwasher? I will give you four helpful steps that you can apply in your everyday life and household. 
In an office cleaning set up, employees will definitely eat using cutleries and other eating utensils. Instruct the commercial cleaning company to collect all the used dishes left on individual desks first. Once done, they can start by rinsing the cutleries first to make sure that no residue is left and to rinse the excess food that may be stuck in it. This is important because this residue can choke your dishwasher in the long run.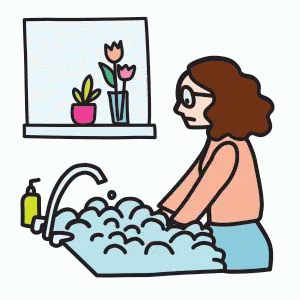 Office cleaners needs to unload the dishwasher after a full cycle. Often times, the dishwasher is being used as a cupboard. It is not a good habit not to unload a dishwasher completely because you might get confused about which dishes are clean and which are not. It is also a waste of resources since clean dishes will be part of another cycle. 
Overloading a dishwasher is also not an ideal way of caring for it. It is good to have a commercial cleaner to be assigned during lunch or after the
lunch rush hour
. He can be responsible for making sure that irresponsible employees will still push their dirty dishes into an overloaded washer. 
Lastly, we need to keep the dishwasher clean and gank free. You can tell the office cleaner to run the dishwasher on rinse mode when it is empty. It is also advisable to use a mild chemical or vinegar at least once a fortnight. It is also important to clean the trap at least once a month because this is where the debris of the leftover food gets trapped. Wipe the outside and the seals of the dishwasher to make it more efficient while on duty.