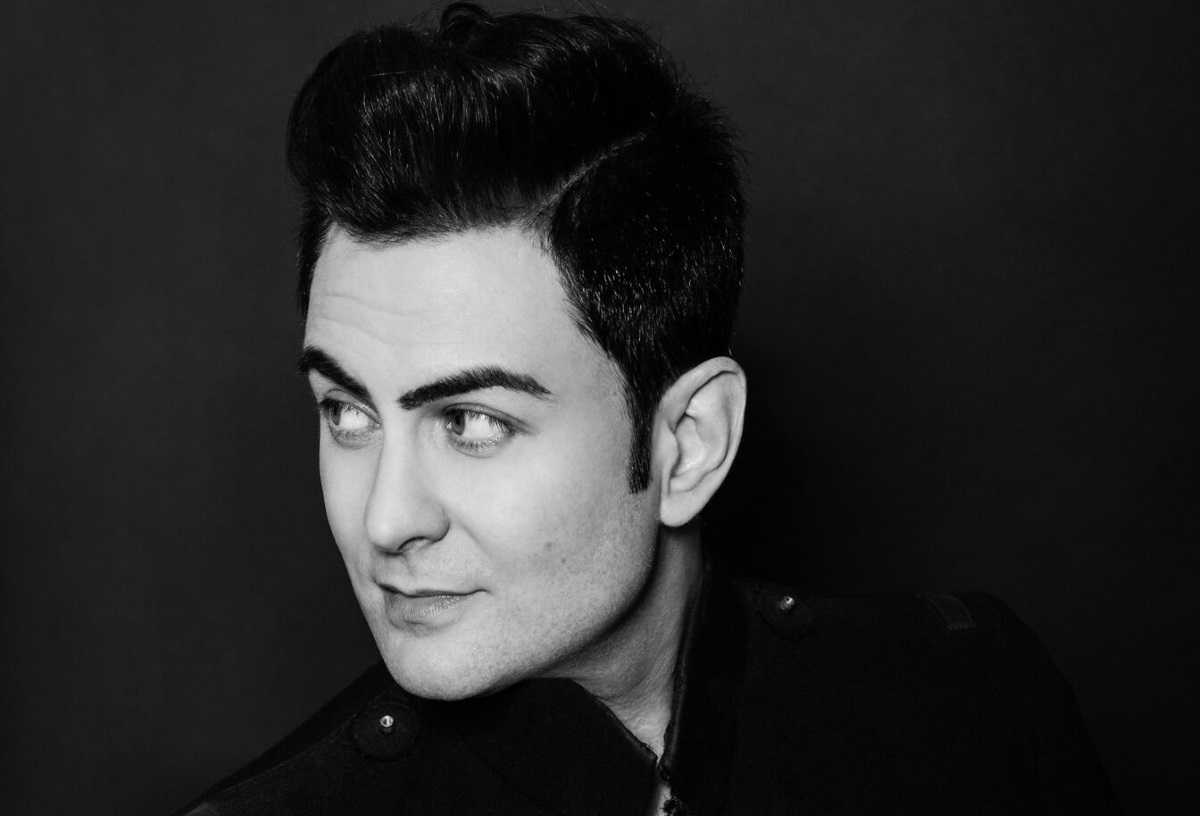 I grew up the son of a jazz singer. My initial infatuation with music wasn't caused by Charlie Spivak, Bix Biderbeck and Bessie Smith, as was my father's. Rather, I'd been infected by the rather more recent Michael Jackson, Stevie Wonder, Earth Wind & Fire, D'Angelo, Tribe Called Quest and The Roots (and the list goes on).  But swimming in a dichotomous lake of pop and jazz music as i did during childhood, my appreciation of jazz was never far from sight. As early 11 or 12,, while other kids feasted on Beastie Boys, Duran Duranand Genesis, I was busy obsessing over a series of tapes that I'd made from my dad's old jazz 45s and 78's from the late 1940's. Solo records he'd done with Artie Shaw as well as sides he'd recorded very prolific wartime vocal group, "The Mel-Tones". He was a master vocal arranger with a genius for harmony and it was a great introduction to that kind of music. I know I got that part of my musical circuitry from him.
Notwithstanding, when I came "of age" I was determined not to ride the old man's image into any kind of parade. I had my own ideas and unique mix of influences to share with the world. CAA, who were hip-pocketing me at the time, arranged for me cut my teeth here in my native LA with a six-weekend residency at then Johnny Depp's Viper Room Club on the Sunset Strip. It was a big success. With all six weeks sold out, people saw me as an artist his my way to a Pop/R&B career à la Justin Timberlake, Daniel Beddingfield, Maxwell or Robin Thicke.  But something strange had happened during that residency. I'd do an 'unplugged' version of Theloneus Monk's "'Round

Midnight

", the jazz classic, as my encore, and the effect it had on the very young L.A. crowd was, well, stunning. They were entranced during that rendition, one I'd only included in the set because I thought it would be healthy for them to hear a proper jazz tune. I sang the song a cappella and you could hear a pin drop. These people were recognizing me as having a key to a specific room no-one else could access. To add to this, Colombia Records started approaching me. They wanted the jazz singer James Tormé, not the pop/R&B singer. After some soul-searching I made the decision. I would go in the direction of jazz. After all, it was a big part of my roots.
After a brief scramble to find my footing in this new genre, a long-reputed jazz industry figure, Chuck Mitchell (recently retired as President of Sony Classics), caught a show of mine in San Diego and decided to sign me. Quite a blessing, given that it happened right in the middle of the 2008 financial collapse. I spent the next few years as a touring jazz singer, sharing the bill with various giants, from Al Jarreau at the Greek in L.A., to Gregory Porter and The BBC Concert Orchestra in the U.K. — with great big bands and symphony orchestras, touching down at many great festivals and famous venues around the world. My debut album 'Love for Sale' came out and found its way to the top end of the Billboard, Amazon Jazz, and iTunes jazz charts and won a couple of awards. Things were going very well. But then something else happened. 
I was doing an interview on Ronnie Scott's radio in London, and the host invited me to go to a concert afterwards by a new accapela group called 'Vive". I ended up going to that show and was blown away. These young kids had taken everything good about Take 6 and put a new, youthful spin (and one more part to make 7 vocals) on it. This material was just as sophisticated, but really fresh. I marveled at their set of mostly original songs. After, we all hit it off, like long lost brothers. These youngsters actually knew who the Mel-Tones were! James Rose told me he'd recorded couple of accapellla/vocal albums of his own, and I said I couldn't wait to hear them. 
A few days later i got on the plane to go back to L.A. I'd downloaded both Rose's two solo albums and Vive's self-titled debut. I sat down on the plane and pressed play. My mind was blown. Rose's vocal arranging was on a level beyond anything since Take 6. He was my dad— a vocal harmony genius not unlike Jacob Collier, another harmony savant who I later discovered who is now the subject of Quincy Jonesadoration), only he was living now.Tears of joy and amazement flowed down my face and memories of that first taste of Take 6 at the Hollywood Bowl in '91 came flooding back. I have to say, it roused my appetite for the pop/R&B I'd done earlier in my career. I'd become the biggest James Rose fan in the world, and I told anyone who would listen, including an old industry freind.
Then, a few months later that same friend approached me about recording my own new versions of some of the best cuts from the 3 James Rose-involved albums, plus some new songs, in order to bring this music to America. He promised a scenario no-one sane should turn down. He didn't deliver on those promises in the end, but by then it didn't matter. His enthusiasm had inspired me to get the album, (which is called "Strange Little Planet") recorded, a process that took six trips to the UK over 3 and a half years. By mastering-time, I'd already found a considerably better home for this and some future projects in the form of Paul Ring and his Bungalo/Universal label. Ring, a legendary 30-year veteran at Universal, had turned several things into gold recently. But more importantly, I knew he knew music inside out, and understood what I wanted to do with it. It was huge to knew that a guy who'd engineered songs like Bobby Caldwell's "What You Won't Do For Love" and "The Light" (Later sampled to great effect by Common) was now telling me there's nothing he wouldn't do for me. It was, and continues to be much more than a business relationship. It's a real friendship. I don't know how, but somehow I always land on my feet.