Written by

Darrell Kelley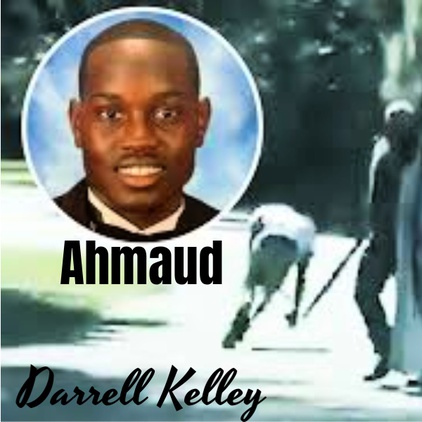 I feel very blessed that two of my songs, "The Coronavirus" and "Because of You," are currently in the Top Five on the World Indie Music charts and continue to grow in influence, with over 100,000 Spotify streams each and the video for "Coronavirus" at over 220,000 views.
I wrote "Coronavirus" early on in the crisis when I realized that many people weren't listening to the authorities and doing what we're supposed to do to stop its spread. The song was a response to that, hoping people would listen to its message and the reality would sink in that this is life and death serious. It was my way of saying basically that we all have to stick together and wait it out until we flatten the curve and find an ultimate solution. A few months earlier, I wrote "Because of You" as a call to arms addressing the tragedy of gun violence in our schools. It was directly pointed at the NRA's ongoing attempts to block common sense gun laws.
As I get set to release my new single "Ahmaud," about the tragic murder of a young unarmed black man in Georgia who was just jogging down the street when he got gunned down, I am reflecting on some of the other songs I've released over the past few years that tackle social issues relevant to our time. These include "Believe in Something (Kneel)," where I address critics of former NFL quarterback Colin Kaepernick for his silent protest; "Evil," about the crazy ongoing spiritual battle between good and bad we fight every day; and "Unity," which calls out the victims of school shootings and rogue cops and advocates for us to "make a change, stop all the hurt and heal the pain" of racism and hate and live up to the Biblical teaching "Love thy neighbor."
To be honest, until someone pointed out how many songs I had that addressed socially relevant issues, I never saw myself as that kind of artist. I grew up listening to great artists who wrote important message songs like The Staples Singers, Stevie Wonder, Paul McCartney and Bruce Springsteen, and feel there aren't enough of them now. But this was never a conscious intention for me. I'm just a guy who has definite opinions about what's right and wrong in our lives. If I see something wrong, it shouldn't go unnoticed.
I feel like I'm growing with God and as a member of my home community and as an artist, but I consider myself a work in progress. I'm not one to go out and protest things in person, with hundreds of people backing me. So the only thing I can do is write and sing what I see. As I said about "Ahmaud," this young man had a future and everyone loved him. The straw that broke the camel's back and inspired me to write the song was when I saw his best friend crying on CNN with Don Lemon. I couldn't hug this young man and tell him that his best friend is now with God. The only thing that I could do was write this song. I wanted to write the song for Ahmaud's grieving mother, but even moreso, to let people know that this is not right and as an artist, I do what I do in the hopes that people hear it and it serves the cause of justice. It's kind of the same way I was prompted to write "The Coronavirus." I realized people weren't listening and there was this doctor from a hospital in The Bronx saying, "Stay the F home."
As I get older, more and more I'm finding that mainstream artists in the hip-hop and R&B worlds are more selfish than socially conscious, only writing music to benefit themselves and bragging about all their money and jewelry and things. Maybe it's the generation I grew up in, but I care more about helping people – and during these current circumstances, wondering what's going to keep us safe, how we can save the economy, what my next-door neighbor needs and those kinds of things. Even when I'm doing songs that are more personal and not responding to something going on in the news, I'm all about trying to uplift and encourage my fellow man. "Mood" is about taking time out of your busy life to spend time with someone and show how much you love them. "Be Yourself" is telling folks not to believe negative things people say about you, especially from those who claim to be your friends. Only God knows who you really are, and you have nobody to impress but yourself.
My process of creating these songs is pretty spontaneous and organic. I just open up my cell phone and start texting myself lyrics and record the melody as it comes to me. When I feel like I have enough of a story and I'm into the flow, I call my local producers, including Ice, Producer K and my son Kevin, and they help me find the source instrumental stems that are available. Once we have all the elements, including the stems, I call up my engineer in Miami, send them the tracks and tell them how I want it to sound. I go into the studio – these days, observing the social distance protocol – and record the vocals.
It's really a spiritual process and 100% I give God all the glory and credit because I believe He gave me an unbelievable gift to write songs from the heart. I'm grateful we live in a time where when I write a song, I can get the process going right away and get it recorded, mixed and mastered within a few days. This is especially important if I'm writing something based on events going on in the news. If I waited six months to release a song about the coronavirus or Ahmaud, it would be too late.
None of these tools would matter if I didn't have important sentiments I need to express that I feel could be meaningful to people. It wasn't by design, but I feel like I've become a messenger using music as a platform to express what's happening in the world today. The chart success and streaming and video numbers are encouraging, but more importantly, I hope that a lot of people understand what I'm saying and really respect those messages. I want them to understand that life is not promised to us. So if I write a song that can help a person be more careful about their surroundings and live a longer life where they try to stay away from negativity and feel more positive about themselves and their future, that's very important to me. I never know when the next inspiration will hit, but no matter what comes down the road, I want to let people know that they're not alone out there. There 's a voice that's fighting for you – and you can listen to him anytime you like!