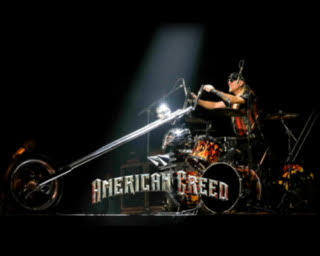 As Chuck Berry's go-to special show drummer for many years, I had the honor of meeting and playing with a lot of rock and roll icons, including original members of Bill Haley & The Comets. A few years back in Branson, MO, I went to see them perform. At over 90 years old,  their drummer Dick Boccelli was on stage, playing up a storm, like someone half his age, wearing a do-rag and leather gloves. Between songs, the guitarist – another original Comet – said, "Are there any young 80 or 90-year-olds out there? It's our drummer's birthday!" Still going strong after years of performing, these guys were giving it everything they had. Looking at them up there, I thought, if I'm lucky enough, maybe that can be me someday. I'm grateful for my lengthy career and for every year I get to play – another year where I can smile at my good fortune and moan a bit at the physical toll it sometimes take to do what I do.
When Dick died in 2019 at age 95, one of the blog posts put it perfectly: "The coolest drummer on earth is dead – he rocked till he dropped – even in his nineties!" To me, that's what being a musician is all about – loving what you do for a lifetime and being so dedicated to your craft and the joy it brings people that you do it until nature says you're no longer able. As a kid, I knew I always wanted to be a musician. It was all I ever thought of and I'm one of those that was feeling it from a young age. Once it's part of you and in you, it's hard to think of anything else but music, music, music. When you feel that making music is what you're put on earth to do, and no matter what circumstances arise you still find ways to write, produce and/or perform, then you're a musician.
It's interesting for me to look back on my career from the perspective of being a veteran musician who is still in the game. I've been so blessed to play io many places with Chuck, open for rock legends while touring with St. Louis classic rockers Head East, and now enjoying the success of American Greed with Matt Arana, Dave Farver, Jeff Peterson and Stephen Winter as our song "Together" has become an international hit. Because when I started out, I knew I wanted to play more than anything, but you never know if you'll be able to live and survive making music your whole life – let alone continue making a living for years.
Nothing was assured. I was a single dad at a very young age, and while my parents always supported me in my musical endeavors and came out to see me play, my mom would say to me, "You have a daughter. You need to settle down and take care of her" – implying, of course, that I should forgo music and get a "real job." But I didn't see why I couldn't do both – raise my daughter and pursue my career. So I continued on that path, pursuing every angle I could, thankfully with their full support. To me, that's another definition of "musician" – someone to whom music is so important that they will do whatever it takes to make music even when life circumstances suggest you go a safer, more financially stable route.
Being a full time musician means you're committed to a lifestyle and making sacrifices. But in my book, you're still a musician if you play enough to fulfill that part of your life. Just having the opportunity to play any way you can is important. You don't want to end up later in life miserable, wishing you had pursued or done this or that.  Everyone must make their own choices when it comes to fulfilling those inner desires. For me, unlike for some of those folks, whether it's a curse or a blessing, if I'm not playing, I'm losing my mind. If I'm not part of something creatively and musically constructive, I will do everything I can to figure out a way to connect to those opportunities to play.
Although the American Greed song "Together" has become something of an anthem about people being separated from each other during the pandemic, it's rooted in my being on the road, away from my daughter and family , longing for the moment when we can be together again upon my return. But I realize it's not just musicians who are so dedicated to their life choice that they will make such personal sacrifices.
When I was writing it, I thought about truck drivers, salesmen, people who work long shifts in hospitals, firefighters on 24 hour shifts and those servicemen and women who are often away from their loved ones for months or years at a time. I wanted the song to be about people missing someone who is home without them. Even in non-pandemic times, people go through it every day. Others who make great sacrifices in pursuing their dreams are athletes, all professionals and even writers. When you decide this is your life, success often depends on how much you're willing to sacrifice. 
Some people may answer the question "What is a musician?" by saying it's someone who is a rock star making millions of dollars playing for thousands of fans every night and selling millions of albums. This is not true at all. While I've been making music for what seems like forever, I have come to terms with the fact that I'm not a rock star in the traditional sense. I may never  have the riches or influence of a Jon Bon Jovi. Yet I've traveled extensively, hit every dot in the U.S. playing music I love for hundreds of thousands of people – and have done more interesting and exciting things than most people do in ten lifetimes. This is the life I love.
Playing music all these years has truly fulfilled me. I have to think, if I died tomorrow, have I enjoyed my life playing music? Yes – and now I want some more, so I'm excited about American Greed's new opportunities to be on TV, record and hopefully start gigging soon in support of our album. Being a musician is not for everybody and will never be for everybody. But I keep pursuing excellence because it's what brings me the most joy – and nothing is more incredible than traveling, playing music and having my wife right there by my side and enjoying this adventure with my band mates. This is the life that is fulfilling to me as a "musician."