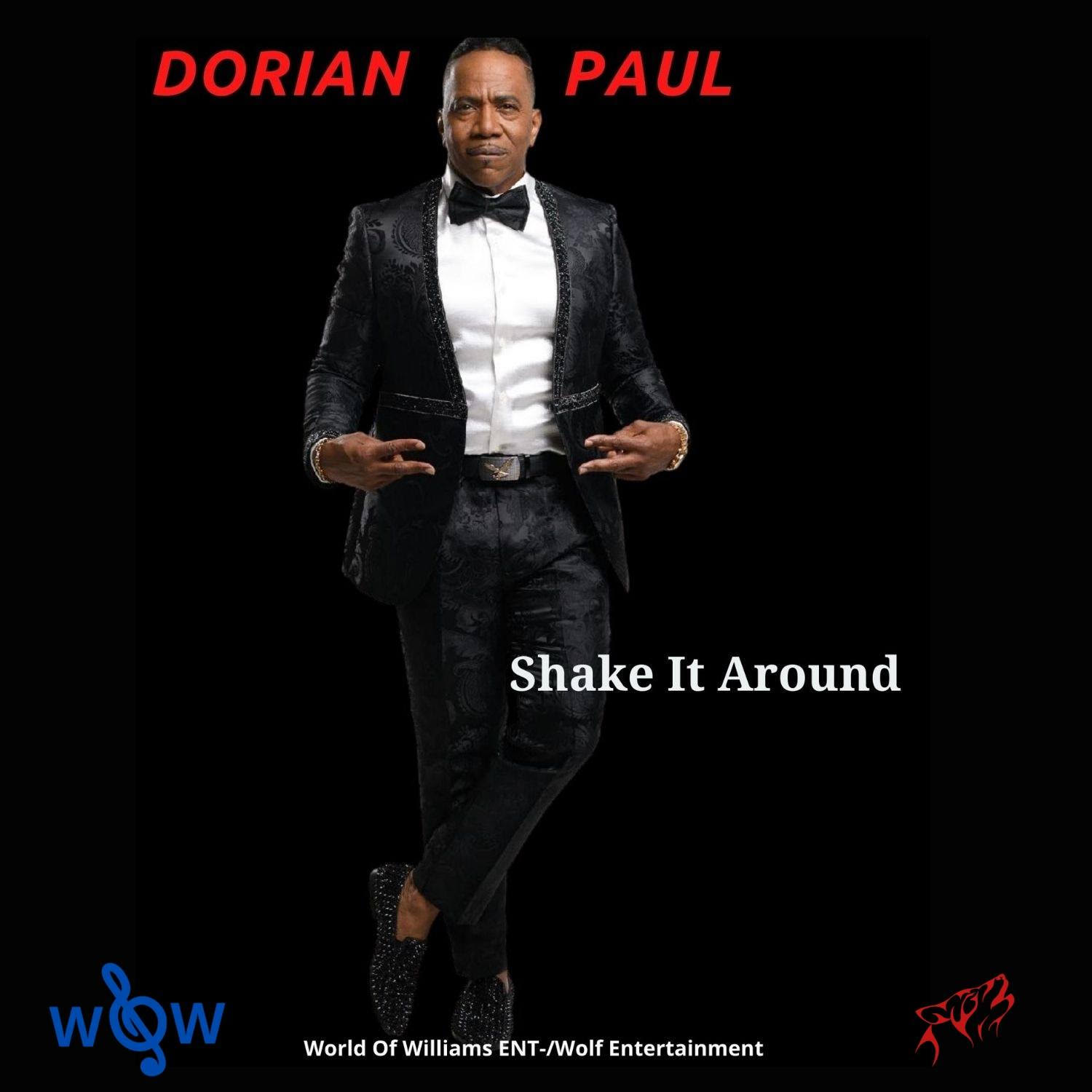 It's so wonderful to be back singing and recording again after a long layoff to raise my family as a single dad. Even though my latest track "Shake It Around" has my trademark grits and gravy funk vibe, major grooves and horn sizzle right out of Cajun country was actually inspired by much heavier emotions when I wrote it in 2020. The whole world, not just America, was in a dark place, the tragedies of George Floyd & Briana Taylor, apandemic that shut the whole world down, during which time I suffered personal deaths in my family that weren't even COVIDrelated with 30 days of each other. To make matters so much worse, on November 20th of 2020, my son was in a horrible car accident and was almost killed. I said to myself I have to do something to bring energy and hope to not just my family, but the whole world. I'd had to write a song to help turn this thing around, thus Shake it Around was born!
I always like to say that before I got involved with music, music got involved with me! I was born in Houston's Fifth Ward, home of boxing legend George Foreman, civil rights leader and former Congresswoman Barbara Jordan and legendary Crusader keyboardist Joe Sample, and raised in Trinity Gardens in Houston. I remember being five years old sitting on the living room floor, when a cereal commercial came on with a mascot and song called "The Funny Pink Elephant." The groove of that song would mess with me every time I heard it, so one day I cut loose and sang it word for word. My family was utterly surprised because they said I was a quiet child who hardly spoke before this breakout moment, well I've been breaking out and grooving ever since. 
Around the age six or seven I grew an entrance in playing the drums, then in the 7th grade of middle school, I played in the school marching band. Truth be told, I was more into football than the marching band, so in the 8th grade I put more of my energy into football. I truly enjoyed the competition & comradery of the sport, the teachings of unity, overcoming the odds and working together for a common goal would be very important for me later in life, but I still desired music to be in my life in some way. When I was coming up music was promoted as very important in school. We would have talent shows every quarter. 
It was at one of those talent shows in middle school that would be ignited my musical drive greatly. My best friend Robert A. Berry would form a group called the Unforgettables. Hereluctantly let me join the group. Our musical influence wasshaped by the soul greats like the O'Jays, Temptations, Bobby Womack, Marvin Gaye, Stevie Wonder, The Stylistics, Four Tops and Jackson 5. We got pretty good before leaving middle school, but when we got to high school, the competition was much stiffer. I went to the world renowned Kashmere Senior High School in Houston. Our school was so gifted under the tutelage of the legendary Mr. Conrad O.Johnson, that Jamie Foxx did a documentary of the Kashmere Stage Band called, "Thunder Soul". It was many groups vying to be the top group of the school, but when we got there, the top dog group wascalled the Royal Temps.
As I told you earlier, I love competition, but I didn't tell you I hate to lose! I told the guys whatever it takes, we're going to be the best group that ever came to this school, and our work ethic was impeccable. We battled all thru high school and if you ask me, we accomplished that goal. Now when it became time to graduate, I had a decision to make. My mind was burning because I knew I wanted to get an education, but music was calling me as well. I said I would go to get an AA degree then do music full time. I enrolled at Wharton County Junior College. It didn't take long for me to know I wasn't where I wanted or needed to be. That train of thought was confirmed at the first talent/fashion show held at the college. I participated and won first place in both categories. The president of the school was there and heard me sing the Temptations song "Memories" andMarvin Gaye's "What's Going On". He called me in his office the next day. I came in and he politely ask me why was I there,baffled at that question coming from then President of a college, I replied, "to get an education", he said, "no son, I'm an educator & advocate of higher learning, but I was at the talent/fashion show last night and you don't belong here, you belonged in New York or Los Angeles pursuing a music career"!
That was enough confirmation for me! I called my best friend and told him I was coming home and let's put the group together and do this thing for real. We changed our name to Heaven, and after a brief stint in Houston, we saved our money and moved to New Orleans in search of a record deal. Almost 2 years had passed and moral sinking to its lowest point when a booking agent out of L.A. heard about us and told us he could book us in Japan. We looked at it as a way to save some money to record new songs to shop for a deal when we got back and a much needed change of scenery. During the second month there my mother got sick with breast cancer. I left the group and came home to Houston. When I found out how much the besttreatments would cost my father, I felt like I had to get some realmoney quick cause it was no way my dad could afford that on his little salary. I struck out and started grinding as a solo artist.A gentleman name Mr. Homer Sheiler had a studio in Baton Rouge Louisiana. We cut a deal that I could record there and if anything jumped off, we would negotiate a deal where I would keep my publishing & writer's rights and pay him cash off the deal. I wrote and recorded a record called, "Stacked to the T".
I got blessed when the great Tom Joyner got a hold of it and blasted it out of Dallas thru the Southwest Region. I truly felt this was the break I needed and would put me closer to getting a deal and helping save my mother. I also knew regional success wasn't enough and time was running out cause the condition of my mother was worsening. I saved enough money for a week's stay and put together a plan to go to Los Angeles. When I got there, I would disguise myself as a promoter pushing Dorian's music. I hustled everywhere – RCA, Capitol, Motown and MCA but got nowhere. The very last place I went before I ran out of money and had to come home was Total Experience Records,that at that time was The Gap Band's label. The assistant to the president Don Alexander, had me believing that if I waited long enough, I could meet him. After 6 ½ hours, he never came out to meet me, but while I was in that office, I walked up to the picture of Charlie Wilson of The Gap Band, stared at that picture with tears in my eyes and said, "I'm such a fan of yours, if Icould just got a shot, I know I could do this". I left that office hurt but never felt defeated.
I returned to Houston and my mother passed away 6 weeks later. With the determination now of an angry lion, I pursued even harder to prove all the odds of betting against me were wrong. I became friends with the program director of WBOK in Baton Rouge named Carlos Beck. He said if I performed a song he wrote called, "Rejected" on my album, he would play my record on his station. I totally agreed! A few weeks later while I was playing what they call, "the Chitlings Circuit", Charlie Wilson of the Gap Band came to Baton Rouge to promote their latest album at the radio station where Carlos worked. He told Charlie about me and gave him my music. To my disbelief while promoting in Houston, Charlie's rode manager Rudy Taylor caught up with me by phone at my hotel in Dallas a day before I was to play one of the clubs there. He said he'd prepaid a flight for me to come to Houston to meet with him & Charlie. Through a crazy set of circumstances and me having faith in me to step out on, I caught that plane and came back to meet Charlie. He told me he liked what I was doing and wanted me to come with him right then, I said yessir!
That was the start of 16 incredible years of touring, writing, producing, arranging and recording with The Gap Band, but more importantly, 3 months after my mother's death, I walked in that same office I stared at Charlie's picture and told him I just needed a shot. I believe God heard me and touched his heart, because I signed with Total Experience Records 5 months to the day of my mother's passing. 
I left The Gap Band in 1999 to spend more time with my growing family. While raising my kids as a single dad, I got back with my original acapella gospel group from church called, Tabernacle. I loved being back with those guys because it was less demanding and really didn't interfere with me raising the kids. I enjoyed that run from 2000 to 2007. During that time, I created what I call Acca-Thera-Praise Music (Acapella Therapeutic Praise Music) and my solo album Acca-thera-Praise, Vol. 1 For Him to You won five awards from NACAMA (National Acapella Christian Awards Music Association). I saw my last child walk across the stage to receive her diploma from high school and headed to college in 2019. It seemed like as soon as she got it, the fire came racing back in me to start doing what I've always loved to do again. I feel like God has preserved me physically and vocally so I could come back now and share a different side of my artistry to my fanbase I affectionately call D-Fam Nation. I'm looking forward to the release this year of my album, "Cause I Want To – Cause I Can". 
My current sound could be described as a great bowl of gumbo because I'm influenced by so many greats from different eras & genres who came before me. I'm hoping my musical offerings will be well received and allow me to tour again and bring my live show to stages worldwide.
Everything I do now have to have a positive cause attached to it, so a successful comeback will allow me to support my beloved HBCU's, St. Jude Hospital, and my Fathers Who Will Foundation.