Written by

Krisanthi Pappas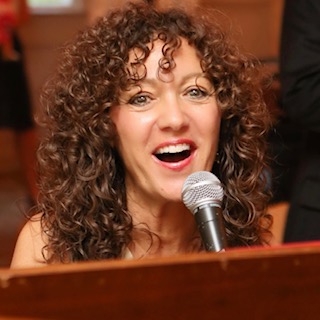 The Joy Of Music Persisted
My musical journey began with me singing as a child in my backyard. For the sheer joy  of singing. The journey has taken me through many peaks and valleys but always  focused on the joy, my latest success has been through my new single "Hug A Million  Times". I have been told by listeners and radio programmers, that the song has been  bringing them joy and has been named a "Covid Recovery Anthem". As a songwriter, I  feel a sense of responsibility and privilege to be a communicator for all people, and  when my music brings people a burst of joy, that is the most rewarding. 
After singing in my backyard, I then progressed to the front yard where I sang for the  traffic jammed at the red light in front of my house. That way I could sing the same  song over and over and always had a new audience every few minutes :) From there I  wrote my first five songs and created my own singing group to perform for the other  kids at recess. I joined community theater and by the time I was a senior in high  school I was out singing professionally at a local "supper club". People came for  dinner and a show, and I performed the show with a boy that our director had chosen  to pair up with me. We each sang a set and also sang some duets together. We were  a local teen sensation at that little supper club. The joy of music persisted.
Also during my senior year of high school, a Boston area recording studio was looking  for someone who could sing in French for a musical project. Having studied several  foreign languages in high school and taken French for 6 years, I auditioned for the job  and was hired to sing the song. When the studio people heard me sing, they then  asked me to sing 4 songs for an EP they were working on for Epic (a subsidiary of  Columbia Records at the time, and a big deal). I signed a recording contract with the  studio, recorded the 4 songs and unfortunately nothing came of it. I did however gain  recording skills that I would use again and again throughout my career. 
My first year of college began and ended on the same day. I joined a band instead,  worked a day job at a factory and was miserable. After a few months, I left that scene  and auditioned to be a musical theatre student at the Boston Conservatory of Music. I  was accepted into the school and just before the semester was set to begin, I became  the lead singer of another band who was set to tour, and took off on the road to "see  the world". 
The keyboard player, Jack, and I both wrote songs and loved performing and recording  music together. We played five hours a night, six nights a week in different cities. After  a few years of working on the road as well as locally in the Boston area, we decided to  moved to LA to "make it big". This was before the internet existed and the only way to get in touch with record labels was to literally knock on the door. We packed up our  red Chevy van with keyboards, an organ, our huge sound system, mic stands, cables,  and a few suitcases of clothes. AAA supplied the maps of each state and we had an  exciting adventure driving across the country from our city of Brockton MA to  Hollywood CA.
When we got to California, we bought a book that listed the names, addresses and  phone numbers of all the record companies. We literally called each one and navigated  the drive with a paper map to their offices, day after day, dropping off our cassette  demo tapes to each one. When we saw the circular shaped building of Capitol  Records with the iconic Hollywood sign behind it, we knew we had arrived. After not  hearing back from the major labels, we ventured to the independent labels and ended  up with an indie label deal at Moro Landis Studios in Studio City, California.
We moved into an apartment across the street and walked to work every day. We  connected with a drummer and bass player and from 9 am to 9 pm we worked in a  little studio room rehearsing our songs, writing new songs, creating song arrangements  and honing our craft to become the next pop sensation. Our work day also included  extensive dance training as well as performing in front of a mirror to improve physical  habits (I used to sing with my shoulders raised) and learn to look like a polished stage  performer. Our only "day off" was Sundays when we performed for the other acts who  were also signed by this label, and we were filmed by a professional videographer. We  would watch it back to see how we could improve our stage presence.
The fun part of working at Moro Landis Studios was seeing all of the other musical and  dance acts that also rehearsed in the building. Madonna, Paula Abdul, Janet Jackson  and other big name acts were working right across the hall on many occasions. 
The unfortunate part of this experience is that we were not making any money and our  label manager did not want us to take any time off from our training. We had to burn  the candle at both ends by playing some LA clubs late into the night as well as  performing on cruise ship jaunts to Mexico. Within a year our dream came to an end  when our label manager closed down the company and we moved back to Boston. I  didn't make it big in Hollywood like every young artist hopes, but the studio and stage  skills I learned there were invaluable to my future recording and performance career.  Beneath the disappointment, the joy of music persisted. 
Within a few months we met a record producer from New York City who wanted to  work with us. Week after week, I took the Amtrak train to NYC to work on the songs  with him, while Jack would be joining us once the arrangements and tracks were  created. I also trekked down to Philadelphia to the famed Sigma Sound Studios  where other professional song arrangers were creating the tracks that I would sing to, which I did. 
After almost a year of this and no finished products, I found out that the producer had  been using the money to fund some other projects of his own. We ended the deal and  took him to court for not using the money accordingly. Unfortunately we lost the court  
case but somehow the joy of music persisted and I was able to write one of my most  requested songs out of this experience. 
For a few years after that, I spent all my time performing full time, five nights a week,  still with Jack, and still recording our original songs at various Boston area studios. I also went back to college for two years and built up some college credits. Around that  time, my mother died and shortly thereafter I told Jack I needed a break and wanted to  switch gears.
I turned to my love of jazz which was a path that brought me much personal  satisfaction and later brought me professional accolades. I met new musicians and  within a year I recorded my first full solo album and released it to a sold out crowd at  the famed Scullers Jazz Club in Boston. I started writing jazz songs and ended up  winning twice (2nd and 3rd places) in the Billboard World Song Contest with two of my  original songs. I continued to perform jazz, and with the money I made from the sales  of my first album, I was able to record a second. It is aptly titled "My Back Yard" and  has a title track which tells that story. The joy of music persisted. 
I was invited to be an opening act for big name jazz acts such as Branford Marsalis  and Chuck Mangione, and I shared the stage with The Yellowjackets, Manhattan  Transfer's Cheryl Bentyne, Kevin Mahogany, Gary Burton and Makoto Ozone. Over the  next few years I recorded and released four more jazz albums of standard and original  songs and started getting major airplay on both commercial jazz and digital radio  stations, having now had my songs played over three million spins on Pandora Radio  alone.  
Through a music publisher, my voice and/or original music and lyrics have aired on  episodes of "Parenthood" (NBC), "The Mindy Project" (FOX), "Once Upon A  Time" (ABC), "One Life To Live (ABC), "Containment" (CW), "Passions" (NBC),  "Californication" (Showtime), "Younger" (TVLand) and "The Lair" (HereTV) as well as in  the films "I Dream Too Much", "Happygram", "Green River" and "Tying The Not". 
Throughout this time, I also started playing piano professionally and have continued  performing both jazz, adult contemporary pop and my original songs as a singer and  as a piano/vocalist at theaters, concert venues, singer-songwriter series, festivals,  resorts, clubs and private events. I have played at prestigious venues in New York City,  other U.S. cities and states and spent many winters performing in the Caribbean as  well as parts of Europe.
I have performed the pre-shows for Sheryl Crow, Heart, Queen with Adam Lambert,  The Doobie Brothers, Steely Dan, The B-52s, Chicago and REO Speedwagon. The joy  of music persisted.
My love for musical theater has never gone away and just a few years ago, I finally  graduated from college with a degree in musical theater. My original theatrical musical  "My Backyard" is set to be staged in 2022. Production on its first staging was halted  when we were all hit by Covid.  
When the pandemic first hit and I lost all of my gigs for the next year, I decided to do a  live concert online to be able to connect with my fans. It was so successful that it  turned into a weekly show that I am still performing every week on YouTube Live!
Although I am performing both virtually and live on outdoor stages, it's certainly not the  same as that arm in arm contact. The anticipation of being able to be in person and  actually hug people again was the inspiration behind my new song, "Hug A Million  Times".   
I had received my first vaccine and suddenly realized that after a year of only seeing  people on a phone or computer screen, I would soon be able to be with my friends and  family in person again! As I imagined what it would be like to be with the people I love,  I sat down at my piano and the song just jumped into my head.
My niece was born during the pandemic and although we had not been able to be  together in person, we would see each other on a phone screen every day at lunch  time. When I was finally able to hug her face to face, she recognized me from seeing  me on a screen, and the connection of hugging her was magical. As the song goes "It  feels so good to be together, let's hug a million times. It feels like it has been forever,  let's hug a million times. I just want you to know, that I'm not letting you go, until we  get to hug a million times"… And the joy of music persists.
Krisanthi's music is played on Apple Music, Spotify, Google Play, Sirius XM, Amazon  Music, YouTube and commercial radio stations worldwide. 
https://krisanthi.com
https://www.facebook.com/krisanthi.pappas
https://twitter.com/Krisanthi
https://www.youtube.com/Krisanthi5
https://music.apple.com/us/artist/krisanthi-pappas/69539570