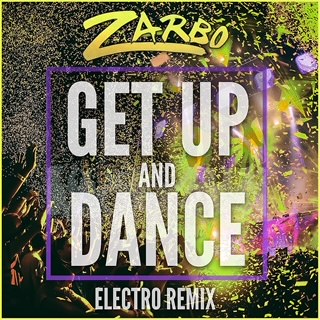 "Get Up And Dance – Electro Remix"


Sometimes after a long, difficult and anxiety ridden year – which seems a lot more like ten to most stressed out people – a visionary artist/producer comes along and shares (via a wildly infectious hook and delightfully thumping grooves) the perfect advice to cure our nagging blues. Getting back to making music after years behind the scenes, multi-talented Canadian singer, songwriter and producer Zarbo uses his current red hot single to tell us exactly how to navigate this storm: "Get Up and Dance."
The Electro Remix of the track – which originally dropped last summer and is part of a recently two song 2020 bundle with his equally compelling, fast rising "Correction in Direction" – is a runaway (dance-away?!) global sensation, spending a total of eight nonconsecutive weeks at #1 on the Euro Indie Music chart and hitting #1 on both the South Africa iTunes Electronic charts and Canada iTunes Electronic charts – and peaked at #20 on the South Africa all categories chart.  The official video, which pairs "Get Up and Dance" with dynamic images of people across the globe living out the lyrics and being their best selves, is closing in on 280,000 views.
Rising over the hypnotic beats and the song's supercharged energy, Zarbo's hook "Get up, dance/Get up and dance" ring out like an antidote for we've been feeling – and an anthem for re-energizing our lives. Likewise, his colorful first verse draws us in with inviting lines like "The pressure is on, the song is playing/And people are dancing, the party is bound to begin/You start with your motions, subconsciously unlock the door/And carry your fantasy, gradually bend more and more."
In the second verse, the singer gets into the deeper philosophy behind the song: "After day after day after working for nothing/But working for reason, pleasure is the outcome/For love is the prize…" says Zarbo, whose first name is Alexander. "I think we need to bring happiness and cheerfulness to the world, and focus on the positive side of life. There's been enough on the opposite side of the spectrum, and I think 'Get Up and Dance' is one of those summer songs that will have a long shelf life because it makes people feel alive and think optimistically.
"Getting up and dancing can mean a lot of different things," he adds. "It's not only a form of moving our bodies in joy or ecstasy, but also as a reward or escape from the severity and repetitiousness of day-to-day duties. I believe the song puts people in their happy place and into an almost dreamlike state of euphoria. It's a type of reward for all the hard work they have achieved during a long hard day. It encourages people to feel good about themselves. You can also listen to it when you are going to sleep because it puts your thoughts into a meditative state of euphoric pleasure."
When Zarbo talks about "long shelf life," it's not just wishful thinking – it's reality. One of the most remarkable aspects of the success of "Get Up and Dance – Electro Remix" is the fact that he wrote the song back in 1981, not long after he graduated from jazz school at Humber College in Toronto, and captured it on a four track cassette. In 1986, he recorded it with the pop rock trio (also named Zarbo) that he had formed three years earlier with guitarist/vocalist Derek Sharp (now lead vocalist for The Guess Who) and drummer/vocalist Greg Anzlec. The band recorded "Get Up and Dance" as a single in 1985 and included it on their sole album release A-Z Collection. In 1986, an earlier dance remix scored airplay on Toronto's adult contemporary station CHUM FM 104.5.
The trio split in the late 80s, and Zarbo started a successful AV concert production company catering to international acts, which he had been running for over a decade. When everything screeched to a halt at the start of COVID, Zarbo was looking for something creative to keep him from going stir crazy. His daughter Ciara, an opera singer studying at Western University said she wanted to share his music with one of her friends. Zarbo replied that she would need a turntable because all of his old recordings were on vinyl. This sparked an idea which led to his idea to reinvent Zarbo the brand.
"I realized I could just digitize the songs," he says. "I took the old 2-inch analog tapes of the A-Z Collection album and remastered them to sound up to par with today's recordings for digital distribution. Then I thought it would be exciting to create modern versions of a few of the songs that could be on the radio now. I hooked up producer Zach James in Los Angeles and together we did the electro remixes of 'Get Up and Dance' and 'Correction in Direction', with me producing and him co-producing, engineering and remixing mostly from stems of the remastered A-Z Collection album and adding new EDM undertones. Some of the stems from the original versions contained new recorded vocals and bass part making these new remixes now feature a combination of old energy and fresh parts. It's such a seamless blend you can't tell which element comes from the different eras.
"Making music again has been so therapeutic for me," Zarbo adds. "As soon as I pick up my bass and start playing, it's like I am releasing all my energy and a big cloud is lifted off my head."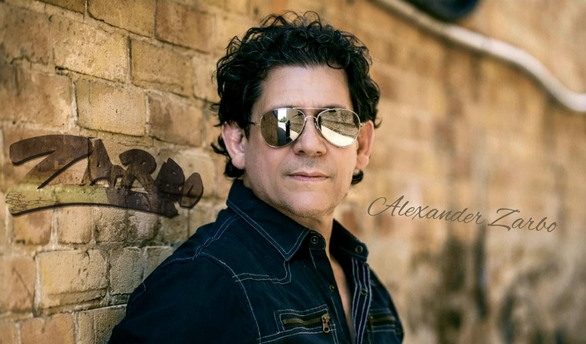 Alexander Zarbo is an artist and producer, recently with a focus on creating catchy electronic dance music amongst other new genres which didn't exist at the onset of his career. Entering as a public figure he was the founding member, frontman, bassist of the Canadian power pop rock trio Zarbo that formed in the 1980's. Having currently remastered and remixed his 1985 8-song LP 'A-Z Collection', as well as releasing modern EDM and Hip-Hop remixes of 4 original Zarbo songs, Alex has revived the Zarbo brand full-force in 2020, charting #1 in the European community and in overseas countries over several months.
Drawing from a wealth of experience and influences, the revival brings out a fresh and modern sound along with a new line up and intimate tour dates being disclosed in late 2021 followed by a promised 2nd album 'Hindsight is 2020 One'.
Correction in Direction (Electro Remix), released on November 26, 2020, has managed to smash the E.D.M. game once again with its eclectic beats and reflective composition giving it a unique twist. It is a treat for the electronica fans as an utterly danceable and suggestively smooth pop hit.
Being a follow-up to the chart-topper 'Get Up and Dance (Electro Remix) which reached #1 position on both iTunes Canada Electronic and iTunes South Africa Electronic charts amongst other1st position abroad, Correction In Direction has recently had its share of #1 position in radio airplay charts such as Euro Indie Music Chart  (EIMC).
'Get Up and Dance (Electro Remix)' with it's fresh new feel of catchy and hypnotic danceable pop, swiftly made its way to the radio airplay's Top 40 charts starting at the 40th position on the week of October 2, 2020, according to S.T.S. (Spins Tracking System) and working its way up to 17th position on the week of November 19, 2020.  Equally as impressive, it has been found in the Canadian Electronic iTunes chart top-100 for five weeks topping at #1 position on February 18, 2021. Get Up, and Dance (Electro Remix) began hitting Euro Indie Charts as well as the World Indie Charts consecutively for five months starting the week of October 21, 2020, and reaching #1 position on four separate occasions and is still currently charting.