Written by

Karen Wardle, Band Manager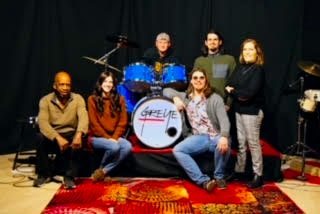 People often ask me what the most exciting, gratifying parts of managing Greye have been, and I prefer to respond, "All of it" – the shows (around our home base of Daytona Beach and beyond), the tours up and down the East Coast and being in the studio, hearing them record. I've enjoyed the whole amazing journey, watching the band and each of its young members grow and evolve both as talented musical powerhouses and as human beings. Especially our lead singer Hannah Summer, who went from being a shy, reserved girl to an incredible singer with a wide vocal range and dynamic stage presence. I also loved every moment I spent with the band at the world- renowned FAME Studios in Muscle Shoals, Alabama, (2018) where they recorded their 5th album Under the Weather, mixed by multi-platinum engineer Brian Reeve.
Greye launched back in 2012 when Hannah, Jett Wolfe (guitar) and Joshua Reid (bass) were still students at Seabreeze High School, which is alma mater to Gregg and Duane Allman and Florida Georgia Line's Brian Kelley. Their unique chemistry and wide array of influences come from the fact that the band's other two members, drummer Ray Grimard and keyboardist/vocalist Ken-e Williams, are veteran musicians who are a whole generation older.
Ray and I had known each other for a number of years when he first approached me to listen to the early Americana/Folk oriented music Greye was working on. Earlier, we had worked on a children's PBS show in Daytona (later nationally syndicated) called "Enviropals," featuring a red panda named RaeRae. We had the chance to travel to wind farms, solar farms, recycling centers, zoos, etc. around the world, it was quite the adventure. The show ran on multiple PBS Stations for four seasons it was a lot of work but an amazing adventure.
Ray asked me to come to the studio to check the kids out. He felt they might have something special musically that could be developed. They played me "Greye," the song they named the band after, which was later the opening track on their first album Providence. I spoke honestly, saying I believed they all had talent that could use development. Despite her shyness, Hannah struck me as a natural singer. Her father played keyboards and had worked with her on music when she was younger, so I think her early development came from that. Her development as a lyricist came as no surprise to me because she was a Broadway fan as a kid and a natural storyteller.
As impressed as I was with how Greye's music was coming along, I recognized the importance of the band's image onstage. So, I got involved buying stage clothes for the band and actually making outfits for Hannah. It's difficult to find performance clothes for such a petite girl. Growing up I was a big Loretta Lynn fan and I remember the classic quote from the film "Coal Miner's Daughter": "Anything we can't buy we will make.  Anything we can't make we will steal!"  So, that is what we did, no stealing of course.
Part of the fun watching Greye develop in their early days was stopping by their practices when Ray would share some of his (and sometimes my) favorite classic rock groups and songs with the others. I credit him for their musical development, while I always took care of the promotional and booking aspects. It was a challenge to book them at first because they were so young,and they are an original band and really didn't know any covers at first.
I believed deeply in the band's potential and spent every waking hour away from my day job online researching festivals and other potential gig opportunities. I worked tirelessly networking and made sure at the start not to mention age. I just said I have this fabulous band out of Daytona Beach, sent them some mp3's and videos. I must have sent out a thousand queries. Sometimes it seemed like a never-ending hopeless task, but once they started playing and won people over with their music and performances, more and more bookers wanted them.
The first gigs I got them were free shows and then I found that festivals, which were more family friendly, were a better bet. I booked Greye at the 2015 BMI Festival in Key West, and in the bandshell during the Daytona Beach summer concert series opening for teen country singer and "X-Factor" contestant RionPage. Now, hundreds of gigs later – at one point, they were doing 90-110 shows annually – people who aren't familiar say, they've been together doing this for eight years, so they must be good. They're more inclined to listen. I still have as much fun watching them play today as I did in the beginning. Once they began evolving from Americana into a bona fide rock band, it was easier to book them, especially on those East Coast tours.
One of the more remarkable aspects of working with Greye is the fact that everything is in house – meaning I am their manager, fashion stylist, graphic designer and do all the photography for their albums and promotions. I remember riding around looking for the perfect locations for shoots, including junkyards and drive in restaurants. I am not a musician, but I got to use my artistic passions to help them fulfill theirs. I knew where to draw the line, though. When it came time to doing the videos, we hired the experts. Brett Bortle, founder of Weekend Warriors production studio is a huge name in the race videography world and a horror film director who was once a student of Ray's at Seabreeze High. Ray and I originally worked with him on the pilot for "Enviropals." He directed the videos for "I Love You," "Under the Weather" and "Lucky, and "I don't Mind." Jason Liermann of Majestic Digital Media helmed "So Far So Good," while Damian Max Hardie Silva directed "What If I."
From the day I first heard Hannah sing, I felt she had a great voice and have told her (and Jett and Josh) many times, "Believe in yourselves as much as I believe in you."  Every person, every artist, no matter their age, may have moments of self-doubt, and sometimes it just takes someone to keep encouraging them to be their best to overcome that. We've grown to be a big family, and though it's a lot of work, it sometimes doesn't feel like it because we are all having so much fun on this journey.
The best advice I could give a young artist today is to be patient, work hard, practice (learn everything you can about your craft), listen to the seasoned artist and never stop believing in yourself. 
Photo from left to right Ken-e Williams, Hannah Summer, Ray Grimard. Jett Wolfe Joshua Reid, Karen Wardle (manager)
https://www.facebook.com/greyemusic/
https://twitter.com/greyemusic
https://www.youtube.com/channel/UCStw9rQ3k2iU7qbaVRGAtDQ
https://www.instagram.com/greyemusic/
https://itunes.apple.com/us/artist/greye/907473483