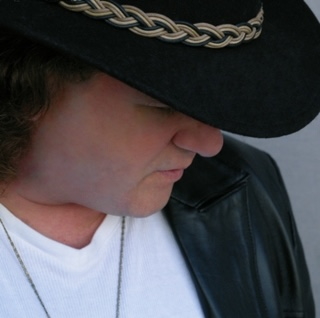 "If Money Talks (It Ain't Sayin' Much to Me)"
Embracing an empowering "carpe diem" aesthetic ever since a tragic accident changed the trajectory of his life, the multi-talented- and autistic- Brandyn Cross is the ultimate creative hyphenate who's made a powerful impact these past two decades as an author, filmmaker, TV writer and actor. For all that inspiring success, he had set aside his lifelong passion for singing and songwriting since some early regional success as a solo artist and frontman for the Southern Rock band Whiskey Rose. Blissfully for everyone who loves that spirited sweet spot where traditional and contemporary country mingle, that's all changing now with "If Money Talks (It Ain't on Speakin' Terms With Me," his rollicking, infectious breakthrough single on StarPointe Records. 
Meeting our uniquely anxious and troubled moment in history with wit, candor and a knowing nod to everyone's ongoing struggles, Brandyn – who wrote the song with his friend Daryl Stevenett, a folk artist and fingerstyle guitarist – sings (with his inimitable straightforwardness and slight twang) truths that millions of working folks can relate to, especially these days: "Working six long days in a seven day week/But Lord I still ain't free . . .Too much month at the end of the money/J O B means just over broke/Livin' 9 to 5 in another man's shoes/Is how it seems to be/If money talks, it ain't on speakin' terms with me."
"If Money Talks…" is the first of several singles Brandyn will be releasing leading up to the drop of his album Blue Moon Over Heaven. Each single will be accompanied by a video; the clip for "If Money Talks…" blends a live performance style with a narrative focused on a waitress at the bar he's playing in. Showcasing his range as a vocalist and composer, the collection will include the AC Crossover track "Ego You" and "Easy Street," a song Brandyn describes as having "a Jason Aldean-like heavy metal country vibe."
"I was hanging out with Daryl in Nashville when he lived there and before I left, I told him I had a title I'd come up with that I thought would make a good novelty song," Brandyn says. "He said, 'Let's do it right now,' grabbed his guitar, we sat down and wrote it in an hour. It ended up being more serious than a straight novelty tune, but it's also pretty lighthearted. I drew on some personal experiences from back in the day. Obviously, there are millions of people out there who can relate to it now in way they couldn't have earlier. It's kind of comforting, like, hey, you're not alone in this. I'm bemoaning the fact that I have no money but doing it in a fun way."
Concurrently with his emergence as a recording artist, Brandyn recently made his debut as a published author with the release this year of the first three books of what will be an epic 27 volume realistic fiction series called "The Legacy Series." Based on true-life events, the novels are taken from the writings and correspondences of a terminally ill young boy (also, coincidentally named Brandyn) as he endures a life of physical, emotional and sexual abuse. Brandyn is currently in post-production on an independent film he made of the series. Its log-line is: A terminally ill, abused boy chronicles his life on a computer message board. Its promotional tag is: Dark Secrets Hide in Innocent Places. "The Legacy Series Book One" was released in February 2020, with Book Two following in May and Book Three scheduled for August. Brandyn plans to release a volume every three months or so.
"My hope is that The Legacy Series will help abused or neglected teens realize that they are not alone, and allow parents, who desperately want to understand their children, to gain insight into the innermost thoughts of a distressed teen," say Brandyn. "The kid this series is based on existed during the early days of the internet, when such communities were the refuge and lifeline for the outcasts. Brandyn was sick and very oppressed and couldn't make friends out in the world, so he found solace online with a small group of teens online. There were no adults to inhibit them from talking about the realities going on in their lives. Usually books about abuse are written from an adult perspective years after the incidents happened. This series is unique because it's about a real kid writing about it in real time as it's going on."
Brandyn, who has been writing songs since early childhood and started singing in elementary school, traces his interest in music to his grandmother Kate Groo, a recording artist about 100 years ago who masqueraded as a man to play violin in a Vaudeville orchestra pit. Later one of the first successful female television producers, she always encouraged his creative dreams. Brandyn only began pursuing them after the fluke train accident, which happened just as his band Whiskey Rose was taking off and he was working a "day job" as a railroad conductor. The accident cost him his left leg, and while in recovery over the next five years, he embarked on a new life where he pursued numerous creative endeavors and committed to improving the lives of others through his motivational speaking and writing. As a disabled artist, his unique experiences have given him a singular deep insight that few others have.
Among his accolades, Brandyn won Best Song at the prestigious Utah Film Festival & Awards for "Love Again," which was featured on the popular web series "Proper Manors," which ran from 2012-2017 and is now re-edited and available on Amazon Prime. He was also Head Writer on the series for several years. As an actor, he has enjoyed principal roles in such films as the Rob Reiner directed "Being Charlie," "Dreamworld," "Internal Hope," "Unicorn City" and "Alienate." He also played the archvillain, The Candy Man, in the hit web series "Raising Kayn." Brandyn has also done live, runway and print ad modeling, and appeared in numerous TV commercials. As an author, he recently completed "As If I Never Existed," a biography of Gary Coleman, created from interviews he did with the late former child actor's widow Shannon Price.
"In everything I do, I simply want to be presenting positive messages to inspire people to do good things that contribute love and hope to the world," Brandyn says. "I want to show people who are facing challenges that they can accomplish anything they want to. All they need to do is create a plan, figure out a way to make it happen and blow up any obstacle that crosses their path."