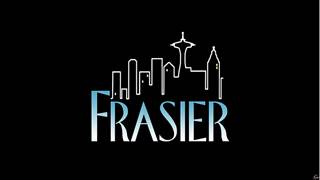 2020 marks the 27th anniversary of America's popular TV show Frasier. The well-loved sitcom, which can be viewed in Australia on 10 Peach and streamed on Stan and Foxtel, had an 11-year run and was set in Seattle.
Seattle was chosen as its setting because the city was beginning to receive international notoriety for its "grunge" music, its coffee, and its dot-com business boom. The city's style and sophistication along with its natural beauty, interesting people and cultural life provided the ideal backdrop for the show's witty banter between the characters, with its skyline also forming the sitcom's iconic intro credits.
Front and centre for the show's opening intro was Seattle's iconic Space Needle. Today, it still stands tall and proud, at 184 metres, having gone through a $US100+M makeover two years ago. It boasts a glass floor and floor-to-ceiling glass observation deck with uninhibited 360-degree views of Puget Sound and the Olympic and Cascade Mountains. After a closure due to the pandemic, the Space Needle has now re-opened for visitors with a limited capacity. A 360˚ webcam view is also available for virtual tours from home. www.spaceneedle.com
New since Frasier's day, and with a nod to his love of all things cultural, several museums have opened or been remodelled with fresh, exciting exhibits.
The National Nordic Museum opened in 2018 in the heart of Ballard and marked the culmination of a 15-year project of design, planning and fundraising. It's organised around a linear "fjord" that weaves together stories of the Nordic region and Nordic-American experience. www.nordicmuseum.org
The Burke Museum of Natural History and Culture re-opened in late 2019 after a major renovation and re-design. Check out their Northwest Native Art collection or the Fossils Uncovered exhibit with the only real dinosaur fossils on display in Washington State. www.burkemuseum.org
Seattle's Living Computers Museum, founded by Paul Allen, showcases vintage computers which provide hands-on experiences with computer technology from the 1960s to present day. Here you can let your curiosity be ignited and inspired by innovation to better understand computer technology. www.livingcomputers.org
In February 2020, the Asian Art Museum, part of the Seattle Art Museum (SAM), reopened in a 1933 Art Deco building in lush Volunteer Park—an oasis of open space in a dense residential neighbourhood and the ancestral home of the Coast Salish people. This location showcases an extensive Asian art collection, one of the most beloved treasures in this creative, cultural and curious city. www.seattleartmuseum.org/visit/aian-art-museum
Seattle is the gateway for cruising to Alaska and the ideal starting point for exploring the Pacific Northwest.
For more information about Frasier's beautiful home of Seattle, please go to www.seattlecruisealaska.co.uk.