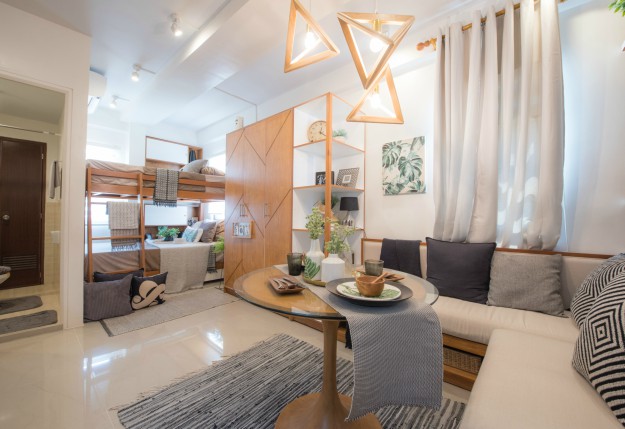 Micro-apartments are smaller rental spaces that usually measure 350 sq. ft. or less, although they can be as large as 500 sq. ft. in certain locations. Similar to studio apartments, these living spaces offer all the necessary amenities a tenant might need, including a kitchen, bathroom, sleeping and living spaces, all perfectly placed into minimal areas with the help of innovative design solutions.
Although it is difficult to pinpoint exactly where this idea comes from, it's quite likely that the need for more affordable living options combined with the rising costs of construction and land led to a higher number of smaller apartments packed into buildings at a higher density than before, allowing for a solution that caters to tenants and investors alike. But what exactly is the appeal of such small living areas, and will micro-apartments become the new housing norm?


A more affordable accommodation option
While the standard of life has decreased, the cost of living has actually skyrocketed in the past decades, which might explain why younger generations are so keen to rent smaller living spaces that could be easier on their monthly budget. Even though there are many factors that might affect the cost of micro-apartments, most notably their location, these rental units are considered to be significantly more affordable on average.
In fact, micro-apartments can save renters between 20 and 30 percent compared to a standard, more conventional apartment in the same or similar location. Although it might not seem like a notable difference in price at first, it becomes incredibly important in large metropolises with the highest costs of living, as it allows younger generations to be able to afford life in these expensive cities.


The convenience of top city locations
Even though they might be small in area, the unconventional size of micro-apartments allows for one particularly important benefit; a prime location in the heart of the city. Considering the fact that micro-apartments are usually built in the biggest, most densely populated cities, they are often situated in urban locations that don't provide plenty of space for construction. However, due to their size, they come at a lower cost, presenting a better compromise for average renters.
What's more, a high number of tenants, particularly young ones who have only now started looking for their own housing solution, will generally be glad to sacrifice a large living space, on the condition that this means they are located quite close to any universities, business districts, or other amenities that make city life appealing. This might explain why smaller apartments are gaining such popularity with the generations that tend to prefer a life of convenience.


Unique experiences of serviced apartments
Apart from being a sought-after long-term housing option, smaller apartments are also gaining popularity among avid travelers, regardless of the length of their stay. People are opting for service apartments for rent much more often than before, as they not only provide a prime inner-city location, but also come fully furnished with all the amenities one might need, allowing for a more homely and personal feel.
While offering individual bathrooms for more privacy, these types of apartments tend to be located in buildings that also provide communal areas for their renters, including a kitchen, laundry room, and relaxing lounge spaces. Whether it's a short or a long-term stay, such an arrangement gives tenants the opportunity to socialize and network with like-minded individuals, while also providing enough privacy to cater to personal needs, making it a wonderful option for a generally social generation.


The appeal of innovative design solutions
What would be considered a necessity in the past is now mostly viewed as wasted space when it comes to modern renters. As they move towards more minimalist lifestyles, younger generations tend to consider utilities such as basements and guest rooms to be unnecessary luxuries. Instead, they are happier with smaller living areas that are new, clean and fully equipped, while providing the essential aspects of living one might need.
As these renters generally value the aesthetics of good interior design, the mere confined nature of micro-apartments tends to be an appealing aspect. Such limited space forces architects and designers to come up with smart and innovative solutions that make micro-apartments fully functional, whether it means including space-saving furniture in tiny homes or choosing storage spaces that are cleverly hidden in the walls or under the stairs. Offering function and versatility, as well as brilliant design, micro-apartments evidently cater to all aspects of a minimal lifestyle.


New investment opportunities
Micro-apartments aren't just favored among renters; they are slowly gaining popularity among developers and investors as well. As even large city areas have already become overcrowded, city planners and developers find it a great challenge to make room for the increasing number of young renters. And that is exactly where the convenience and the appeal of micro-apartments come in.
For investors and developers alike, these small living areas often offer a number of solutions to common housing problems, including the long construction times, as well as cost efficiency. Thanks to their naturally small areas, micro-apartments are surprisingly simple and quick to build, especially compared to more traditional apartments, and they even require less initial investment. In combination with the need for efficient spaces and the continuous rise in micro-apartment living among younger generations, these housing options now present ideal investment opportunities.
The current lifestyle trends and the urban housing industry both seem to be heavily impacted by younger generations of renters who are looking for simpler, more efficient, and more convenient accommodation options. Since micro-apartments evidently offer everything these tenants might need, including the benefits of city living, without the unreasonably right renting costs, it's no wonder why they gained such popularity in recent years. Combined with the fact that they now present a lucrative investment opportunity, as well as a space-saving solution for developers, there's no denying that the popularity of living in smaller apartments will continue to rise in the years to come.