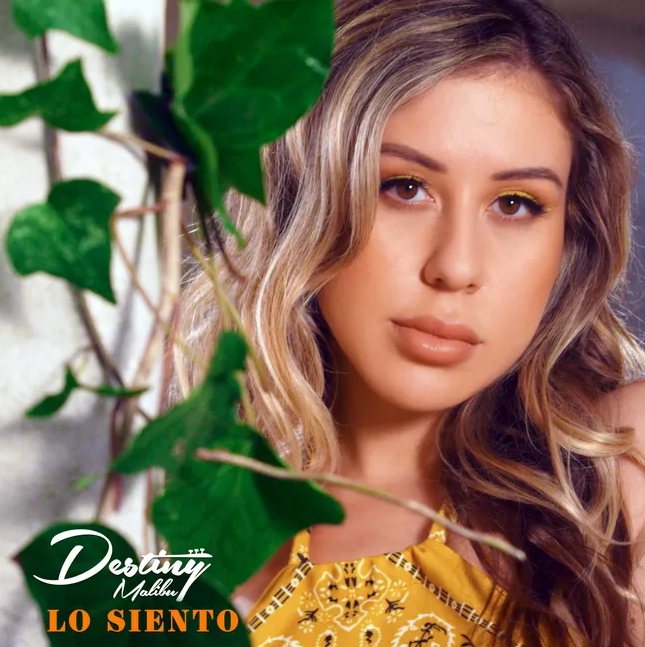 POP SINGER, SONGWRITER SET TO RELEASE "LO SIENTO" ON FEBRUARY 28th, 2020
'Destiny Malibu, one of the year's 25 break-out artists' - Shutter16.com
'Independent singer, songwriter, talent, inspiration...a young person that actually cares...genuine.' - Elizabeth Espinosa, iHeartRadio
Destiny Malibu's "Lo Siento" is "hot like fire" and solidifies that undoubtedly Destiny can sing, rap, dance and write chart worthy songs in both English and Spanish.The rhythm immediately makes you want to move your hips and dance. The beat keeps you engaged and ready to party. It's a fun, happy song with a sultry rap that Destiny executes with exact precision. It's the latin in her and she vibes it well. Her timing is impeccable. The production is fresh and full of natural sounds -there are even wooden spoons in the production! All the sounds blend perfectly with Destiny's vocals. Lo Siento is the second release and title song of her upcoming pop album scheduled for release in 2020. Destiny wrote the song about going out to a club just to have fun and not expecting to meet 'the one'. It's a particularly special concept for her because it's her first ever bilingual song and not only celebrates her being half Swedish on her dad's side and half Latina on her mom's side, but Destiny's parents actually met dancing at the famous Avalon in Hollywood not expecting to meet 'the one'.
Destiny Malibu 'Lo Siento' is out Friday, 2/28/20.
Destiny Malibu kicks off a new touring schedule in 2020, visiting approximately 600,000 teenage students across the United States with over 100 performances. Updated details can be found on www.destinymalibu.com.
Destiny Malibu 'Lo Siento' Premieres February 28th, 2020
ABOUT DESTINY MALIBU: A THOUGHTFUL VOICE
Destiny still remembers the day, at the age of five, she donned headphones that were nearly as big as her head, and stood in front of a microphone for the first time. The studio was already a warm and familiar place.  But this was new.  
So began the journey of a girl named Destiny, who seems to have been, yes, destined to become a musical artist.  Destiny's job was to recite the pledge of allegiance and sing backup for a 911-tribute song being performed by her mother, a recording artist with a successful Latin band.
That day still resonates in Destiny's soulful and energetic vocal style.  But though her love affair with music began with a performance, it did not end there.  Her mother saw to it that Destiny understood music at a fundamental level.  As a young teen, Destiny was trained to think in terms of musical and narrative structure when she listened to popular songs.  Her natural creative instincts ignited a love affair with song writing, and it is still the core passion that drives her career.  Her writing talent was evident early, and she won multiple, consecutive songwriting contests as a high school student.
So it was as a songwriter that Destiny's professional career would begin.  She opted for independent studies in her senior year of high school in order to take a job as a songwriter for Burnett Music Group.  As a writer, Destiny developed a hopeful and uplifting style that reflects her caring and deeply empathetic nature.  She has a keen ear for music, but perhaps an equally keen sense for the quiet suffering of people around her.  This sense of awareness and responsibility has come to inhabit her music.
Perhaps because of her desire to connect with and understand people, Destiny's tenure as a full-time songwriter would be short-lived.  She soon discovered that her true calling was to "tell my own story," as she puts it, by performing her music and engaging with an audience.  And equipped with that insight, Destiny Malibu would become the singer/songwriter she is today.
Since then, Destiny has been writing, recording, and releasing music at a dizzying pace and touring internationally.  She performed an original song in a 2018 appearance on American Idol.  She has performed at such renowned venues as the House of Blues and Viper Room in LA, as well as high profile festivals such as Texas Rockfest and the Florida Music Festival.  She has recently begun to push creative boundaries, experimenting with Spanish-language songs that honor the Latin roots she owes to her mother.  She continues to tour and perform from the roof-top stage of her custom-built, 40-foot tour bus.  And along the way, she has formed partnerships with organizations that fit with her passion to contribute to the mental health and well-being of others, including an initiative with the American Heart Association to spread awareness of heart disease among young people.
https://destinymalibu.com