Written by

Matt Motta, Assistant Professor of Political Science, Oklahoma State University
Many Americans appear to be experiencing cautious[1] optimism[2] about the role that vaccines could play in ending the pandemic. But recent public opinion research suggests that 29%[3] to 37%[4] of Americans plan to refuse a COVID-19 vaccine.
According to some[5] epidemiological[6] estimates[7], as many as three-fourths of Americans must become immune to COVID-19 – either by recovering from the disease or by getting vaccinated – to halt the virus's spread[8]. As a scholar[9] who studies vaccine hesitancy, I ask how Americans' vaccine-related expectations might influence their willingness to vaccinate. What attributes do Americans expect a COVID-19 vaccine to have, and will they be less likely to get vaccinated if the vaccine they have the opportunity to take defies some of their preferences?
In a new peer-reviewed study[10], I found that the vaccine Americans most prefer may not reflect the choices we actually have. Americans are most likely to intend to vaccinate when a vaccine is made in the U.S., administered in a single dose, over 90% effective and carrying a less than 1 in 100 chance of experiencing minor side effects, and has spent just over a year in development.
However, even under these ideal conditions, the likelihood that the average respondent in the study would choose to vaccinate is just 68%. This implies that many Americans may refuse vaccination, even when a vaccine satisfies their expectations.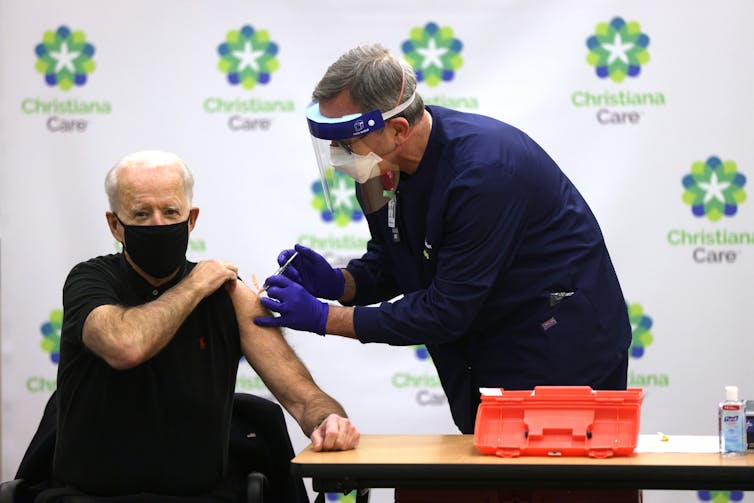 Alex Wong via Getty Images
[11]
Why do some Americans plan to refuse a COVID-19 vaccine?
Since Pfizer[12] and Moderna[13] vaccines gained emergency use authorization, front-line health care workers and other vulnerable groups have started[14] to receive the vaccine.
Public opinion research[15], however, has documented substantial COVID-19 vaccine hesitancy. While intentions to vaccinate[16] have[17] rebounded[18] in recent weeks[19] following a substantial drop-off[20] this past summer[21], some recent estimates suggest that more than a third[22] of Americans plan to forgo vaccination. Refusal rates that high could jeopardize our ability to achieve population immunity, and thereby prolong the pandemic.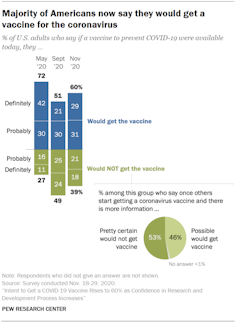 Authors: Matt Motta, Assistant Professor of Political Science, Oklahoma State University
Read more https://theconversation.com/americans-have-unrealistic-expectations-for-a-covid-19-vaccine-152745