Written by

James Zarsadiaz, Associate Professor of History, University of San Francisco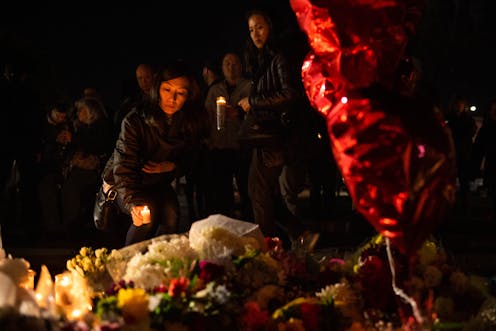 For Americans of Asian descent, Monterey Park – a town near Los Angeles, located in the San Gabriel Valley – is a cultural center.
It embodies the modern Asian American experience[1]; that is, a place where Asians in America can access and practice a diverse array of traditions and cultural pursuits in an environment where they are the norm, as opposed to marginal.
The tragic mass shooting of Jan. 21, 2022[2], in which 11 people were killed by a gunman who later took his own life, has put an unwanted spotlight on a site held near and dear to the Asian diaspora in the U.S. As an Asian American scholar who has written about the importance[3] of communities like Monterey Park, I know the trauma felt there will ripple across all of Asian America.
Asian America's 'town square'
Monterey Park is the original Asian "ethnoburb"[4] – that is, a suburb featuring a large, palpable concentration of immigrants or refugees and their kin. Businesses and community spaces in the town often reflect the cultural sensibilities and needs of these populations.
In the case of Monterey Park, Chinese immigrants from Hong Kong, Taiwan and, later, Mainland China and Vietnam have shaped the suburb's landscapes and lifestyles for decades.
Like other inner-ring suburbs of postwar Los Angeles[5], Monterey Park offered modest, affordable homes. It appealed to white mainly middle-class buyers who wanted to be near, but not in, the city.
In the 1950s and 1960s, a handful of Latino and Japanese American families[6] settled in the predominantly white community, making Monterey Park a relatively diverse suburb for the era. That diversity would only grow in the late 1970s when Frederic Hsieh[7] – a Chinese investor – purchased property in Monterey Park and dubbed it the future "Chinese Beverly Hills."
AP Photo/Wally Fong
[8]
Hsieh believed its location was ideal for like-minded immigrants in search of the suburban good life. And his transnational effort in making Monterey Park a magnet for Chinese families worked. During the 1980s, settlers from Hong Kong and Taiwan bought homes. Within a decade, Chinese restaurants, shops, language schools, and community organizations dotted Monterey Park's hills and boulevards.
Building a community
While Asian Americans found a handful of sympathetic allies across racial lines in their efforts to turn Monterey Park into a vibrant immigrant community, they also encountered critics[9] who claimed they did not "Americanize" enough. Naysayers condemned Chinese-language business signage or Asian-owned properties that transgressed Monterey Park's aesthetic norms.
Over time, dissatisfied white suburbanites left Monterey Park[10]. Those who stayed built multiracial coalitions for the sake of moving forward. Today, Monterey Park is two-thirds Asian[11], with Chinese residents comprising the majority.
With the passage of time and the rapid growth of Asian settlers, Monterey Park became known as the "first suburban Chinatown." With its overtly Asian strip malls and plazas, Monterey Park's novelty is its difference – showcasing the diaspora all day, every day, in the most "typical" of American landscapes: the suburbs.
Ripples of grief
And now, Monterey Park must contend with what is also an all-too-familiar part of the American landscape: gun violence[12].
Residents in Monterey Park – and in neighboring ethnoburbs like Alhambra, San Gabriel and Rosemead – have been left shaken. But the news and images from the mass shooting will haunt all Asian Americans because of the location's familiarity. Monterey Park's Lunar New Year celebrations were not unlike gatherings throughout the country: house parties with families and friends dressed to the nines, restaurants open long hours to serve the community, and dance halls packed with multigenerational revelers. Those tender moments were ruined in just minutes.
While the motives of the perpetrator[13] are under investigation, the tragedy in America's "first suburban Chinatown" revealed that there is still much to do in keeping our communities safe. Moreover, for countless Asian Americans, grief has become all too familiar as anti-Asian hate crimes have risen[14] across the nation – sparking initial concern that the shooting might have been race-related.
Time will tell how Monterey Park recovers, but at least the community there can take comfort in knowing that millions of Asian Americans will be alongside their journey.
Authors: James Zarsadiaz, Associate Professor of History, University of San Francisco
Read more https://theconversation.com/monterey-park-a-pioneering-asian-american-suburb-shaken-by-the-tragedy-of-a-mass-shooting-198373