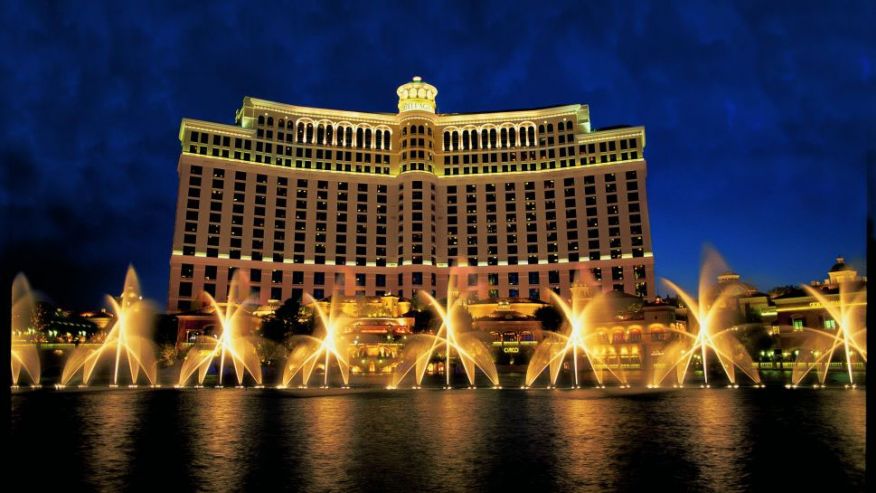 This is an exciting time for Las Vegas, full of major openings and redevelopment. Below are the highlights of recent programs we have introduced and announced for Bellagio, ARIA, Vdara, MGM Grand, Mandalay Bay, The Mirage, Monte Carlo, Luxor, Excalibur and MGM Resorts International.  
Top News for 2016
MGM RESORTS INTERNATIONAL AND SYDELL GROUP PARTNER TO REIMAGINE MONTE CARLO RESORT ON FAMED LAS VEGAS STRIP  
Two Distinct Hotel Experiences -- Park MGM and Sydell's NoMad Hotel -- Will Redefine Vegas Hospitality; Elevate City's Culinary Scene with Entry of Chef Daniel Humm and Restaurateur Will Guidara's NoMad Restaurant and Acclaimed Eataly Market
Partners to Seek Opportunities for Park MGM Brand Expansion in Key Markets
LAS VEGAS (June 3, 2016) – MGM Resorts International (NYSE: MGM) and New York-based Sydell Group have announced a partnership to reimagine and rebrand Monte Carlo Resort and Casino. The approximately $450 million transformation, which will touch every element of the property, will include two distinct hotel experiences: a Las Vegas version of Sydell's widely acclaimed NoMad Hotel, and the launch of a new luxury hotel named Park MGM. In addition to fully redesigned and renovated hotel guest rooms, each hotel will feature innovative and exciting food & beverage experiences unique to the Las Vegas market, including the award-winning NoMad restaurant by Chef Daniel Humm and restaurateur Will Guidara and Eataly's vibrant Italian marketplace with cafes, to-go counters and full-service restaurants interspersed with high-quality products from sustainable Italian and local producers. Park MGM and The NoMad Las Vegas become the final pieces of MGM Resorts' complete neighborhood redesign of the central Las Vegas Strip neighborhood which began in 2009 with the introduction of CityCenter and saw the recent unveiling of The Park, a spectacular outdoor dining and entertainment district, and the stunning new T-Mobile Arena.
The Park Theater
MGM Resorts International recently announced plans for a 5,300-seat theater at Monte Carlo Resort and Casino. Adjacent to The Park and T-Mobile Arena, the concert venue will amplify the vibrant entertainment district taking shape on the west side of the Las Vegas Strip with a robust calendar featuring special engagements by many of the music industry's most-celebrated performers. Unique to the market, the theater will offer dynamic seating that allows for easy transformation into multiple configurations, reflecting the flexibility of the space. The Park Theater is projected to welcome its first act at the end of 2016.
The Park
Monte Carlo and New York-New York's recent revitalization leads visitors to The Park and T-Mobile Arena, a new world-class 20,000-seat indoor venue. The Park creates an immersive outdoor destination that re-envisions the traditional pedestrian experience in Las Vegas. It draws passersby from the hustle and bustle of The Strip into an oasis offering unique opportunities to experience Las Vegas outdoors and at one's leisure. The Park offers an array of common spaces for socializing, relaxing, exploring and sampling the surrounding tastes, sights and sounds. Casual restaurants and bars with outdoor seating include Bruxie, a fast-casual, gourmet waffle restaurant born out of Orange County serving a signature take on The Sandwich; Sake Rok, a theatrical hotspot that thrills guests with more than just its array of delicious sushi, Japanese cuisine and private sake label; and Beerhaus, an approachable beer garden showcasing sustainably raised farm-to-table meats, an impressive craft beer list, live music and social games. The Park opened in April 2016 in conjunction with T-Mobile Arena. Read the full details on the MGM Resorts Newsroom.
T-Mobile Arena
T-Mobile Arena, the $375 million indoor venue developed by AEG and MGM Resorts, hosts boxing, UFC and other sporting events, major headline entertainment, awards shows and special events. The companies broke ground on the arena May 1, 2014 and opened to the public Wednesday, April 6, 2016 with a performance by Las Vegas' own The Killers with special guests Wayne Newton and Shamir.
Delano Las Vegas at Mandalay Bay
Fusing the chic style of the iconic South Beach brand with the vibrant energy of the Las Vegas Strip, Delano Las Vegas blends eclectic details to create an atmosphere that is playful and filled with energy. New stylish public spaces are highlighted by a sleek lobby featuring three distinct social spaces – 3940 Coffee + Tea, a unique coffee bar; Franklin, a sophisticated lounge; and Della's Kitchen, featuring an urban kitchen with classic comforts. Rivea boasts extraordinary views of The Strip and serves French and Italian cuisine from internationally celebrated chef Alain Ducasse. Skyfall Lounge, located adjacent to Rivea, offers 180-degree views of the city along with an evolving nightlife experience that gradually increases in tempo as the night progresses. The warm and inviting space makes it possible for guests to sip a glass of Champagne while watching the desert sunset or to dance the night away as DJs spin upbeat house and dance music. Read the full details on Mandalay Bay's Newsroom. Delano Las Vegas opened September 2014. Rivea and Skyfall Lounge opened October 2015.
Las Vegas Village
The Las Vegas Village sits on nearly 15 acres across from Luxor Hotel and Casino on the south end of the Las Vegas Strip. The Village can accommodate approximately 20,000 guests and has hosted events including the iHeartRadio Music Festival Village, the ESPN Global RallyCross motorsports race and Foodie Fest. The venue also hosted the Route 91 Harvest Country Festival and the 10th Annual Wine Amplified Rock n' Roll Wine Festival this past fall. The Las Vegas Village debuted its first "season" of events in September 2014.
Las Vegas Festival Grounds
Las Vegas Festival Grounds sits on nearly 50 acres and is located on the southwest corner of Sahara Avenue and Las Vegas Blvd. The Festival Grounds hosted Rock in Rio for two weekends in May 2015 and is scheduled to host the Academy of Country Music's Party For A Cause Festival April 1 – 3, 2016. The capacity for each event will vary, but can reach as many as 80,000. The infrastructure at the Festival Grounds includes restrooms, power, water, fiber and basic operational items.
Rock in Rio
Rock in Rio, the world's largest music festival, joined forces with MGM Resorts International, Cirque du Soleil and Ron Burkle (The Yucaipa Companies) when the festival made its U.S. debut in May 2015. Rock in Rio, MGM Resorts and Cirque du Soleil redefined the modern music festival for U.S. audiences with a monumental combination of the biggest names in music and a fully immersive entertainment experience, all housed in a spectacular, custom-made "City of Rock." As the premier entertainment company in the world, MGM Resorts laid the groundwork to transform 33 acres of prime Las Vegas real estate into the magical City of Rock. The permanent open-air entertainment venue is located on The Strip near the corner of Sahara Avenue and has the capacity for 80,000 people per day. Musical acts that performed at the U.S. debut of Rock in Rio include Metallica, Linkin Park, No Doubt, Bruno Mars, Taylor Swift, John Legend, DefTones and Mana. Rock in Rio 2015 debuted May 8 – 9 and May 15 – 16, 2015 and will return to Las Vegas in 2017.
More News from Las Vegas:
Bellagio
Yousuf Karsh: Icons of the 20th Century
For the first time in nearly a decade, Bellagio Gallery of Fine Art (BGFA) will feature a photography exhibit with the unveiling of Yousuf Karsh: Icons of the 20th Century. Organized in partnership with the Museum of Fine Arts, Boston, the exhibition will feature more than 60 portraits ranging from Winston Churchill and Pablo Picasso to Muhammad Ali and Grace Kelly. Karsh believed each person had a hidden secret and it was his job to reveal it.On view through September 5, 2016. 
Harvest by Roy Ellamar
Las Vegas chef Roy Ellamar's first restaurant concept features New American cuisine and seasonal menu items inspired by regional farms. Chef Roy's culinary philosophy was cultivated as a child in Hilo, Hawaii, where he was surrounded by farmers, foragers and fishermen, gaining a true appreciation for the provenance of ingredients and relationships with the producers. The menu is complemented with a farm-fresh cocktail program created by Master Mixologist Ricardo Murcia that mirrors Ellamar's philosophy. Cocktails will change to reflect the freshest produce of the seasons. Designed by local architects Gensler & Associates, the venue exudes home-grown comfort with a warm atmosphere and a welcoming open-front façade. The centerpiece of the space is Harvest's captivating exhibition kitchen, made entirely of glass so guests can watch Chef Ellamar's masterpieces come to life.  
Lago by Julian Serrano
The first Italian restaurant from James Beard Award-winning, Michelin-decorated chef Julian Serrano, Lago features a small plate menu celebrating Chef Serrano's creativity and signature flavors. A new take on social dining, the restaurant showcases a sophisticated mixology program that delves into uncharted preparations. Featuring an exquisite dining room with floor-to-ceiling panoramic windows, Lago boasts spectacular views of Bellagio's iconic Fountains. Adjacent to the dining room, an open-air patio provides waterfront seating centered on Lake Bellagio.
Bellagio Suite Remodel
In October 2014, Bellagio began the remodel of its 403 suites in the hotel's main tower. This project marks the final phase of an approximate $165 million investment into the newly designed rooms and suites that began in 2011. Created by the MGM Resorts International Design Group, suites offer refined furnishings with high-style surfaces such as lacquer and exotic wood graining as well as sumptuous fabrics influenced by modern fashion. Key design elements and color themes will be consistent with the recently unveiled suites in the Spa Tower, along with a new color palette of spring greens and Dragonfruit pink meant to promote rejuvenation of the spirit.
ARIA
JEWEL Nightclub
Global hospitality company Hakkasan Group presents its latest venture, JEWEL Nightclub, a 24,000-square-foot nightlife destination. Featuring a dual-level space, JEWEL welcomes guests to discover a multi-faceted experience artfully designed to celebrate the convergence of technology and immersive design. The nightclub merges the intimate, exclusive atmosphere of the physical environment with state-of-the-art, LED technology to deliver an immersive, dynamic, and celebratory experience. A space as inviting as it is evocative, JEWEL delivers an intimate and exclusive atmosphere that is a truly distinctive and rarified experience cut and polished to perfection. The venue boasts a diverse music roster featuring some of the world's most in-demand talent including Steve Aoki, Steve Angello, The Chainsmokers, Jason Derulo, Jamie Foxx, Lil Jon and more. Spanning across a variety of genres, the nightlife destination hosts a variety of electronic music artists as well as renowned open-format talent. Opened May 19, 2016.
CRAVE Interactive
ARIA has collaborated with Crave Interactive, a cutting-edge guest service software company, to create the largest-ever installation of the provider's in-room hotel tablets. Enhancing the resort's AAA Five Diamond service, the tablets offer a hyper-tailored guest experience with new amenities such as digital in-room dining orders, one-touch spa service requests and an endless stream of news in multiple languages. The new tablets provide the intuitive functionality that ARIA guests are accustomed to, offering a user interface that is approachable and accessible to all. Installing this tablet, with its breadth and depth of capability, in all guest rooms and suites exemplifies the resort's commitment to green and technology innovations.
ARIA Convention Center Expansion
Cementing its position as one of North America's premier destinations for large-scale meetings and events, ARIA Resort & Casino announced a major expansion of its award-winning LEED Gold-certified convention center.  The $154 million project will deliver an additional 200,000 square feet of technologically advanced, flexible meeting space across four stories, highlighted by stunning indoor/open-air spaces and a glass-enclosed venue with dramatic views of The Park and spectacular new T-Mobile Arena. With the completion of the expansion, ARIA will feature more than 500,000 square feet of superior meeting space for its luxury clientele. Construction began in May 2016 with anticipated completion in February 2018. 
Herringbone Las Vegas
Chef Brian Malarkey's acclaimed ocean-to-table concept, Herringbone, features a Las Vegas spin on the wildly successful flagship locations in La Jolla, CA and Santa Monica, CA. While staying true to its signature "Fish Meats Field" philosophy and offering market-driven creations from Executive Chef Geno Bernardo that juxtapose the flavors of sea and land, Herringbone Las Vegas offers a relaxed yet refined dining experience with lounge-style seating and nightly live music.  Complementing the distinctive cuisine is a selection of whimsical cocktail specialties, a thoughtfully composed wine list spotlighting international varietals served by the glass and by the bottle as well as a host of craft beers and a variety of fresh juice mocktails.
ARIA Tower Suites
Encompassing a collection of 258 suites, ARIA Tower Suites offers exceptional amenities including the new Tower Suites Lounge, curbside greeting, priority taxi line access, turn down service and more. The ARIA Tower Suites experience begins the moment a stay is booked with individual contact from the ARIA Concierge team who will confirm all travel details and help make any additional arrangements, such as show tickets or dinner reservations. Upon arrival, guests are invited to check in at the private Tower Suites Lounge, located via a separate entrance in the ARIA lobby. This exclusive area provides personalized service and amenities such as light snacks and beverages.
Carbone
New York's critically acclaimed Carbone, a concept from Mario Carbone, Rich Torrisi and Jeff Zalaznick, pays homage to the Italian-American restaurants of the mid-20th century, an era of glamour, showmanship and tableside service. The food is inspired by the same time in history but takes cues from the great talents and techniques of today showcasing elevated classics such as Lobster Fra Diavola, Chicken Scarpariello, Veal Parmesean and Octopus Pizzaiolo. Abundance, hospitality and generosity are key themes for the restaurant. The waiters – known as "Captains" – are exceptionally skilled professionals hand selected by the Carbone family to deliver the entertaining attitude and premier service for which the restaurant is renowned. The Captains don iconic burgundy tuxedos created by legendary fashion designer Zac Posen to reflect the fashion during the late 1950s. All elements of the Carbone experience are carefully curated – from the hand-painted plates that remind diners of grandma's house to era-specific music – to bring Carbone's unique soul to life.  
Sky Pool at Sky Suites at ARIA
Setting a new standard for poolside pampering, Sky Suites at ARIA Resort & Casino unveils Sky Pool, an upscale exclusive pool specially designed for discerning guests. After entering via a dedicated walkway, guests are immersed in the secluded area surrounded by serene palm trees and lush landscaping. The lavish hideaway, washed in splashes of periwinkle and soft yellow, offers sun worshippers 125 single and 15 double chaise lounge chairs as well as five daybeds for those looking for a more spacious area to relax. The oasis elevates the luxury pool experience with personalized services such as the private guest entrance, and luxurious amenities including unexpected indulgences every 90 minutes such as complimentary signature iced teas, chilled towels, smoothie shots and more.  
BARDOT Brasserie
A nod to Hemingway's Paris, BARDOT Brasserie by James Beard award-winning chef Michael Mina, pays homage to the café culture of Paris with a menu featuring traditional brasserie fare including foie gras en croute and steak frites. The cocktail program tips its hat to the eclectic bars throughout the Parisian districts, and the rich and wonderful history that exists therein, with twists on classics such as the Sidecar from Harry's Bar and Serendipity from Bar Hemingway. Featuring an array of new world and old world wines, the wine program focuses on the regions of Burgundy, Bordeaux, the Rhone, Alsace and the Loire. BARDOT Brasserie is designed by Bishop Pass to convey the mood of early French film noirs where low lighting and dramatic shadows set the stage for an alluring and mysterious experience. An open kitchen is set behind a Parisian storefront, while the centerpiece of the restaurant is a 360-degree accessible bar with counter-to-ceiling brass shelving. 
Vdara
VICE VERSA
VICE VERSA brings an intoxicating twist to the Las Vegas social scene with the introduction of its new concept, VICE VERSA Patio & Lounge. VICE VERSA offers dual options such as classic or twisted cocktails, refreshingly light or indulgent bites, as well as intimate indoor or outdoor patio settings. The food and beverage selections were carefully crafted to offer the best of both worlds. Hearty pub fare and intriguing libation variations on the VICE menu are juxtaposed with lighter cuisine and classic beverages on the VERSA menu. Opened February 2015
MGM Grand
Jabbawockeez's JREAMZ
The world-famous dance crew Jabbawockeez has returned to its original home on the Las Vegas Strip with the debut of its highly anticipated new show JREAMZ inside the intimate, recently renovated Jabbawockeez Theater at MGM Grand. The imaginative new production entertains with its dynamic mix of awe-inspiring choreography, pulse-pounding music and beautiful special effects. Combining dance, drama and comedy, JREAMZ takes the audience on an up-close-and-personal voyage as never before seen into a world of fantasy versus reality with mesmerizing sights and sounds.
Topgolf
Topgolf International, Inc. recently opened its state-of-the-art flagship location at MGM Grand on the Las Vegas Strip. Topgolf is the only entertainment center of its kind, offering competitive golfing games for all ages and skill levels and advanced technology to track the accuracy and distance of players' shots. The four-level, 105,000-square-foot Topgolf Las Vegas sits on eight acres and overlooks a 215-yard outfield. There are 102 hitting bays among the first three levels while the fourth level showcases VIP areas with water features. The venue offers 102 climate-controlled hitting bays among four levels, hundreds of HDTVs, a stage for live concerts, water features with cabanas and dynamic event spaces. The chef-driven Topgolf kitchen and bar delivers a fresh twist on familiar favorites, local specialties and brews, plus unexpected new creations. Opened May 2016.
Morimoto Las Vegas
Masaharu Morimoto, renowned Japanese chef and star of Food Network's "Iron Chef America," will open his contemporary Japanese restaurant Morimoto Las Vegas at MGM Grand in fall 2016. The new restaurant will feature exquisite design along with signature sushi creations and spectacular cocktail offerings, including exclusive selections made just for the Las Vegas location. Anticipated opening Fall 2016.
 
Mandalay Bay 
Mandalay Bay Room Remodel
Mandalay Bay Resort and Casino has completed the final phase of its resort-wide remodel of more than 3,000 guest rooms and suites. Created by the MGM Resorts International Design Group, the redesigned rooms and suites feature refreshing color palettes and modern designs in three distinct collections: the Resort Collection, the Suite Collection and the Luxury Collection. This marks the conclusion of an approximately $100 million remodel that began in 2015. Completed April 2016
Mandalay Bay Convention Center Expansion
Mandalay Bay has expanded its award-winning Convention Center with the addition of more than 350,000 square feet of exhibit space to the existing 1.7 million square feet of space. In response to customer demand, the resort has added new exhibit space, a 70,000-square-foot carpeted ballroom, underground parking and increased overall square footage, creating the most flexible and customer-focused convention facility in North America. The Mandalay Bay Convention Center now boasts more than 2 million total square feet and 900,000 square feet of exhibit space.
Delano Meeting Space includes New Beach Club
Delano Las Vegas' 20,000 square feet of indoor meeting space is ideal for corporate and incentive groups, executive board meetings and other small meetings. Groups now can take it outside at the new Delano Beach Club, extending the outdoor group experience with a South Beach-inspired paradise. From booking one of 16 private cabanas during the day to buying out the entire club for an evening reception, the luxurious pool retreat is a posh yet playful new take on the Las Vegas pool scene with whimsical elements such as an oversized chess board perched atop the pool's refreshing deck.  
Libertine Social
The progressive and slightly provocative concept invites guests to define their dining experiences on their own terms, whether that be kitchen-side at a Chef's Table, in the traditional main dining room, in the intimate Scratch bar, or grabbing a quick bite at the "Libertine To Go" take-out window. The next-generation gastropub's menu will feature new American bar food by the James Beard Award-winning chef offering a variety of small and large plates. An inventive cocktail program by Modern Mixologist Tony Abou-Ganim will showcase his signature skill for cocktails with a strong bottled cocktail program and show-stopping "Swizzle" cocktails. A masterful selection of craft beers curated by Mandalay Bay Certified Cicerone Sarah Johnson will round out the beverage menu. Libertine Social will be located on the casino level, next to Charlie Palmer's Aureole. Opening summer 2016.
The Mirage
Pantry
Centrally located to provide convenient access from the guest elevators and casino floor, the 24-hour restaurant features wholesome favorites and classic desserts made from the freshest sustainable ingredients for breakfast, lunch, dinner and late night. Breakfast is available around the clock for guests to enjoy even after traditional breakfast hours. The bar offers coffee and tea selections as well as varieties of fruit and farm fresh vegetable juices, with each option providing maximum nutrition and flavor. The restaurant's exquisite hardwood floors and bright white walls lined with cabinets housing fine china create an ambiance reminiscent of a family kitchen. Friendly servers dressed in soft denim and flannel shirts complete the welcoming, relaxed experience.  
The Still
The Still is a no-nonsense restaurant and hangout that will quench thirsts, satisfy palates and serve as the ultimate man cave and sports destination. The project from Clique Hospitality will combine approachable and classic food served exclusively from the kitchen of an Airstream trailer. The futuristic vehicle, known for its distinctive silver shape, will be the first of its kind in a Las Vegas restaurant. The highlight of the beverage program will be its extensive selection of domestic and imported beer including more than 50 craft beers from around the world. Opened March 2016
Center Bar
Located steps away from The Mirage's iconic atrium, Center Bar's name tells you all you need to know in order to find it. Inspired by the 'golden hour', just before day turns to night, Center Bar is awash with warm amber hues and rich oranges with hints of blue. The open atmosphere places guests in the heart of the action on the casino floor – a prime spot for people watching from day to night.
Parlor Lounge
Parlor Lounge offers guests an intimate setting to enjoy cocktails and conversation complete with sophisticated sounds from a classic Steinway Grand Piano. Dark, paneled woods, burnished bronze, and accents of emerald come together to create a space that is classic and inviting. The menu of inventive cocktails combines strong, bold flavors that create unexpected harmony finished with appealing edible garnishes. 
New York-New York
Tom's Urban
After traveling to the best "food cities" across the country to understand the uniqueness of urban cultures, food and lifestyle in America, founders of Tom's Urban, Tom Ryan and Rick Schaden created the first, next and last place to meet, eat and drink. Originally based in Denver, CO, Tom's Urban delivers an energetic experience with a fun and modern menu featuring offerings that range from Butter Poached Lobster + Shrimp Tacos to Xiangxiang Crispy Duck Wings to Tailgater Bratwurst Breakfast sliders. The 24-hour restaurant also features an extensive selection of craft cocktails and cold beer, perfect to be enjoyed on its lively indoor-outdoor patio.
Shake Shack
Shake Shack is a modern day "roadside" burger stand known for its all-natural burgers, flat-top dogs, frozen custard, beer, wine and more. Serving up fresh, simple, high-quality food, the restaurant is a fun and lively community gathering place with widespread appeal. Environmentally conscious and consistently involved in the communities surrounding all locations, Shake Shack's mission is to continually Stand for Something Good. As Shake Shack's first West Coast location, the Las Vegas restaurant boasts patios overlooking both MGM Resorts International's upcoming Park and entertainment district as well as New York-New York Hotel & Casino's iconic Brooklyn Bridge. Opened December 2014. 
Luxor
Blue Man Group
Blue Man Group returns to Luxor Hotel and Casino, inside the new, custom-built Blue Man Theater, with new music, creative design, innovative technology and a completely re-imagined finale. Designed to bring the audience closer together than ever before, Blue Man Group brings its euphoric celebration of life in full color alive with an amplified show that combines the performance of signature Blue Man favorites with a playful look at current cultural trends including walking and texting and the selfie obsession. A dynamic and magical finale caps off the indescribable celebration and creates a euphoric atmosphere that leaves the audience in a state of awe.  
Based on Angel's breakout hit TV show, MINDFREAK, which smashed records and counted an audience of more than 100 million viewers in each of its six seasons on A&E, MINDFREAK® LIVE! will showcase 90 minutes of the most spectacular, original and revolutionary illusions ever performed on stage. With a cast that includes some of the world's most talented specialty artists, Angel will bring his vision to life with a blend of heart-stopping original illusions, state-of-the-art animated LED lighting and RGB laser explosions, LED virtual worlds, 3-D immersive effects, pyrotechnic landscapes, live musicians/DJ and much more. MINDFREAK® LIVE! will perform Wednesday through Sunday at 7:00pm and 9:30pm. MINDFREAK® LIVE! began preview performances Wednesday, May 25 and officially opens Thursday, June 30, 2016. 
Excalibur
Excalibur Room Remodel
Adding a modern twist to the medieval flair for which Excalibur Hotel & Casino is known, the hotel is remodeling 1,995 guest rooms and suites in its newly renamed Royal Tower. Vibrant accents and splashes of color match the energy and atmosphere of Excalibur. The upgraded accommodations feature a completely smoke-free experience, new carpeting and bedding, modern furnishings and 40-inch flat-screen TVs. Along with the remodeled rooms, Excalibur will kick off spring with a refreshed pool deck including new dining areas, cabanas, furnishings and surfaces, providing guests with an enhanced experience and direct access from the newly renamed Resort Tower. Adults 18 years and older will enjoy a private oasis complete with additional amenities, pool and cabana space. Reservations for select remodeled rooms are now available. The overall room remodel was completed April 2016.
The Buffet at Excalibur
A bountiful selection of small-batch comfort dishes will abound at The Buffet at Excalibur, the resort's newly redesigned buffet. Located on the Castle Walk near the Thunder from Down Under Showroom, the contemporary dining room features an interactive dessert station as well as six food stations serving a variety of cultural cuisine including American, Asian, Italian and Latin. Every Friday, The Buffet transforms into a seafood extravaganza featuring crawfish, blue crab, crab legs, sushi, peel-and-eat shrimp, lobster polenta and more. Menu items rotate seasonally to highlight the freshest produce and ingredients, elevating The Buffet to a fresh new dining experience.  
MGM Resorts International
MGM Resorts Connections
Traveling to Las Vegas with your friends or family just got a whole lot easier, especially if you were the person who (was) volunteered to be the social organizer. MGM Resorts International has launched MGM Resorts Connections, a free one-stop-shop for groups to book entire dream vacations, including hotel rooms, restaurant reservations, VIP nightclub access, private spa suites, show tickets and more at 12 iconic resorts across the Las Vegas Strip. If traveling with a group and reserving at least five guestrooms – whether for a bachelor or bachelorette party, golf getaway, family reunion, special birthday or just to get away with loved ones or people you like a lot, you can work with a dedicated MGM Resorts Connections professional at no cost to personalize and make all the arrangements for a stress-free, unforgettable vacation that includes special perks and benefits.  
M life Rewards
MGM Resorts International has launched the M life Rewards MasterCard, allowing members to achieve higher Tier status, more rewards and benefits faster. Cardholders also can turn everyday purchases into exclusive hotel, dining, entertainment and spa experiences at M life Rewards destinations. In addition, they receive an upgrade to Pearl Tier status, priority hotel check-in at all M life Rewards destinations as well as complimentary self-parking and buffet line passes at M life Rewards' Las Vegas resorts. No annual fee and no foreign transaction fees.   
M life Rewards is MGM Resorts International's premier rewards program. Members earn benefits for virtually every dollar spent at 15 world-renowned MGM Resorts destinations including Bellagio, ARIA, Vdara, MGM Grand, The Signature at MGM Grand, Mandalay Bay, Delano Las Vegas, The Mirage, Monte Carlo, New York-New York, Luxor, and Excalibur in Las Vegas; Beau Rivage and Gold Strike in Mississippi and MGM Grand Detroit. With just one card, M life Rewards members have access to experiential rewards, personalized offers and exclusive benefits such as special room rates, pre-sale entertainment and fight tickets, priority reservations, and invitations to members-only events. Preferred relationships, including Hyatt, Southwest Airlines, Royal Caribbean International, Pinnacle Entertainment and Avis Budget Group, provide members additional value, access and offers throughout the world on land, air and sea. For more information, visit mlife.com or connect on Facebook or Twitter.