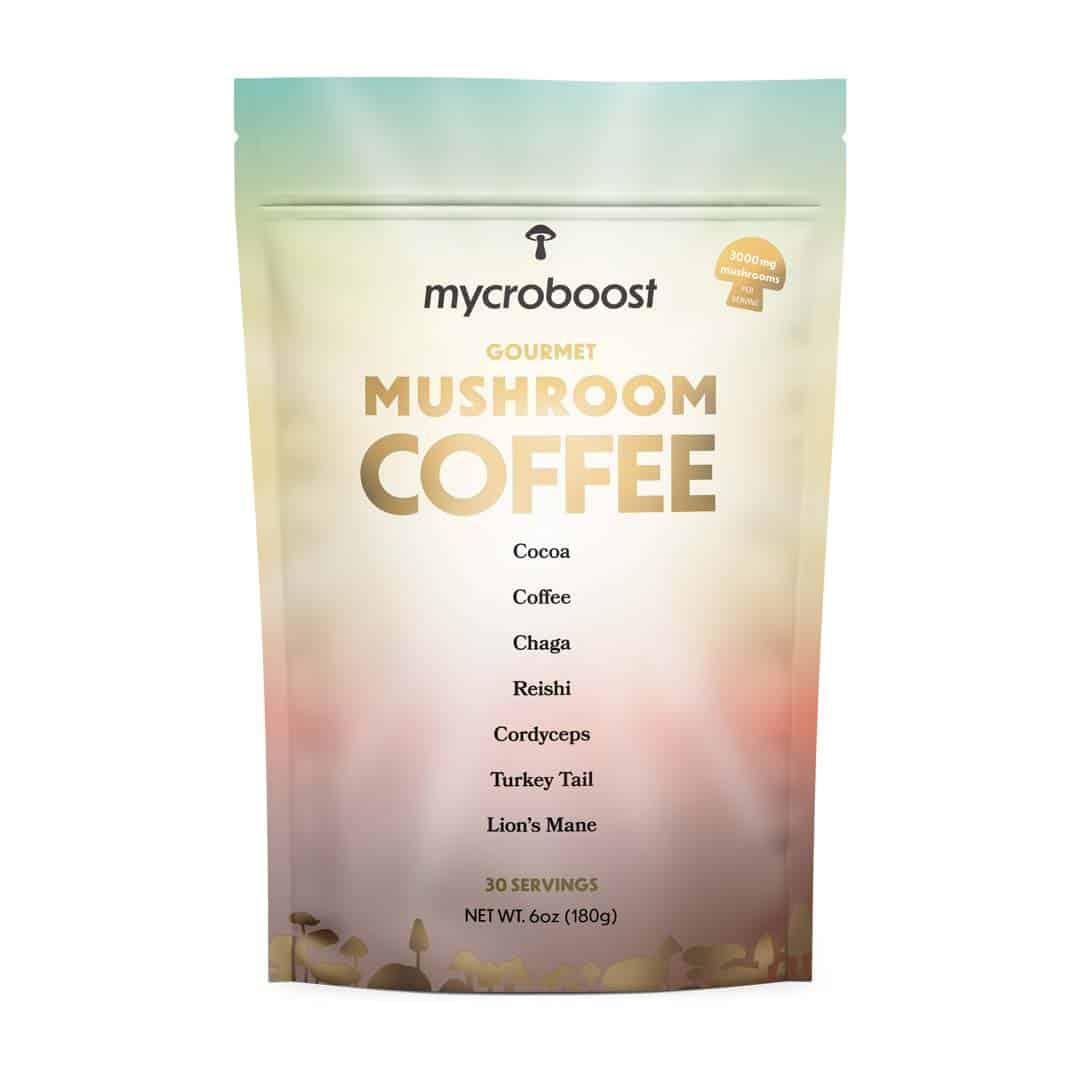 With their latest product, premium mushroom supplement company Mycroboost set out to solve a problem: Creating a reasonably priced mushroom coffee that provides therapeutic doses of five powerhouse mushrooms and tastes great.
"We love our morning coffee and we simply couldn't trade it for a substitute that tastes like dirt," said Mycroboost founder Robert Johnson. "Everyone deserves access to the transformative health benefits of mushrooms, so we wanted to create a delicious gourmet coffee at a price point people can afford."
To compete with leading mushroom coffee brands, Mycroboost Gourmet Mushroom Coffee is formulated with a lot more mushroom content. Each cup provides a whopping 3000 milligrams total of organic lion's mane, cordyceps, reishi, turkey tail and chaga extract (one cup of a typical Four Sigmatic blend contains about 500 milligrams).
Another differentiator: Mycroboost used five different medicinal mushrooms in their coffee blend for specific health benefits:
Lion's mane: brain health, digestion and focus

Cordyceps: energy and stamina

Reishi: anti-fatigue, antioxidant

Turkey tail: powerful immune-boosting compounds

Chaga: anti-inflammatory, anti-tumor and antioxidant

Because the majority of beneficial mushroom compounds are found in the fruiting bodies (a.k.a. the cap and stem) Mycroboost uses mushroom fruiting bodies exclusively in their products. "Some mushroom products contain just a trace amount of ingredients, or use cheaper myceliated grain instead of the actual mushrooms," Johnson says. "But the dose and the ingredient quality makes all the difference in the effectiveness of the products."
Why the Mushroom Craze Shows No Sign of Stopping

Mushrooms continue to be a hot topic in health and wellness, with even the New York Times reporting on the "mushroom boom." The global mushroom market, valued at 13.67 billion in 2022, is expected to reach 19.63 billion by 2028. The emerging science around fungi confirms that even non-psychedelic mushrooms can support memory, mood, energy, brain health, digestion, immune function, recovery and longevity. Post-pandemic, consumers are eager for natural remedies and practices that fortify both body and mind, and mushroom products have taken off as a result. Semrush data shows "mushroom coffee" averages more than 50,000 Google searches per month in the US alone.
Mycroboost Gourmet Mushroom Coffee includes a touch of organic coffee for flavor plus a bit of caffeine (each serving contains 55 mg of caffeine, the equivalent of a cup of Earl Grey). Organic cocoa, which is rich in micronutrients, polyphenols and antioxidants, provides mild sweetness without sugar. Each bag of Mycroboost Mushroom Coffee contains 30 servings, just $1.30 per cup.

"Why choke down a bad-tasting brew? Mushroom coffee can taste great and be good for you," Johnson says. "As coffee and mushroom lovers, we wanted a beverage that combined both—and consumers do as well."
Mycroboost Gourmet Mushroom Coffee Ingredients:
Organic Lion's Mane (8:1 extract)

Organic Cordyceps (10:1 extract)

Organic Chaga (8:1 extract)

Organic Reishi (16: 1 extract)

Organic Turkey Tail (8:1 extract)

Organic Cocoa

Organic Dried Coffee

Organic Sea Salt
Amount per bag: 6 oz. (180 grams)
Servings per bag: 30
Serving size: 1 tablespoon (6 grams)
Calories per serving: 5
Retail price: $39.99
Wholesale price available on request
Nutrients Per Serving:

Cordyceps: 600 mg
Chaga: 600 mg
Lion's Mane: 600 mg
Reishi: 600 mg
Turkey Tail: 600 mg
Caffeine: 55 mg
For more information or to schedule an interview, please contact Tom Estey at tomestpr@yahoo.com.
About Mycroboost
Mycroboost is a premium functional mushroom company that creates top-quality organic mushroom supplements for better living. Our mission: making the transformative health benefits of mushrooms accessible to all. We produce our vegan mushroom softgels, gummies and coffee using only certified organic fruiting body mushroom extracts—no grains, no filler, just mushroom magic.
Founded by hemp and supplement pioneer Robert Johnson and his dedicated team of myconerds and supplement skeptics, Mycroboost's science-based mushroom formulations support your well-being at every level. Welcome to the mushroom renaissance!