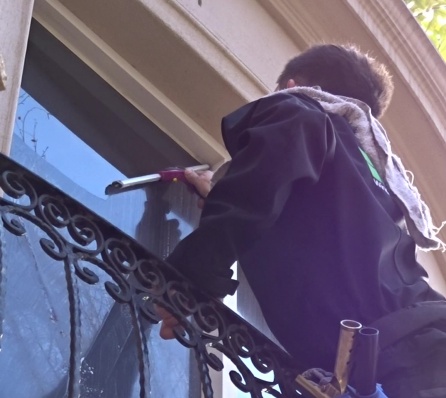 Windows are crucial in your house. You can use your large window as a focal point for your home decor, and that means you need to ensure it is clean and appealing all the time. Cleaning your windows is a task you have to do regularly to maintain the sleek appeal of your windows. But when you do it wrong, it can result in unsightly marks that catch your eye just as you settle on your couch to catch a view of your garden.
You can still clean your windows well without using chemical cleaning products that are harmful to the environment. Chemical cleaning agents are also not safe for our respiratory system and can lead to allergies and toxicity. You can use alternative natural products to clean your windows and achieve highly polished windows.


Use water
Do not underestimate the power of water when it comes to cleaning your window. Clean water and a soft sponge are enough to clean your windows and leave them streak-free. A soft sponge or a damp cloth helps wipe off the dirt marks and stains on your windows. But check the quality of water you use. Hard water is more likely to leave streaks on your windows. Use distilled water if possible. Professional window cleaners come in handy to help you achieve those streak-free windows you want to see in your home.


Use tea tree oil
If you still want to take care of germs and bacteria on your windows while cleaning them, tea tree oil is effective, and it is a natural product. With antibacterial qualities, tea tree oil is an excellent disinfectant to clean your windows. All you have to do is put some of it into a sprayer bottle, spray the windows are wipe them clean using a set cloth. The result is bacteria-free and streak-free windows.


Vinegar
Vinegar is a natural product for cleaning surfaces, especially glass, and it also kills bacteria. Vinegar makes it easy to clean your windows streak-free. All you have to do is mix some vinegar with water at a ratio of 50:50. Put the solution in a sprayer bottle and spray your windows as you wipe with a soft cloth. Vinegar is a powerful cleaning agent that kills germs and bacteria without leaving harmful fumes in your house.


Wipe the windows with a microfiber cloth
If you would like to achieve streak-free windows without using chemicals, a microfiber cloth is valuable. All you have to do is wipe the windows using the microfiber cloth while rubbing any stains on the windows. The microfiber cloth or towel eliminates the dirt and leaves you with a dust-free finish on your windows. Here, you do not need any detergent or sprays, the tiny microfibers to all the dirt on your windows.


Rub your windows with newspapers
You may not know this, but newspapers are beneficial in cleaning your windows. All you have to do is wipe your windows with stuffed newspapers, systematically taking care of the marks and stains. The result is dust and streak-free windows with the much-needed polish you wanted.


The bottom line
Eliminating the use of chemical cleaning agents in your home contributes to a greener environment. Cleaning your windows can be tiresome, especially when you have followed all the steps only to end up with windows covered in streaks. The effortless alternative is to look for professional window cleaners who can deliver quality results.