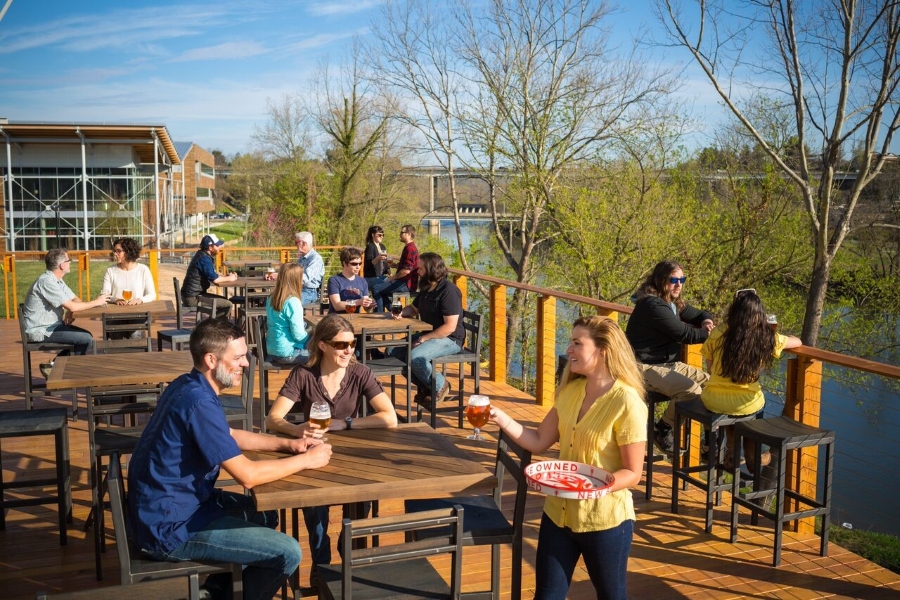 RALEIGH, N.C. (June 20, 1916) ― New attractions, headline-making hotels, landmark anniversaries and major sporting events make North Carolina an essential destination. Here are some of the high points.
Attractions
New Belgium Adds Brew Power to Asheville's 'Beer City' Acclaim
On the west bank of the French Broad River, New Belgium Brewing has added its brand to the flow from more than two dozen Asheville-area breweries. The Fort Collins, Co.-based company's $175 million development is transforming a former brownfield site into a 17.5-acre tract destination.
In addition to the brewhouse, packaging operation and "Liquid Center" tasting room, the design includes a Belgium-style beer garden with a rolle bolle court, an event lawn, an extended deck overlooking the river and a greenway path. New Belgium is the third major craft brewery to choose Western North Carolina for East Coast expansions. Sierra Nevada opened its brewery, restaurant and gift shop in Mills River in spring 2015; Oskar Blues has been making beer in Brevard since 2012. www.newbelgium.com
Rocky Mount Mills to Nurture Brewing, Innovation
On the North Carolina beer landscape, inventiveness extends beyond brewcraft to the business side. In Rocky Mount, Capitol Broadcasting Co. aims to transform Rocky Mount Mills, the state's second-oldest mill, into a vibrant center for brewery incubators, offices, apartments, restaurants and event venues. Koi Pond, Rocky Mount's first homegrown brewery, opened in January, and Sweet Taters Restaurant & Brewery is serving lunch, dinner and North Carolina beer while getting its own brewing system ready. Rocky Mount Mills is owned by Capitol Broadcasting, which transformed a crumbling cigarette factory in downtown Durham into the now thriving American Tobacco Historic District across the street from Durham Bulls Athletic Park. Capitol Broadcasting also owns the Durham Bulls, and last season the ballpark became the first in Minor League baseball with its own brewery, Bull Durham Beer Co. Keep up with progress in Rocky Mount at www.RockyMountMills.com.
U.S. National Whitewater Center Adds Land, Facilities
The U.S. National Whitewater Center in Charlotte, best known for the world's largest manmade recirculating river, has opened the nation's only permanent deepwater solo climbing facility. The climbing facility, one of four new projects at the center, challenges climbers to scale heights of up to 45 feet with a 16-foot pool at the base to catch them on the descent. Other developments include:
A new 100-foot tower for two new zip-line experiences.
A new 5,000-square-foot retail operation.
A kitchen expansion with new dining options.
The U.S. National Whitewater Center, an official Olympic training site, promotes an active outdoor lifestyle with a range of adventures including whitewater rafting, stand-up paddle boarding, biking, running, climbing and zip lining. Craft beer, concerts and other events also draw visitors. The center's recent acquisition of 488 acres, which will be kept in its natural state for now, brings the tract to 1,188 acres. The center celebrates its 10th anniversary in 2016. www.usnwc.org
Largest US Art Park Expansion Re-Envisions Museum Experience
Tree-lined parking lots, new bike and walking paths, and a central elliptic lawn for community programming are central elements in an N.C. Museum of Art project that will connect the museum campus's interior spaces with the surrounding 164 acres of parkland. By creating new spaces for public engagement, the Raleigh museum envisions a place for people to enjoy memorable experiences as part of their cultural and recreational pursuits, whether it's a film, a concert, a bike ride or a picnic, or to engage with the dramatic installations outside and the exhibits inside the galleries. The expansion project includes new works along the trails, which connect to the city's greenway system, a new entrance and streetscapes, and improved sustainability measures. The project should be complete by the fall opening "Rolling Sculpture: Art Deco Cars from the 1930s and '40s," a design exhibition featuring an aluminum-bodied Speedster hand-built for Edsel Ford, a fully enclosed BMW R7 Concept motorcycle and other treasures. www.ncartmuseum.org
Whirligigs Make Wilson a Visionary Arts Destination
Artist Vollis Simpson's wind-powered whirligigs can be found at must-see museums in Raleigh, Atlanta, New York and Baltimore and in private collections around the world. Downtown Wilson becomes the envy of them all with the Vollis Simpson Whirligig Park, the new permanent home of 31 of the whimsical sculptures, which create their own rhythm and dance in the breeze. The park ensures the legacy of the artist, who died in 2013 at age 94, and provide easy access from I-95 for travelers who want to discover the treasures. More than a dozen whirligigs have been installed with summer 2017 as the target date for completion. Additional Simpson whirligigs are on view around Wilson. www.wilsonwhirligigpark.org
Film Action Directs Attention to NC Locations
Film lovers can connect the scenes to the scenery of new titles being released in coming months.
"Masterminds": The heist comedy with Owen Wilson, Kristen Wiig and Zach Galifianakis filmed in the Asheville area. During his stay, Wilson visited Sliding Rock, a 60-foot natural waterslide in Pisgah National Forest. Release date: Sept. 30.
"The Disappointments Room": Kate Beckinsale and Lucas Till star in this supernatural thriller, which was filmed in Greensboro, Winston-Salem and Ramseur. Release date: Dec. 16.
Those titles are the latest in North Carolina's list of film and TV credits, which include "The Hunger Games," "One Tree Hill," "Dirty Dancing," "Last of the Mohicans," "Iron Man 3" and a host of adaptations of novels by New Bern resident Nicholas Sparks ("Safe Haven," "The Longest Ride," "The Choice," "A Walk to Remember." filmnc.com
Hotel Development
Hotel, Other Developments Unfold at Tryon Equestrian Resort
Tryon Resort, billed as the world's most significant new equestrian lifestyle resort, has opened just north of Tryon, a town of 1,600 in the Blue Ridge Foothills with an eight-decade horse tradition. Tryon International Equestrian Center, the first stage of the 1,400-acre development in Mill Spring, is holding international-level equestrian competitions. Dining and shopping amenities are open, and current lodging options include cabins, RV sites and the 17-room Lodge at Lake Lure. Golfers can tee up at Cleghorn Golf and Sports Club at Tryon Resort, a history-laced course designed by George Cobb. In 2017, the Hotel at Tryon Resort will extend hospitality with its 150 rooms and suites, a restaurant and bar, retail shops, heated pools, fitness center and event space. The next year, a 200-room, nature-inspired luxury resort with a destination spa will open. Hospitality and golf operations will be managed by Salamander Hotels & Resorts. www.salamanderhotels.com
The Boutique Hotel, Hot New Brands Add Interest to Lodging Landscape
Between the opening of the Village Hotel on Biltmore Estate in Asheville, the Durham Hotel and the 21c Museum Hotel Durham, 2015 would seem a tough year to top. But the excitement hasn't ended. Here's a rundown of notable lodging properties with recent openings or plans to welcome guests soon:
Landmark Anniversaries 
Old Salem Opens New Sites for Settlement's 250th Anniversary
In 2016, Old Salem Museum & Gardens celebrates the 250th anniversary of the founding of Salem, a Moravian settlement built on a foundation of faith, culture and education. The architecture and landscape of the 20-block neighborhood reflect authentic history, thanks to efforts to preserve original structures and gardens. Plans for the anniversary celebration include the opening of two newly restored buildings with lively interpretations of history: the Boys School, where hands-on activities and interactive technology will help relay the story, and the Doctor's House, which will illuminate how Dr. Samuel Benjamin Vierling practiced medicine and dispensed remedies. These buildings will join other places popular for shopping (Winkler Bakery, A. Butner Hat Shop, Moravian Book & Gift Shop), dining (The Tavern in Old Salem, The Flour Box Tea Room & Cafe) and exploring (St. Philips Heritage Center, Miksch Garden and House, Single Brothers' House, Museum of Early Southern Decorative Arts). www.oldsalem.org
Reynolda House Celebrates Centennial in 2017
Reynolda House Museum of American Art in Winston-Salem offers more than one compelling reason to visit the home built by tobacco magnate R.J. Reynolds and his wife, Katharine. Some come to explore the lifestyle story of the estate, which features a 60-room bungalow with a pool, bowling alley and shooting gallery; formal and informal gardens; and Reynolda Village, a complex of shops and restaurants that were originally build as part of the self-sustaining estate. Others come to see the premiere collection of art, which includes works by Georgia O'Keeffe, Frederic Church, Grant Wood and other American masters. 2017 promises even more reasons to experience Reynolda House with special exhibitions and programming to mark its centennial. www.reynoldahouse.org
Cheerwine Fans to Toast Soft Drink's 100th Birthday
President Eisenhower tasted the "nectar of North Carolina" in 1953 and supposedly declared that "Ike likes!" President George H.W. Bush sipped it in 1992 when he attended the Independence Day celebration in the town of Faith. Those two moments are part of a colorful history of Cheerwine, a cherry-flavored soda from the oldest continuously operated soft drink company still run by the same family. For generations, Cheerwine could be found only in North Carolina. Now, with a growing list of distributors, Cheerwine is readily available in 21 states. But come 2017, when Carolina Beverage Corp. celebrates the centennial of the soft drink's introduction, there may be no better place to raise a toast than its hometown of Salisbury, where the vintage Innes Street Drug features a Cheerwine-only soda fountain, Cheerwine cake and fudge, and licensed Cheerwine merchandise. www.cheerwine.com
State and National Parks Celebrate Centennials
As the National Park Service and the North Carolina State Park System continue celebrating their 100th anniversaries, travelers will find a warm invitation to explore the state's natural beauty and diversity. Stars among the national park properties include:
Learn more points of interest at findyourpark.com.
North Carolina's 39 state parks and recreational areas feature a range of remarkable places, including:
Connect with North Carolina state parks at www.ncparks.gov.
Major Events
Charlotte to Host NBA All-Star Game, PGA Championship in 2017
Charlotte has been selected to host the 2017 NBA All-Star Game, which takes place Feb. 19 at Time Warner Cable Arena, home of the Charlotte Hornets. It will mark the second NBA All-Star celebration in Charlotte, which hosted the event in 1991. Playing at the Charlotte Coliseum that year, Hornets Chairman Michael Jordan (then with the Chicago Bulls) was the leading scorer with 26 points. In addition to the All-Star Game, the 2017 weekend's festivities will include the BBVA Compass Rising Stars Challenge, featuring rookies and sophomore players, and the State Farm All-Star Saturday Night competitions. The All-Star Game will be televised on TNT. www.allstarweekendcharlotte.com
The PGA Championship, the PGA Tour's crowning event, returns to North Carolina in August 2017 with the Quail Hollow Club in Charlotte as host. Quail Hollow, home of the Wells Fargo Championship since 2003, follows Pinehurst No. 2 and the Tanglewood Golf Championship Course in Clemmons as the venue for the fourth and final Major Championship of the men's golf season. Designed by George Cobb and revamped by Tom Fazio, the 7,469-yard, par-72 course is known for the challenges of its last three holes, which are dubbed "the Green Mile." The PGA Tour has announced that the Wells Fargo Championship will remain at Quail Hollow through 2019. In 2017, however, it will be played at the Tom Fazio-designed Eagle Point Golf Club in Wilmington while Quail Hollow prepares for the PGA Championship. www.pga.com/pgachampionship/2017
 Beyond these news-making developments, travelers can explore the assets that make North Carolina a top destination ― mile after mile of captivating beauty; innovations in kitchens, wineries, brewhouses and distilleries; a spirit of adventure; and engaging history and lively culture. Find everything you need for planning a trip at VisitNC.com.
About Visit North Carolina:
Visit North Carolina is part of the Economic Development Partnership of North Carolina. Established in 2014, the EDPNC is a 501(c)(3) nonprofit corporation that oversees the state's efforts in business and job recruitment and retention, international trade, and tourism, film and sports development. The mission of Visit North Carolina is to unify and lead the state in developing North Carolina as a major destination for leisure travel, group tours, meetings and conventions, sports events and film production. For more information on planning a trip to North Carolina, go to VisitNC.com.