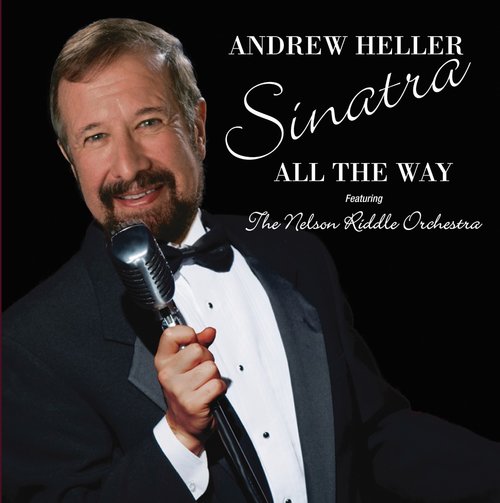 Sinatra has been my hero since childhood.  There were many things about him that contributed to my fascination with him as a singer and performer. 
Sinatra in his second incarnation in the early 1950s reinvented himself as a singer not just with the swagger that he carried to the stage but much more importantly he brought a free jazz style to his phrasing and song performances that permanently changed the way singers approached the Great American Songbook.  He was not just a singer but a storyteller/singer.  Almost all of the songs that Sinatra recorded and made famous were covers (songs that had originally been sung by other performers) and had been only modestly successful at best when first introduced. 
This includes songs that Sinatra himself had sung in the 1940s.  Sinatra in the 1950s till the end of his life brought great songs with amazing big band arrangements from world class arrangers like Nelson Riddle and Billy May and sang the story in a way that communicated with the audience not just the note by note music but the actual story contained in the lyrics. 
His interpretive style used the music as a backdrop to the story and was not locked in by rigid adherence to the written music but instead phrased the lyrics in such a way that it took the story in the lyrics to the forefront. If you listen to many of the songs that Sinatra recorded multiple times, you will notice that he never sings them quite the same way but instead inserts his current feelings and passions into each song.  The Great American Songbook is about enduring timeless stories of life and love and morality that are as meaningful today as they were the day they were written.  Stories that every audience can relate to.  What Sinatra did was to tell those stories his way and has forever changed the way singers approach the Great American Songbook.   More than anyone else in the music industry, Sinatra's approach to and delivery of the songs of the Great American Songbook is responsible for the continued interest in this music by people of all ages.
My love for this music stems from both the beautiful music (and great arrangements) and timeless lyrics but even more importantly from the freedom this genre gives me to tell the stories in these songs my way, based on my feelings at this very moment in my life, and my response to the audience I am preforming in front of.  It is this freedom to be a storyteller and a singer, to entertain and to enhance the daily experience of my audience that has attracted me to and kept me enamored of the music and songs of the Great American Songbook.  One thing that is constant in this music is the way it changes every time it is sung.  Because of the freedom to be a storyteller and not just a singer tied to mechanically and rigidly delivering the musical notes songs are never performed quite the same way. You as a performer, as an individual, as a traveler on the rivers of life are never quite the same person and your audiences are never quite the same in the way they react to your performance so why shouldn't the storytelling be altered to fit the contemporaneous mood.
My passion for the music of the Great American Songbook and love of what Sinatra did to make this music accessible still burns as brightly today as it did when I was young.
Andrew Heller's CDs are available at most online retailers including Best, Buy, Amazon, Waterloo, Barns and Noble, etc. as well as from download sites like iTunes and Amazon. They are also available in his website www.heller.com. His most recent CDs, Sinatra My Way and Sinatra All The Way, were recorded with the Nelson Riddle Orchestra with the help and conducting skills of Christopher Riddle, Nelson Riddle's son.
In addition to CDs, limited copies of specially mixed and mastered vinyl edition albums of Sinatra All The Way are available only on his website
Andrew Heller is often referred to as a Renaissance man.  With successful careers in music, science, engineering, technology consulting, tele-medicine, tech startup mentoring and corporate management he has been on the cutting edge of many of the modern technology innovations over the last several decades. 
As a young man, Andrew sang summer stock theater and high school musical theater and went on to "sing for his supper" while attending university.  While he studied opera under some of the best known teachers in New York City and sang as a soloist at places like Marble Collegiate Church, Saint Patrick's Cathedral, and other well known NY establishments, it was his love for the Great American Songbook that held his passion.  Singing regularly at places like the Penthouse Club, Four Seasons Restaurant, #1 Fifth Avenue and many other dining clubs he was able to sing with some of the best pianists performing songs from the  songbook that he loved.
Andrew has had a distinguished career in the computing industry spanning over many years of tireless service. In his 23 years at IBM he was honored by being the youngest person ever appointed to the prestigious post of IBM Fellow, along with numerous other technical and business honors. While at IBM he served in many technical and management capacities including the job of Corporate Director of Advanced Technology Systems directing a wide range of R & D activities within IBM. He also served as a member of the Executive Committee On Technology (ECOT) and on the executive Technical Review Board (TRB) overseeing long term technology commitments for the company across the operating units. In his last position at IBM, he served as the General Manager of the Independent Business Unit responsible for IBM's UNIX products and workstation activities within IBM. The Independent Business Unit created, architect-ed and developed the AIX operating system and the RISC RS 6000 workstation and server line. Today's Watson, Power PC and SP2 are also direct descendants of that activity.
After leaving IBM, he worked in the venture capital firm of Kleiner, Perkins, Caulfield, and Byers, (KPCB) a very well known Silicon Valley Venture capital pioneer, as a consulting partner where he worked with numerous start up companies helping them both in formulating and defining and executing their business plans from early stage to public offering.  While there, he worked on the Committee on High Resolution Systems (COHRS) which created the original specifications for the architecture that was to become the HDTV standard.
Until the end of 1993 he served as the Chairman and CEO of HaL Computer Systems, a very advanced hardware/software system startup with operations in Silicon Valley London, and in Austin, Texas. HaL developed the first 64 bit microprocessors ten years ahead of Intel Corp and the first version of UNIX 64 bit operating system.  He stayed until the company was purchased by Fujitsu, Ltd. He is currently involved in working with early stage startup companies as well as several government agencies and serves on numerous boards of directors and advisory boards of software, networking, data mining, cyber security, and other related technology companies. He continues to operate his privately held consulting firm of Heller Associates based in Austin Texas. His current client list boasts worldwide clientele representing many of the largest corporations in the semiconductor, computer, communications, and software industries.
In addition, Heller has returned to another aspect of his life that he has enjoyed since childhood, music.  In his youth he played in summer stock shows in the northeast and won the Junior Metropolitan Award as a tenor at 14. He studied under some of the finest vocal coaches and musicians in New York City.  He has toured with the Texas Playboys, the Tommy Dorsey Band, recorded 2 albums with the Nelson Riddle Orchestra and has 12 other albums ranging in genre from American Songbook/Broadway to Classical Country, to Inspirational.  He was nominated as "Entertainer of the Year" by the Inspirational Country Music Awards and was named "Breakout Artist of the Year" in 2015 by a national Country/Western chart.  He has performed across the US singing songs from the Great American Songbook as well as inspirational and country ballads in both large performing arts centers and intimate cabaret style settings.  Most of his recent shows have focused on the amazing big band arrangements and songs from the 1950s-1980s sung by Frank Sinatra.
Heller and his wife Mary Ann spend much of their time working as philanthropists in several key areas of interest to them.  Their primary focus  areas are divided  between healthcare and medicine, and high school and university education.  They have made major contributions to medical institutions like Seton Hospital,  the Seton League House, Brackenridge Hospital, Dell Children's Hospital, Stanford University Hospital, etc for both brick and mortar projects and research programs as well as equipment, scholarship and endowment contributions.  The Hellers are also deeply involved in both music education and delivering great artistic works to the community.  They are major contributors to the University of Texas College of Fine Arts, The Long Center for Performing Arts, The Austin Opera, the Austin Symphony Orchestra, etc. where they both provide financial help thru scholarships and donations and also serve on numerous boards of trustees and advisory boards both for medical institutions and musical organizations.  They have been working closely with the High School Musical Theater programs associated with the Long Center for the Performing Arts including the annual Greater Austin High School Musical Theater Awards program and the Long Center Select Ensemble.