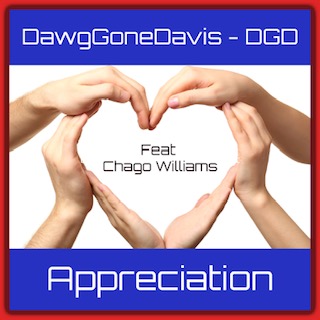 REBECCA DGD ft. Chago 
G
. Williams
"Appreciation"
Through the freewheeling litany of legends (Tom Petty, Motley Crue, Steve Lukather, Grace Slick, Joe Walsh, Glenn Frey, and Don Henley) on her most recent international hit "Raybans in the Rain" (#16 on the Euro Indie Music Chart), one of the grandest and quirkiest pleasures of the Kansas City based rapper, rocker and songwriter's array of smash singles is the playful namechecking that celebrates her lifelong love for rock and roll.  DawgGoneDavis (DGD) has gone coo-coo for Cummings now.


Rebecca regales us with her passion once again on "Appreciation," her latest infectious jam featuring a killer vocal hook by longtime Snoop Dogg producer Chago G. Williams, drawing on her customary wit, style and infectious rhyming to pay absolute, gratitude-filled homage to rock legend and Canadian Music Industry Hall of Famer Burton Cummings, best known as the lead singer/songwriter for The Guess Who from 1966-75 - a span that included their era-defining hits "American Woman," "These Eyes," "No Time," "No Sugar Tonight," "Share the Land" and "Clap for the Wolfman." 


"Appreciation" is Rebecca DGD's incredible fifth collaboration with Williams, capping a hitmaking streak that includes the hard-hitting, pandemic era cuts "Darkest Hour" (#5 on the Euro Indie Chart), "No More" (#11) and "Clean Slate" (#7) as well as "Raybans in the Rain," a festive celebration of summer, Rebecca's favorite season. 


Once again, she collaborates with the dynamic Euro Managershe considers her music master – German producer, saxophonist, flutist Hellmut Wolf and explosive electric guitarist Romain Duchein. On previous hits, their overall sound design included the intense grooves of drummer Jack T. Perry. While Wolf has showcased his formidable sax skills on previous DGD tracks, "Appreciation" allows him to shine on his Ian Anderson influenced flute playing with fills and a powerhouse solo that reflects Cummings' prowess on the same instrument. 


Part of the magic of being Rebecca is never knowing where inspiration will hit next, or where the initial spark will take her creatively. One day, her friend Roger Diamond (a Neil Diamond tribute performer) randomly shared with her via YouTube a concert performance of Cummings and The Guess Who performing "These Eyes." Knocked out by the singer's vocal delivery, piano performance and great looks, the rapper – who of course knew the song from her rock-loving existence but never heard it performed this passionately – was immediately whapped with the clever line, "Horton hears The Who" (referencing Dr. Seuss and the legendary British band) and was off to the races. She began freestyling: "Burton Guesses Who/And Rocks Out Me and You/I'm an American Woman. . ." 


In the next line, "I missed the last sermon," Rebecca refers to the fact that while she's definitely a churcher, she artfully balances her spiritual side with her rocking-girl vibe. The rest of the first verse is all about Burton, referencing a Dylan classic and even getting a tad risqué: "Knock knock knockin' on Cummings door/Beautiful form at the piano/No tight undies for that Soprano/Heavens me/Oh the days of concerts and squeals/Burton climbed up and almost passed "the Neil." Anyone who knows about Rebecca's appreciation for Neil Diamond's songwriting and performing, knows this is "high praise indeed!"


"The song 'These Eyes' impacted me and his performance knocked me over, and once those lines came to me, I knew it would evolve into a full-on tribute to Burton," Rebecca says. "He's so multi-talented, playing the keys, flute, singing and writing, and once the song got rolling, I wanted to capture all of that. Since Hellmut is one of the top flute players in the world, I knew it would be great to have him come up with his own way of sharing that aspect of Burton's artistry. He and I have collaborated on a lot of tracks covering a lot of thematic territory these past four years, but 'Appreciation' is truly one of my favorites."  


Another of the happy surprises listeners get when DGD drops a track these days is getting to the chorus and seeing where her collaborators take her original vision. While her emotional mid-2021 tune "Boulders Weeping – Cry No More" (which hit #6 on the World Indie Music Chart) featured a powerful vocal hook by former Gap Band member and gospel/R&B artist Dorian Paul, her other joints these past few years have been graced by Chago Williams, who never fails to meet our building expectations with a melody and lyrics that are spot on. DGD says, they are peas in a pod.  The great drummer on "Appreciation" is John Bennetts, former drummer of Bill Board charting Australian band, Eurogliders. 


On "Appreciation," rather than reference Cummings or rock and roll, Chago gets to the heart of Rebecca's mission as an artist and all she has to be appreciative of: "Life seems so unpredictable/But I just want to go for it ALL. . .I'm waking up to follow my dream." The singer/producer also acknowledges the reality all unique artists with a different mindset face in light of their competition and naysayers: "Knowin the charters want me to fail. . .Nobody to stand by me/So why do I care/They don't see my vision/The choices we make/Just to keep living." 




In the next verse, Rebecca has more nostalgic rock fun referencing, in addition to Cummings, The Who and Roger Daltrey's amazing vocals and hair. In a whimsical nod to the Who's reference to a "teenage wasteland" in "Baba O'Riley," by referring to a teenage waistline growing from too much beer, pizza and wine. Somewhat wistfully, she acknowledges the passage of time by saying that these days, despite the nostalgic trip Cummings took her on via his performance, she has "more important things to buy than your rockin' merchandise." After Wolf's flute solo, she gets back to appreciating Burton wholeheartedly: "Burton's magic piano roared through the Canadian Mist in elation/We drank all the music…and burped in appreciation!" Cleverly, it's the only spot in the song where the title is actually mentioned.  


Keeping her wit and clever turns of phrase intact even throughout the pandemic era, Rebecca has evolved into a hard-hitting chronicler of the times we live in. Besides the Williams'featured hits, her 2020 smashes included "Judge Not Rap Yes" (which hit #3 on the Euro Indie Music Chart), "Weight of the World" (which debuted at #4) and "Checkered Future." The re-release of her poignant yet whimsical perennial holiday track "Here Comes Santa Dawg" has been a phenomenon as well, hitting the charts during three consecutive holiday seasons (and hanging on till summer) and at one point peaking at #2 (two years in a row).