Written by

Karen Wardle, Band Manager for Greye, Daytona Beach, Florida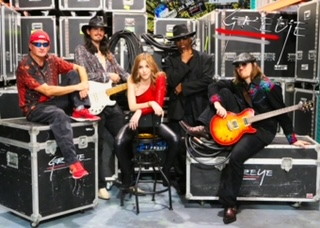 As a band manager, when I think about what a musician truly is, I feel like I'm on the outside looking in – but I also think my role with Greye gives me a perspective that is unique and objective and probably different than they might see themselves. To me, in a nutshell, it's someone who is very talented and works very hard to develop those natural gifts and achieve success on his or her own terms. I have never seen more dedicated people than musicians. Those who are for real and really want to make a career of it have an unreal sense of passion and commitment. I like to say that they're the 5 percent of people who entertain the 95 percent who constitute the rest of us.
Greye is a unique band in that it's three young adults who started playing music in high school, working with two veteran musicians. Certainly, I am biased, but I've watched these young musicians grow into what is one of the best bands I've ever heard. They have a love for what they do, a major commitment to each other and to me as well. As far as skills and talent goes, from what I have experienced, some of it is the result of hard work but a lot is a natural gift.
Our guitar player Jett Wolfe has played for less time than most adult guitarists yet has reached a level that is phenomenal. I see something in him that I don't see in every musician. It's because he was simply born with this ability and works hard to be great at what he does. His dad introduced him to the instrument but growing up he wasn't with his dad all the time. His natural passion grew when he became part of Greye and saw the potential in making this a career at a young age. On the other hand, I know some young musicians start with the "conquer the world" mentality but over time, the rigor of the work involved takes its toll and they realize it's not for them long term. 
So, it's clear to me that the person that really wants to be a musician long term has a love for it that they can't walk away from no matter how challenging the realities of the business are. I don't see any of the current members of Greye – Jett, vocalist Hannah Summer, drummer Ray Grimard, keyboardist/vocalist Ken-e Williams, bassist Lorenzo Rizzardi – walking away ever. They have the passion and are so happy when they're onstage playing and recording in the studio. 
I think there's a natural tendency with human beings to get discouraged if we set goals and things aren't happening quickly enough. We start to think success will never happen. It's no different for musicians and other creative people like visual artists, photographers, writers, etc. They go through those moments of doubt, pain and tears, times when they have to talk to someone to let out their frustration and feelings of insecurity. Yet if they truly feel they are on this earth to do what they do, and that is their purpose, they have an ability to see through those challenges and say, "I'm going to do this whatever it takes. I'm going to work two jobs if I have to, but I'm going to do this!"
Becoming a music manager is a natural outgrowth of my early life, where despite not being a trained musician myself, I always loved hanging out with musicians. I grew up in Ithaca, NY near Cornell University, a lot of great music came out of this region with plenty of incredible players, and great recording studios. One of my cousins had lots of musician friends and hosted a big music festival ever year at his cabin, he told me as a kid do what it takes to be who you are!  I learned early on how to distinguish between a true musician and one who is just clocking in. They have a different personality type. They're not your average Joe. They have an edge that's hard to explain.
Those of us who are not musicians but love to work with them hopefully get that edge by osmosis. I have to admit, it was hard for many of the musicians I know to keep that so called edge during the pandemic lockdowns last year. For musicians, there is no better feeling than having the rush of an appreciative audience loving what they do. Not being out there, or just doing Zoom concerts, took its toll for sure, but now that things are getting back to normal, it looks like they're snapping right back and loving every minute of their time onstage.
Even during non-pandemic times, the members of Greye have gone through their own existential crises. That happens with indie bands who play a lot of gigs. They do some shows where they're being paid yet nobody in the venue is paying attention to them. That's discouraging. But then they're on to the next show where people are screaming and yelling, singing along to their songs and having a great time. That kind of up and down dynamic wouldn't work with non-committed musicians.  I'm happy to say that the members of Greye, while they do have their down days and nights, always give 100 percent to ever show and bounce back from the difficult gigs.
Even after being together for eight years, I am amazed to see how Greye continues to develop month to month. Honestly in the beginning, with the younger members still in high school and before they found their more rockin' sound, they could be a little lax and unsure about things. But now, after hundreds of gigs and many successful albums and singles, it's like they see it as a business as well as fun, and don't want to let each other down. This goes for offstage as well. Hannah practices her vocals constantly. She studies videos of other artists' performances and works her butt off to deliver raw power to the fans every night.  They're always asking, what do we have to do to get to the next level?
Another beautiful aspect of Greye's unique dual generational membership is the way the younger musicians inspire the older guys, Ray and Ken-e, to come alive as musicians like never before. Prior to the formation of Greye, Ray had a local recording studio and was involved with music. Sometimes he would play drums for bands he mixed and recorded but he hadn't played full time with a band for years. When he saw the younger members of Greye play at a battle of the bands, he was inspired to invite them to come to his studio and record. Their energy and excitement motivated him to play again. Since he's been part of the band, he plays drums every day whether they have a gig or not. He rediscovered a passion that he thought was long gone and, while he's sacrificed plenty to commit to Greye's busy schedule, he tells me he's the happiest he's been in years.
Ken-e's a slightly different story. He had been knocking around for years. He has a very successful in-house band in the Daytona Beach area, but nothing bigger ever happened for him. He says he never played with musicians as passionate as his Greye bandmates before and that this band has made him alive again.  It's clear that it's so much more than a hobby for them. It's their life – and as their manager, I couldn't be prouder of their dedication and hard work. To me, that's what sets real musicians apart – it's an absolute passion, it's a look in their eyes when they know it's right, it's their drive, their energy, it's how much they really want it, and how much they will work for it.