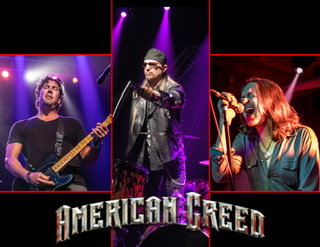 From COVID-19 To the Shocking Events of January 6, This Is Michael Mesey's Song of Hope to A Weary Nation and World
This Inauguration Day is a chance to turn the page from a difficult, divisive era and embrace a more hopeful spirit of unity moving forward. With COVID-19 and its resulting economic distress and recent shocking events that threatened to destroy this democracy we hold sacred, our nation - and the world in general - continue to face steep challenges. But it is my belief - as an artist and songwriter, but also as a proud American and a concerned human being - that change for the good is always possible if, to use the title of my band American Greed's hopeful new anthem, commit ourselves to working "Together" for the greater good.
I can't express how much this means to us as a band. The words of the song say it all and resonate beyond their original intention to embody our sorrow over the Capital Police officer who died and all of those who were injured in the service of protecting our Representatives, the Vice President and even the others that sadly died that day. I quote from our lyrics: "Sorry for the tears you cried, I wasn't by your side when you needed me, I couldn't be there/How can I find a way, to heal our Soul of Sorrows for the time I was away/I just want to hear you say/We'll be Together, We Will be Together." You and your families are in our thoughts.
In sharing our power ballad with our fellow Americans and the world, I truly believe in my heart this is the rock song for the times we are living in. With the humbling success we have had with this song, it's also knowing you never know how impactful a tune can be if you write it from the heart. More than ever, we need to Come Together, Heal Together, so We Will be Together. While Inauguration Day offers a powerful moment of transition, I believe we need the unifying force of music to help us get through the days ahead, to help us think of those we love, and to calm the hate that unfortunately has dominated the news in the weeks leading up to January 20.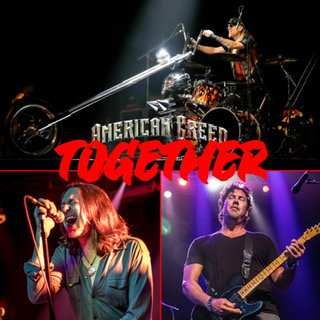 In my lengthy career, I have had the privilege of being American icon Chuck Berry's first call drummer and recording and touring with St. Louis based classic rockers Head East. I've shared stages with greats like Sammy Hagar, Boston, ZZ Top, REO Speedwagon, Heart, Cheap Trick and many others. My time with Chuck included shows at legendary venues like The Fox Theatre in St. Louis, The Show Boat in Atlantic City, Bayside in Miami for the Super Bowl, in front of 66,000 at Busch Stadium and performing "Johnny B. Goode" for a live worldwide broadcast from NASA's Jet Propulsion Lab in Pasadena CA for The Voyager project.
But it seems like all that was prelude to putting together American Greed and writing a song that I think captures our American moment – and particularly the spirit of new beginnings inherent in an Inauguration – like no other musical endeavor I have been involved in. In writing "Together," it's not only the lyrics but the magic of Matt Arana's powerful guitar arrangements and energy, the heartfelt and emotional vocals of Dave Farver and the solid rhythm track by bassist Bob Guion and myself.
While originally written as a reflection of missing loved ones while on the road touring, its emotional vocals speak eloquently for everyone who is apart from their loved ones due to the pandemic, from family and friends who must Zoom to communicate to relatives of those suffering in the hospital and front line workers spending hours away from home. It also speaks to the need for us to reconcile with our loved ones and neighbors even if we disagree on certain issues – and to recognize the goals we have in common as Americans.
Inauguration Day will cap one of the most trying and terrifying months in American history, all with the backdrop of COVID-19 is killing more of us per day than at any other time. Seeing what happened in Nashville on Christmas morning was a wake-up call. Thank God only a few were injured due to the heroic officers and first responders, but it still shut down and affected the entertainers and businesses that are already hurt so badly by COVID. It showed me that our country needs to come together and start thinking of each other again. We need to try to understand why someone would set off a bomb in one of the entertainment capitals in the heartland of America. I keep saying, "Come together, heal together so we will be together." It's going to take all of us to unite together. Loneliness, sadness and heartbreak tear us down. Together is our song to everyone in America and the world. Stop, listen and think about who we want to be.  
As a musician and artist who has expressed himself to the world through music, I know firsthand its ability to heal us, calm us, bring us some happiness, and help us think of each other – because we all have someone we miss, that's home alone, that's on the front lines keeping us safe, or someone we have lost. The era of COVID-19 has brought that truth home to us like nothing else before it. We must remember, these are our loved ones, our neighbors and our friends. We don't have to share the same interests or even political and spiritual learnings to recognize that.  
"TOGETHER" is a song with meaning to us all in every form of our lives. I truly hope as you listen, you feel what we feel when we wrote it, recorded it and perform it live. "Time can seem very long. . .Remember me when you hear this song, and close your eyes with a little smile."
Now more than ever, I believe that music makes the world go 'round. On Inauguration Day, and in all the challenging months ahead, let's let it help us heal and unite as a nation and world – "TOGETHER."