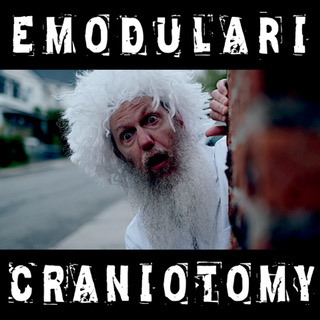 Caught up in the maelstrom of bad to worse news in the New York Times one morning, Eli Soiefer spotted an uplifting article offering respite from the crazy. It was a piece about an open-brain surgical procedure where they keep the patient awake to make sure they're not hitting the wrong spot.
Intrigued by the notion of doctors asking a patient during brain surgery to sing or play an instrument, the charismatic frontman for fast emerging New York alt rockers Emodulari got cracking on the hard driving, intensely visual and visceral – and bitingly hilarious – "Craniotomy," the most popular of a batch of singles the Nyack, NY band has released since its launch in 2019.
The equally quirky, eye-popping and artsy graphics laden video for the track features the long-bearded Soiefer in a crazy-cool white wig and medical coat performing surgery on a guitarist shredding like the late Eddie Van Halen. These scenes intercut with the mad doctor on the street, trying to convince passersby that he could perhaps help them too. The zany clip, directed by the band's drummer, Rich Bozek, has racked up close to 25,000 views on YouTube. It recently won the Audience Award for Best Shortest Film at the Angaelica Film Festival, run by Angaelica, an arts and ecology nonprofit connecting creative communities through films, festivals and farms.
"Dave [Reiss] and I were in the process of recording a bunch of different songs for the band at the time," says Eli. "He was arranging and producing them, so I called him up and told him I just wrote a really fun, cool song I think we should do. I sent him the acoustic guitar and voice memo I whipped up and he was on board immediately. 'Craniotomy' captures Emodulari's creativity and both my musical personality and personality as a performer. The vibe is different from a lot of our other tracks, but the main thing is that, serious or all in fun, every song tells a story." 
Over the propulsive energy of Reiss on bass and guitar, and drummer Rich Bozek, Eli's commanding voice dramatically sets the wild scene with a blend of music and science: "Lie still, lie still/Don't cough, don't cough/This is a sensitive affair/Play that guitar just like ringin' a bell. . .We began to perfect our craft 8,000 years ago/To stimulate your cortex/In your skull, we'll drill a hole." All this leads to the irrepressible hook: "Once we're in the brain, there is no pain, there is no pain." Hang on tight from there because the second and third verses include the imagery of "a loud sucking sound," "blowtorch in your head," "vacuum your blood," "you'll be between the living and the dead," "excise this intruder from our right frontal lobe" and "We will survive this madness and nail that riff again."
Though "Craniotomy" can be enjoyed strictly as a crowd-pleasing novelty tune, Eli's favorite aspect of the song is that it can be appreciated on multiple levels. "It's fun and catchy with strange and intriguing lyrics, and when you put them together with the video, it's sort of creepy but lighthearted fun," he says. "But if you listen carefully, you can appreciate other layers of meaning. The notion of 'once you're in the brain, there is no pain' reflects the reality that there is a part of each of us that is beyond pain. Pain is a defensive physical reaction, but our essence, our soul lies beyond that.
Many of our songs are like that. They are multi-layered and can be appreciated in different ways upon multiple listens."
In Latin, the word Emodulari means "thoughts set to rhythm," a concept that offers an expansive landscape for the band to deal with more serious themes like loss and recovery, spiritual awakening and current issues like homelessness, which is poignantly addressed in the socially conscious, folk-rock flavored track and video "Venice of America." Another highlight track that will be included on their upcoming nine-song vinyl only debut LP Damnatio Memoriae is the easy rolling pop/rocker "Hello L.A.," which chronicles the horrible moment when Eli's life was upended by a call that his son had overdosed after a seemingly successful stint in rehab. Both tracks feature contributions from the band's other two members, guitarist and keyboardist Ryan Liatsis and  vocalist Natasha DiMarco, whose harmonies blend seamlessly with Eli's lead vocals, bringing an added dimension to the band's unique vibe.
It was his son's tragic sudden passing that brought Eli back to pursuing his true passion for music after a 35+ year detour where he raised a large family and served as a rabbi and teacher at a Jewish Yeshiva school. Prior to his transformative awakening to Hasidic Judaism, he attended NYU film school and Berklee College of Music with an intention of pursuing the arts. He set aside music for good after sharing a demo of four hard rock songs he had recorded at Berklee with a music executive. The guy loved Eli's music but couldn't fathom the PR issues involved in introducing a Hasidic Jew with a long beard as a heavy metal artist.
A few years ago, Eli decided to get out and play open mics playing original acoustic music. Making the rounds, he met Reiss, a local jack of all musical trades who was inspired to create arrangements around Eli's tunes. Soon they were jamming with drummer Rich Bozek and recording what they call "edgy indie rock with a social conscience" with mixing and mastering engineer Jon "JRod" Ciorciari, who also helped produce and plays on some of the album tracks. They got on a roll in 2019, building a local following with gigs everywhere from Olive's in their hometown of Nyack to the punk rock club Meatlocker in Montclair, NJ. Emodulari also performed in Brooklyn for Bridgeside Live, a free weekly in studio concert series.
"When I got back into music, it was like I had blinked and 35 years had just flown by, yet I picked it up like riding a bicycle," Eli says. "I was so thrilled to be back doing what I love most, and I love everything about working with this incredible band. It's like reuniting with a first love. I was in the studio recording tracks and everything from years ago came right back to me and it felt like I was exactly where I belonged. I still get such a rush performing in front of an audience. For now, we're making more music, shooting more videos - and I'm grateful to have these awesome musicians to play with as Emodulari when gigging returns."