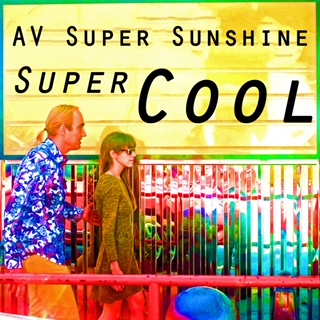 "Super Cool" is more than the name of rising international hitmaker AV Super Sunshine's latest infectious 80's techno inflected single. It's the dizzying, freewheeling world he's been living in these past months since the release of his previous track "X-File: 8675309."
Towards the end of a crazy making, quarantine and anxiety ridden pandemic year, the quirky, multi-faceted singer/songwriter blessed us with the ultimate musical escape, using the iconic hook of Tommy Tutone's classic "867-5309/Jenny" as the springboard for an otherworldly musical narrative about a couple's true life experience with alien abduction. The track has spun on over 400 stations throughout the U.S. and Europe and hit the Top 40 on the DRT Global Rock Top 40 Airplay Chart – in the midst of the latest tracks by Marilyn Manson, Korn, Five Finger Death Punch, The 1975, Green Day and Blink-182. 
Decidedly more earthbound than that still spinning, wildly popular hit, "Super Cool" is the lead single from AV Super Sunshine's upcoming album Art Rock, a rock driven tribute to Lady Gaga's classic EDM/synth-pop collection ARTPOP.
The singer takes us on a whirlwind, sonically hypnotic journey back to our high school days, where we all had to "fall in, it's time for roll call," but feeling oppressed and rebellious, it was "Like back at school and we just blew another rule." Surrounded by the adventurous, swirling production of his longtime producer Michael Bradford (Deep Purple, Madonna, Dave Stewart, Run D.M.C.), AV Super Sunshine laments the loss of those "cool kids" when they're kicked out/suspended for dressing, appearing or acting differently than the students who just accept the mainstream status quo.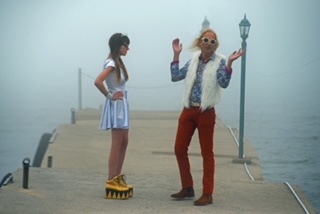 The hook kicks in and he sings: "Oh what are we gonna do/With super cool kicked out of school such boring hallways. . .Super cool come back to rule we love you always." The "teacher boss" may exult, "We are free at last," but the singer feels like something is missing and school now lacks any sign of vibrant life: "We don't like it with super cool away." So to protest, "the tall boy in the back" raises his hands and sings, "Everyone in class sing super cool."
"Super Cool" and the other songs that will appear on Art Rock are inspired by the fascinating friendship that AV Super Sunshine cultivated on social media with Lady Gaga (Stefani Germanotta) in the Summer of 2014 during her "ARTPOP" tour. "I became friends with her on several of her pages," he says. "There, we talked about the music industry and songwriting. Often, we would try to entertain each other with song lyrics. Having never met the artist, I studied both her musical accomplishments as well as the lessons she has shared, looking for similarities in my own life and experiences. 
In this way I was able to pen lines and songs that would be meaningful to her as well as myself. It was a lot of fun."
AV Super Sunshine soon had accumulated enough Gaga-inspired songs to fill an entire album. Recently, he shared some of them with Michael Bradford, who was immediately excited and asked to helm the project. Bradford had a gig playing bass for the Eurythmics Songbook Tour, which was postponed due to the pandemic – so he had the time to help bring AV's vision to life, albeit remotely from their respective studios and
via file sharing
.
As for the direct inspiration for "Super Cool," AV Super Sunshine says, "In 2015, when Lady Gaga'a acting career began to leap forward, she reported that her management wanted her to refine her image and, in the process, she was being asked to shut down some of her social media pages - including the ones we were talking on.  Being somewhat of a rebel myself who has been told act more proper, I knew what this felt like to both her and the fans.
"During high school," he adds, "I lived in Fond du Lac and Madison, which are, respectively, among the most conservative and liberal places in Wisconsin. At my Catholic School in Fond du Lac, my long hair and plaid bell bottoms got me in trouble with the administrators and conservative kids who considered me a freak and called me 'Benny Downs' because my appearance made them think I was on drugs. I compared Gaga's shutting down her pages to being kicked out of school for being the "super cool" freaky kid. In the song, I'm the tall boy in the back telling the story and being bold, because being bold is what making great records is all about."
These past few years, the international radio promotion company Musik and Film has helped AV score phenomenal chart success on global Adult Contemporary and Rock radio. His recent across the board hits include a dance remix of "Baby Goodbye" (#5 DRT Global AC Airplay), "Crazy
Love" (three weeks at #1 on the World Indie Charts), "Are You Happy" (#1 Euro Indie Top 200 Airplay Chart), "Apple" (#12 DRT Global Rock Airplay), "Candyland" (#17 DRT Global AC Airplay) and "Orange" (#18 DRT Global Rock Airplay). In 2019, the artist saw a spike in radio play in Asia, Europe, South America and the UK with multiple #1 hits on both the EuroIndie Music Chart and the World Indie Music Chart. With support from the BBC, AV also cracked the top 20 of both the DRT Global Adult Contemporary Airplay Chart and the DRT Global Rock Airplay Chart. 
"As we start 2021, I'm really excited to follow all those songs with 'Super Cool,'" AV Super Sunshine says. "Right now, there are a lot of uncool things going on. A year ago, we were saying 'Merry Christmas' with big smiles on our faces, and now those are hidden with masks. Due to restrictions, we're not allowed to enjoy the fun things we usually do. In addition to the pandemic, there's been so much political and social justice turmoil this past year.
So, it's a good diversion song. I actually thought about following up 'X File 8675309' with a moody, reflective single but everyone on my team agreed with me that we needed instead to start the year with a song that was fun and up lifting."