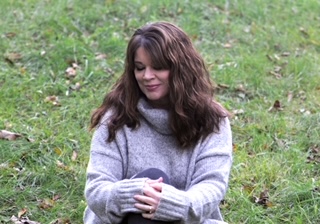 What could possibly help us heal from the exceptionally trying year of 2020? Singer-songwriter Angela Predhomme hopes that an inspiring new holiday song might give us a little solace.
"Warmest Wish for You" is soul-tinged, feel-good song with a familiar classic vibe that's a fitting remedy to 2020. With a refreshing innocence, lyrics send wishes of camaraderie, love, and happiness to everyone, from all walks of life, and from any religion or viewpoint. The song seeks to unify by highlighting the common, simple joys of our shared human experience.
The undeniable truth of lyrics "whatever sign's on your bumper/we're all breathing the same air/we ended up right here together/all singing the same songs" reminds us of our inherent connection. Despite our differences in politics, religion, culture, and identity, we're all in this together. Predhomme explains, "I'm suggesting that people overlook these tired polarized stances, the 'us vs. them,' and view each other as peers, as equals. We have more in common than we think in most cases."
With the pandemic throwing a planned music video shoot out the window, an alternate plan was hatched. Predhomme decided to focus instead on the togetherness we've all been missing lately. Unabashedly nostalgic, the video captures the familiar warmth of past holidays with the ones we love.
This latest single, "Warmest Wish for You," is not Predhomme's first holiday song to resonate with the masses. "Warmest Wish" follows up her 2017 EP, Holidayolio, which features the widely heard song "Christmas Time with You," best known from its opening placement in the Hallmark movie, "Christmas on Honeysuckle Lane." Other songs on Holidayolio are becoming fast favorites on seasonal playlists, with songs such as "Ring Ring" being streamed over 20,000 times this year alone.
The songwriter's smooth, emotional work has had a growing presence on the broadcast airwaves. Predhomme's music has been featured on the hit TV shows Dance Moms and Switched at Birth, and in TV commercials for ING Bank and Fiat. Other singles released this year by Angela Predhomme include "So Good to Be Free," an upbeat acoustic anthem touting the freedom that comes from being true to yourself, and the tender love songs, "Changeless Sky" and "Graced with You."
The rich, layered music production on "Warmest Wish for You" comes from Detroit producer Brett Lucas, who is one of Predhomme's longtime collaborators and a contributing composer on the track. A musician with a purist approach, Lucas insisted on only real instruments for the recording, even playing the bells himself on a real bell set. Lucas' past collaborations with Predhomme include the alluring, slow blues-jazz song "I'm Wearing Black," the classically-influenced ballad, "Epiphany," and many songs on previous albums.
Next up for Angela Predhomme in 2021 are media appearances paired with a full album release expected mid year. Predhomme's upcoming album will include recent singles and several new tracks.
Spotify: https://open.spotify.com/track/3f338ufF0SBvPRAdWBIWVp