Written by

AV Super Sunshine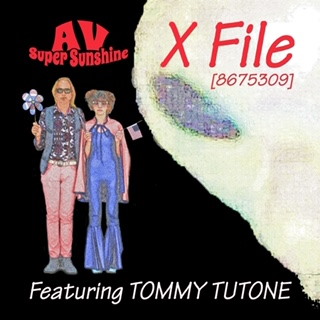 I was playing guitar when I got a message that 80s rocker Tommy Tutone (Tommy Heath) wanted me to use the hook from his 1984 hit "867-5309/Jenny" in a new song.  You might know the song; it's the one with the phone number "867-5309".  It might be the most iconic phone number in all of Rock and Roll history.  I love that song and now the cat who made it famous wanted me to write his iconic hook into something new.  I remember looking out the window, guitar still strapped around me thinking, "I'm AV Super Sunshine; I can do it'.   I was stoked in the excitement of getting a chance to pen a fresh track for a pop icon who influenced me as a youth.  With a slight cockiness that can only be explained as an "I'm the man" moment, I typed in return "sure man, consider it done".
I knew I couldn't use Tommy's hook as a phone number.  It had already been done.  Besides, it would be extremely hard to write something fresh if I simply repeated the original song's winning formula.  That would likely end up sounding like a pathetic attempt to milk the original song's past success rather than sounding like a fresh track worthy of listens and praise.  I didn't want the new co-write to fail because of my contribution since this was a big chance for me.   I knew I had to really step up my game and find a very clever way of using the iconic hook so the new song could stand on its own merit of greatness.
Before me was an opportunity to musically collaborate with a real 80s post punk icon whose song has become an anthem of sorts that defined the MTV generation.  How could I leverage Tommy's proven "867-5309" hook for a new generation of music lovers?  What story could I tell with it?  That's when a light bulb went off inside my highly creative yet undisciplined mind.   My busy little brain cells had uncovered a pathway that could use the hook not only as a way to pen a potential hit, but also as an answer to a problem Philomena (my wife) and I have, while at the same time giving the song the possibility for much more mileage.
I was, at the time, writing a song to be used for a UFO alien abduction film we were making with Beverly Hills filmmaker Jared Sagal (Rockerrazzi Filmz).  That's right, a UFO alien abduction film written by and starring Philomena and I.   The story is about a couple who are abducted out of a moving car, taken off planet in a flying saucer, interrogated on another planet, televised across the galaxy, and then bought back to Earth and placed back into their moving car.  The whole thing doesn't make any sense to them.  They can't get over how they were pulled out and put back into their moving car and why were they allowed to remember.  
After the couple's own experience, they watch a Joe Rogan (Joe Rogan Experience) interview of Tom DeLonge (To The Stars Academy).  In the interview (Joe Rogan Experience #1029), DeLonge explains to Rogan that the reactors in these machines (flying saucers) alter time, thus freezing the surroundings they come in contact with, making it possible to pull off the moving car abduction similar to the couple's experience.  The couple realizes what happened to them could happen to our world leaders.  They also realize that the revealing of anti-gravity travel and the technology tied to it could change our world overnight.  No more nuclear wars, no more fossil fuel problems, and quite possibly an end to poverty in our lifetimes.  
As well, the couple discovers it's not that easy as an abductee to come forward.  Just think if it happened to you what would you do?  Who would you trust?  Who would you be afraid of?  What if the people you trusted didn't believe you?  The possibilities are endless.  We have world famous Miami entertainment attorney Allen Jacobi (Allen Jacobi Media and Entertainment Law) representing us in regards to the film.   Allen is waiting for political things to calm down before we start making some noise with it.
The opportunity to co-write a song with Tommy Tutone was partly due to the success I had with previous songs charting on the DRT Global Airplay charts.  With the help of my producer Michael Bradford (Deep Purple, Madonna, Kid Rock, Run D.M.C.) we've gotten tens of thousands of commercial radio spins around the world with recent Adult Contemporary and Rock hits like "Baby Goodbye" (#5 DRT Global AC Airplay), "Apple" (#12 DRT Global Rock Airplay), "Candyland" (#17 DRT Global AC Airplay) and "Orange" (#18 DRT Global Rock Airplay).   
It's an amazing feeling as an independent artist to be able to compete and win on commercial radio alongside global super stars such as Miley Cyrus, The Jonas Brothers, Post Malone, Taylor Swift, and The Weekend.  Even cooler is to at the same time top the Global Rock Airplay charts with extreme rockers like Five Finger Death Punch, Korn, Ozzy Osbourne, and Marilyn Manson. We're close to busting into the Billboard charts as more US media reporting radio stations have been adding each new release.  While continuing to work hard as an indie, we are hoping and praying that major record companies will show interest in furthering the success of the brand and songs.    
The prospect of working with Tommy and using his hook within the alien abduction song I was writing was made possible by my promoter who was largely respondsible for our radio success, Stephen Wrench (Musik and Film).  Tommy Tutone expressed his interest to Stephen that he thought it would be cool if he could find an artist to use his master recording of his hook to create a potential new hit. Stephen is a veteran songwriter, artist and radio promoter who worked with, among others, Toto, Rick Springfield and Lynyrd Skynyrd.  He told Tommy that he immediately knew the perfect artist to make it happen, myself (AV Super Sunshine).
I took the alien abduction song I was writing and tried to find a place to insert Tommy's hook.   The song starts out with the lyrics "We were driving northbound on a cloudy moonless night, satellite invisible, no stars or headlights."  In Philomena's and my abduction movie, the couple is driving north the night they are abducted, shortly after midnight on April 16, 2012.  If you check the weather data for South Eastern Wisconsin that day you'll find extreme cloud cover with a New Moon present.  The New Moon is the invisible phase when the Moon is not visible from Earth.   Also, the abduction takes place under a highway underpass making it satellite invisible from above.
Unlike in the film, I wanted to bring an FBI conspiracy and cover up into the song as the lyrics continue "Back at forensics they can't explain away, what the experts want to write off as an open-shut case".  It's a verse inspired by the X-Files, a TV series which revolves around two FBI special agents, Mulder and Scully, who investigate X-Files: marginalized, unsolved cases involving paranormal phenomena. In the series the agents discover an agenda of the government to keep the existence of extraterrestrial life a secret.
In the chorus are the lyrics, "It's who we are, we're a shooting star, we're a moving car alien abduction.  As we fall in love, we rise above, as a moving car alien abduction" That's were my producer Michael sings "Case file" followed by Tommy's Hook "8675309".  I used Tommy's hook as the case file to an X File similar to the famous TV show.  That's how I tied 80s Pop and Rock icon Tommy Tutone to an alien abduction conspiracy.  Now bring in FBI special agent Mulder and Scully and let's get this party started!