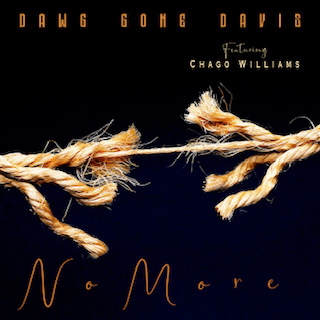 "No More"
In a year that's been brutal universally and personally on so many levels – particularly for music artists dealing with the ongoing loss of gigs and the normal ways to keep fans engaged – Rebecca "DawgGoneDavis" continues to break ground on the keys to funny, emotional and spiritual survival.
With her ongoing array of smash hits throughout 2020, the irrepressible Kansas City based artist, rapper, rocker and songwriter continues to whip up perfect blends of pathos and humor that has fans on the edge of their seats waiting for her next witty line, offbeat rhyme and lyrical couplet. Following up her edgy, incendiary "Darkest Hour" – another international hit which reached #5 on the Euro Indie Chart - Rebecca's latest single "No More" is an introspective expression that finds her mining tongue-in-cheek self-deprecating humor amidst the hard-won wisdom she gained from a long marriage that didn't work out.
Driven as always by her witty turns of phrase and inimitable rap, "No More" is the second DawgGoneDavis track to feature an infectious yet blistering chorus/hook and vocal feature by producer and performer Chago G. Williams – who is now an indelible part of Rebecca's ever-expanding sonic aesthetic. It was produced, as all her releases are, in collaboration with her secret musical weapon, renowned German Euro producer, saxophonist and multi-instrumentalist Hellmut Wolf. It isobvious: Chago and Rebecca make a transcendent, intuitively in synch tag team, and are planning many more collaborations in the future.
"No More" also features the crackling electric guitar energy of Romain Duchein, whom Rebecca affectionately dubs "the part time rocker in the DGD House." In addition to "Darkest Hour," Duchein brought his powerful vibe to her early 2020 hits "Judge Not, Rap Yes" (which reached #3 on the World Indie Chart) and her super-spirited rock n roll tribute "Checkered Future." The fourth indispensable artist contributing to the DGD magic (on "Darkest Hour" and "No More") is North Carolina-based Jack T. Perry, an associate of Wolf's who brings a live drum dynamic to the mix.
"In thinking of a follow-up to 'Darkest Hour,' I wanted to be personal again, and come up with a story from my married life," Rebecca says. "Songwriting for me is often cathartic, a way to express my inner emotions in different ways, and I am not afraid to be vulnerable and let people in on the deeper stories of my life. Everything I do is Becca Davis to some extent, packaged as funny or serious or somewhere in between which is where I feel 'No More' is. The humor kind of cloaks a serious topic and the reality that I screwed up. I should not have married a man 20 years older than me. I'm not ashamed to admit it, or the fact that my dad told me I chose poorly, LOL. Humor helps us all cope with regrets; and allows us to live stronger with our pain."  
Having Chago in the "house" means Rebecca's clever narrative is always building towards an explosive chorus underscoring and emphasizing her overall theme. Anyone who has ever been in an ultimately doomed relationship can relate to her opening lines: "I'm outta that marriage/In a speedy ole carriage…" As she's done before, she boldly and directly credits her faith towards helping her survive the emotional challenges: "No more horsin' around/Jesus is Lord/Don't cut the chord/I'm a big zero/He's the real hero." With Duchein's guitar jangling and swirling throughout, Chago powers in with "No More/Let you bring me down. . .I just can't take it no more/You told me lies/Not one more time."
Rebecca's second verse begins with the original working title of the track: "The Ballad of Bec/It all went to heck." She provides details of how she "met the old fart" as a young intern wearing a  skirt – and how his "moocho choice kiss" helped unleash theirpassion." As the narrative progresses, she reveals that she was "full of dismay of feeling and reeling/I'd lost that loving feeling." While destined for divorce, she acknowledges memories, "some good, some traumatic/all happens when hormones go automatic." But she wraps it all in self-reflective laughter: "Real high heels made me teeter and totter/Everyone's embarrassed at their youngest daughter."
Chago contributes more than just the irrepressible "No More" chorus. Inspired by Rebecca's tale, he freestyles the closinglines: "You the light upon my face/Stabbed me all in the back/People done told me you was a player/I told them all it was just lies…" After highlighting the dilemma of staying too long with the wrong person (as Rebecca did), he concludes, "I won't be right here in the morning/I rather just wake up alone…" Chago G. and Rebecca just plain click!
Just a little over two years since DGD first took the world (and the World and Euro Indie charts) by storm with her quirky and infectious debut single "Middle Age Woman – Hip Hop Style," Rebecca has an international legion of fans from 16 to 70 and beyond. Driven by her hilarious, erudite, self-effacing and no holds barred approach to baring her soul, her tracks have received spins on an astounding 4500+ terrestrial, internet and satellite radio outlets throughout Europe, Asia, South America and the United States. Each of her songs has risen quickly on the World Indie Chart and Euro Indie Chart. In late-2018, the multi-talented performer compiled her first nine hits into a collection perfectly titled after her respect and passion for Neil Diamond music, Hot Dawgest Night. Earlier in 2020, her powerhouse single "Weight of the World" – which she dubbed "a huge prayer and ask" for divine assistance during this challenging time – debuted at #4 on the Indie Euro chart.
https://www.facebook.com/Dawggonedavis/