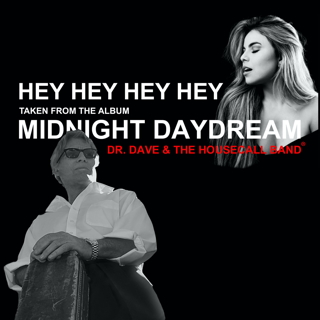 Writing and recording smooth jazz albums and performing live over the past 25 years, I've learned that people react most powerfully to a song's rhythms. If you've got a great beat that they can move to, you've got their attention. Then you come up with memorable melody lines to go along with that. The hook and the melody are important, but the groove is key. So when my ensemble Dr. Dave & The HouseCall Band was working on our latest album Midnight Daydream, we focused on those elements.
When I'm envisioning a new project, I always heed the advice of the late Carl Evans, Jr. from the band Fattburger. He said to put an album together the same way you assemble a concert set list. To create the perfect flow, you open with tunes with good energy that grab the audience. Then by the third or fourth, you move into something relaxing. Just as they're easing into a romantic mode, you go with a hot tempo track to shift the vibe and get them grooving again.
The first two songs we worked on for Midnight Daydream, "Sexy Cindy" and "Hey Hey Hey Hey," have thankfully been two of its most popular radio and streaming hits. Since "The Tonight Show Starring Jimmy Fallon" debuted in February 2014, the "Hey Hey Hey Hey" riff by the house band The Roots has been a one of those classic earworms you never get tired of no matter how many times you hear it. How many pieces of music can you say that about?
I always felt it was a catchy hook with a great deal of energy. As I kept hearing it in my head, I realized it was just intro music and not an official song. I thought, 'Why not get together with my band and develop it into one? Right off the bat, I knew I wanted to give it a little more sex appeal by adding the female vocals by Stellita Porter and Jackie Bonaparte. We then collectively and individually built on the energy of that with powerful grooves and solo action, my saxophonist John Rekevics' incredible horn arrangements and my back and forth guitar and sax section with him towards the end.
Though I'm the producer, working on this track was a true ensemble effort where four heads sharing fresh ideas were better than one. So much of the credit for making this an exceptional track goes to these musicians, most of whom I've been blessed to work with for years – bassist Cecil McBee, keyboardist Rob Whitlock, drummer Duncan Moore and Larry Logan, who I brought in to play the organ parts and especially that wild solo.
The same way as George Benson once turned Leon Russell's 'This Masquerade' into a jazz standard, I feel the arrangement here is everything and takes what The Roots created to a whole new dimension. It's a fun track performed with a lot of passion. In addition to those tight horn section elements, the arrangement features a Steely Dan-like rhythmic flow in the middle, and – my favorite part – a powerful jazz/R&B 'tradin' fours' conversation between me and John. I felt like we were in a boxing match and I was counterpunching. I had to see what he would throw before I "hit" back with my guitar. It was like a very spontaneous question and answer segment. This "tradin' fours" section is a traditional jazz concept applied to the smooth jazz style.
I came into the session telling the guys I wanted us to create a song out of the riff. I already had a clear vision of how it should go - but the magic of the HouseCall band is that each member offers input that sometimes takes a track beyond where I originally imagined. One of them pulled out his phone and clicked on the Roots original. Everyone listened and came up with ideas about how we could develop the riff into a bona fide song. The idea of adding a bridge came up but I opted instead for a solo blues break that would eventually head back into the hook. I wanted it to be more up-tempo. In my head, I heard the horns and the idea of me trading fours with John's sax. I deferred to his expertise and brilliance to help us pull it off from the general guidelines I provided.
I also want to give credit to our engineer Mike Harris, who has a great ear and offered tremendous input. He could hear sonic details the rest of us missed. We laid down the basic rhythm tracks – piano, bass, drums and my rhythm guitar – in three or four takes, making sure to leave spaces for Larry's later organ solo and the later section where John and I do the Q & A. I added my electric guitar solo parts last.
The song is credited to the riff's writers Tarik Trotter, Kirk Douglas, Karl B. Jenkins, Ahmir K. Thompson, Owen Biddle, James Jason Poyser, Malik Smart, Ricky Nichols and The Roots. To be able to include the track on the album, we needed to go through the proper channels to get legal permission. My entertainment attorney explained two different ways to do it, one of which is more complicated than the other and involves going through the publishers who own the rights to the original riff. The better option was the universal legal guideline which says if a song is written and owned by others, you can release a new arrangement as long as you give the writers credit and go through the proper steps to ensure they will get writer's royalties. When you register an album with the performance rights organization, you notify them to let them know you're doing a song written by others. They take care of the details which allows a split between the publisher who owns the song and the writers.
The most rewarding aspect of creating "Hey Hey Hey Hey" is that I came into the studio with ideas in my head and once we were finished, I knew that now everyone could hear it. Just as I always hope when collaborating with musicians of this caliber, the track came out even better than I expected. All I did was come in with a general direction as producer and let the guys do their thing. I believe you get the best out of the musicians when you allow them space to bring their skills and creativity to the moment. You don't stand in their way. You just let them fill in the blanks. I approach it like a team sport. To use a basketball analogy, you strategize and make plays around LeBron James but you don't tell him how to dunk. I would never tell another musician how to play a solo. The nature of jazz is self-expression and you only want to work with guys who come in with the attitude of a team player. The process should be fun, enjoyable and rewarding – and in the case of "Hey Hey Hey Hey," all the dynamic pieces came together beautifully.