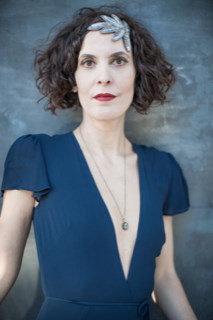 Bonjour,  je m'appelle Chloé Perrier. I am a French Jazz singer/Chanteuse based in NYC for the past 6 1/2 years. When you love it, every half counts.
I was born in Myans, a very small village in the French alps. My house was in the middle of a vineyard with nothing else around. My musical journey began by listening to records of Claude Nougaro, Serge Gainsbourg, and Emilie Jolie (A really cute French musical for kids) on our family turntable. At 5 years old I saw "L'école des fans" (French American Idol for kids) on TV,  this show featured young violin players instead of singers, and I immediately asked my mother if I could start practicing violin. I studied it for 6 years and I truly believe it trained my ears for musical training to come.
At this time I was really shy, but I was singing in the old bedroom of my mom, every lunch at my grand parents, 45's of Madonna, Lio, and my favorite Rita Mitsouko (the very first album that I bought for myself) with the door closed.
When we moved in Paris I was 10 1/2.  Life was more expensive in the big city than in the alps, so I had to choose between my activities. I let go of the violin, I regret that now,  to start ballet school and acting later on. I was not the most flexible person in the world, so I was a lot better at acting, and began to work on my first play at 13 years old. I had to sing one song in the play. I really enjoyed being in the Avignon Festival with a bunch of adults. Giving out flyers in the street in the afternoon. Doing the play at midnight. Stealing fruits on the trees when we were coming back. I really fell in love with acting and performing there.
Around the same time, I began taking singing classes, and met an inspiring teacher Celia, who introduced me to Jazz at 15. At this time it was a lot easier for me to hide behind a character and act, than to sing in public even though I loved it.
When I was 18, I began working as a bus boy at "Le Réservoir," a famous club and restaurant in Paris, to pay for my classes. After the New Year, one of the owners, the late great actor Mouss Diouf, asked me what my wish was. My answer "One day, I would love to sing on that stage". He disappeared and came back a few min later with his calendar, and gave me a date three months later saying: "You have 3 months to build a repertoire, find a band and play". I was in panic, but you can not say no to Mouss Diouf… It's like saying no to Mike Tyson.
I strangely didn't know any musicians in Paris. I remembered that I jammed with musicians when I was on holiday at Ile de Ré the summer before, so I called them. I decided to choose music from films theme, I was an actress after all, and went there for a few days to rehearse with them, and took them back for the concert. Half of the concert my legs were shaking, but it went well and I got hooked.
A few years later, knowing more about what my own style was, I decided to go back to school and received a grant to go at the world renown Jazz school the "Bill Evans Academy" to learn Jazz singing, composition and piano. I had two amazing American teachers, Sara Lazarus for voice and Joe Makholm for composition and piano. I composed my first song "Si" there, that is on my first album "Coeur de Francaise," thanks to the support and help of Joe. After a few years of singing in all the Paris Jazz Clubs (Sunside-Sunset, Franc Pinot, 9 Jazz Club), and gotten a broken heart from a love, I decided to follow my dreams, and move to the big apple. My first album "Coeur de Francaise" helped me to get my artist visa. I wasn't really speaking fluent English, so I had to figure out how to get gigs and musicians without speaking the language, but it worked out well. The NY jazz scene is so inspiring. I did a lot of shows with amazing musicians and met my 'brothers from another mother,' Akira Ishiguro, Rodrigo Recabarren and Jim Robertson; who are the base of my French Heart Jazz Band. I added the amazing French violinist Caroline Bugala, and great australian clarinet player Jon Hunt for the recording. I like the fact that my band works as a team. I find the gigs, manage the band, and choose the songs, but we work all together on the artistic side. I like to work with musicians with the same sensitivity, and who understand and respect my universe. Akira Ishiguro did a lot with the arrangements on our last album, and he knew exactly what I liked. I have really found a family, not just a band; and it helps me, free myself, and sing on a higher level.
The goal I had with my album "Petite Fleur" was to make people happy even for the length of the 11 songs, one song is hidden, or the time of a show; and I wanted to touch everyone, not only the Jazz crowd. I think we need to keep jazz as a popular music, accessible to all, not just to an elite few. I just want people to have a smile on their face, dance, fall in love, or just dream that they are in Paris in the 30's when they hear us. The real world is hard, so I am happy to give them a little break.
I chose music from the 20's to the 40's because it's joyful, simple, fun and we have added a modern touch.
I like to keep old, beautiful songs alive, and I am glad to see other people from any age enjoy it as much as I.  I just want to make people and myself happy singing it. And I hope I can continue to do that until I die on stage at the age of 101 year old!  Now for the next album, I want to go back to compostions… we will see :)
If you want to be happy too, you can listen to my "Petite Fleur" on every platforms
https://lnk.to/petitefleur
, order it on Amazon or good music shops and check our live performance on my website
http://chloeperrier.net