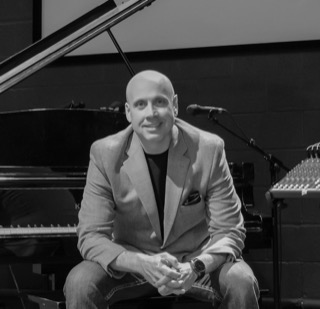 A true visionary and fearlessly innovative force of musical nature, Kitt Wakeley has long believed that speaking his passion and purpose out loud not only puts it out for the universe to hear, but allows others to hold him accountable to achieve his goals. So after several rousing, full orchestra performances of music from his epic, multiple award winning 2019 hybrid symphonic rock album Midnight in Macedonia in and around his home base of Oklahoma City, the multi-talented pianist/keyboardist and composer – inspired by friends who had played there – set his sights on and spoke the words: Carnegie Hall.
On March 23, Kitt will headline the historic venue's 1,200 seat Zankel Hall, playing piano and telling colorful anecdotes about his songs and creative journey, bringing his colorful hybrid of rock, melodic piano, electronica and strings to life with a 28-piece orchestra, an eight-piece choir and a backing band. In addition to performing music from Midnight in Macedonia, he will preview several pieces from his upcoming follow-up album Symphony of Sinners and Saints, which he is recording in London at Abbey Road Studios with the London Orchestra and Choir.  
In line with his philosophy and mission of encouraging others to identify their goals, pursue their passions and develop a vision that becomes one's purpose, Kitt will be inviting several young guest artists to join him. Popular Bulgarian born NYC classical pianist Tania Stavreva will open the show. While Irene Fong (electric violin) and Marta Bagratuni (electric cello) will be the featured string instrumentalists up front and centered with Kitt, he will also invite six-year-old cellist Darius Kalantri onstage to perform one song with him. The artist has also been working with an underwriter to ensure that Harmony Program, an NYC non-profit that helps give at risk kids opportunities to learn and play music, receive the proceeds from tickets sold, in addition to at $25 donation for each person that attends.  
"Needless to say, I love the big epic, cinematic scores that trigger all the emotions," Kitt says. "Musically, I like to say it's one of the advantages of growing up with ADD, where you want to do everything you love but are told you can't, so you find a path that allows you to do just that. I played trumpet from the time I was in fifth grade, but things really took off when I started on piano at 15. I loved classic film scores, rock and roll and electronica equally and my inability to focus on a single style has now manifested in this hybrid style I play. As I always say, whether in the studio or live, if I haven't triggered all your emotions, I've failed. I love interacting with the audience. If I can't motivate you or get you to cry during my performances, I have let you down. Those are always my primary goals."
After years of playing and traveling in numerous cover bands, Kitt started focusing on developing his solo artistry. He emerged as a renowned instrumentalist in 2016 with the release of AudioKaoz, a hard rock electronica album he produced with three-time Grammy winner Tre Nagella. Mastered by Brian "Big Bass" Gardner (Michael Jackson, Motley Crue, Eminem), the collection peaked at #2 for independent artists per Music Box, Music X-Ray and Sound Exchange.
This set the stage for Kitt's global breakthrough success with Midnight in Macedonia, which he recorded at the Fames Recording Studio in Skopje, Macedonia with the 67-piece Macedonian Orchestra and a 20-piece choir. He later added the talents of various musicians from around the globe, including multiple Grammy winners, legendary drummer Kenny Aronoff (John Mellencamp, Meat Loaf, Bon Jovi) and Colombian electric guitarist Daniel Uribe.
In addition to racking up over one million streams via major platforms (Spotify, iTunes, Amazon, YouTube, etc.), the album has earned countless international accolades. Kitt won three Global Music Awards (Most Creative Album, Best Composition, Best Instrumental Album), eight Indie Music Awards (including Best Album, Best Song, Newcomer of the Year, Artist of the Year and Producer of the Year) and Album of the Year at the International Singer-Songwriter Association Awards. Remarkably, Wakeley also won a coveted Hollywood Music in Media Award (HMMA) (in the gospel category) for a demo of an orchestral piece he submitted called "End of My Journey."
A colorful part of the Oklahoma City native's professional musical background is his popularity as a composer of "sports music." After receiving a degree in pre-law at East Central University and a master's in health administration from Oklahoma University, he began focusing on performing and composing full time. His knack for writing epic "openers" in the style of Van Halen and Bon Jovi attracted the attention of OU's athletics department, who wanted to use one of his pieces as intro music for the school's basketball team.
A well knowns local sports radio host started playing it and before long, the local Channel 5 was using Kitt's music. He began licensing his upbeat electronica driven compositions, which laid the creative foundation for the epic orchestral hybrid vibe he composes, records and performs today. One of his trademarks is teasing with a main motif and melody and stacking various textures on top of it with a different instrument or texture.
"People often wonder how I have been able to create and produce music on this scale, and my best response is that when I set my mind to something, I am just one of those people who believes he is going to win," Kitt says. "To me, winning isknowing that you found success, whether its selling or streaming a million albums or simply looking in people's eyes and knowing that I've made a genuine difference in their lives with my music.
"I always have two goals when I approach a project," he adds. "First, to take the listener on an emotional journey, and secondly, to appeal to as many senses as possible. Sometimes, I'm in the mood to write an energetic rock or electronica tune, and other days it's an orchestral piece, a simple piano line or the need to smash it all into one! There's no rule that says I can't mix an orchestra with electronica, guitar and rock drums – which the audience at Carnegie Hall is about to find out!"