Written by

Elisabeth Wieselthaler-Toelly
San Francisco's Annual Festivals and Major Events 2016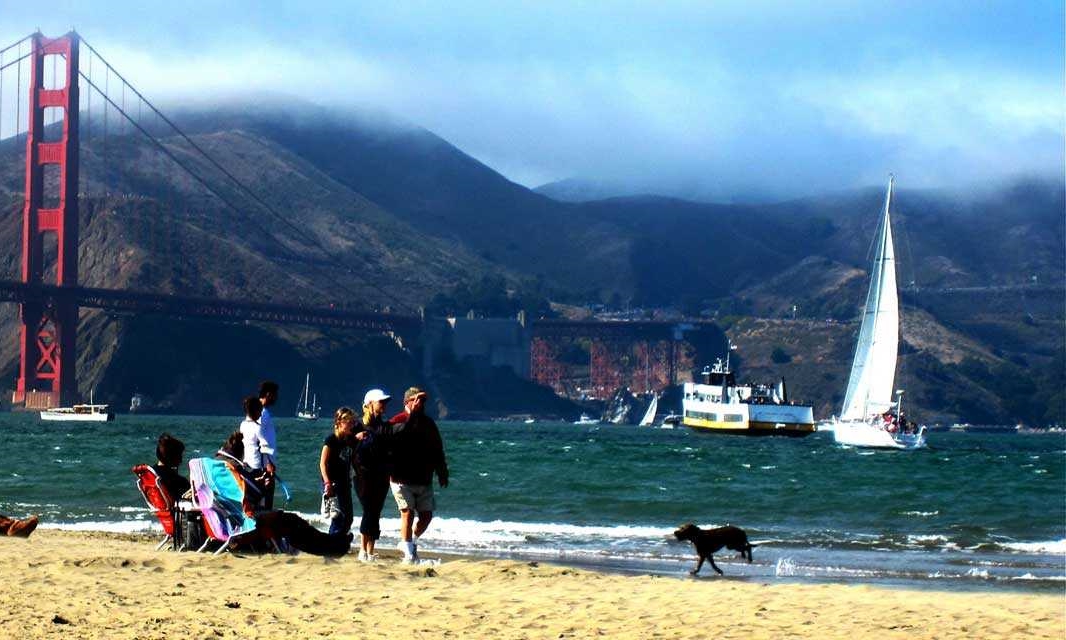 The following events are held on an annual basis and are updated throughout the year. All dates and locations are subject to change and should be confirmed with sponsors before making travel plans. General city information and detailed event calendars are available at www.sanfrancisco.travel.
JANUARY 2016
JANUARY 7-24
San Francisco Sketchfest
Various locations
Nationally recognized comedy festival that mixes national headliners, local favorites and the best up-and-coming groups from throughout North America for a month of sketch, improv, stand-up and alternative comedy.
JANUARY 8-10
San Francisco Tape Music Festival
Gray Area Grand Theater, 2665 Mission St.
America's only festival devoted to the performances of audio works projected in three-dimensional space has been described as "cinema for your ears" (SF Weekly).
JANUARY 14-17
FOG Design+Art
Festival Pavilion, Fort Mason Center
www.fogfair.com
Celebrating modern art, architecture, technology and design this fair offers dynamic exhibits, custom installations, pop-up galleries, presentations and discussions.
JANUARY 15-18                                                                                   
Dr. Martin Luther King Jr. Celebration
Yerba Buena Gardens, 415-978-2787
http://norcalmlkfoundation.org/
San Francisco honors the civil rights leader at the Martin Luther King Jr. Memorial in Yerba Buena Gardens.
JANUARY 15-18
26th Anniversary of the Sea Lions' Arrival at Pier 39
Pier 39, 415-705-5500
Pier 39 commemorates the 26th anniversary of the sea lions' arrival for the Bay Area herring supply. There will be Sea Lion Encounter Walking Tours, refreshments, special discounts and more.
January 21
San Francisco Ballet Gala Opening
War Memorial Opera House, 301 Van Ness Ave., 415-865-2000
The opening program of America's oldest professional ballet company launches the season of full-length, classical and contemporary ballet performances. Festivities begin at San Francisco City Hall before the promenade to the War Memorial Opera House.
January 22-31
San Francisco Beer Week
Bay Area
Local craft beer legacy and culture celebrated with as many as 150 events including beer dinners, cheese and beer pairing events, meet the brewer evenings, demonstrations, music and films from Monterey to Sacramento and beyond.
JANUARY 22-31
Noir City: San Francisco Film Noir Festival
Castro Theatre
Dedicated to noir philosophy, attitude and style in films, books, art and music, the festival is the largest of its kind in the U.S. and promises "ultra rare films and very special guests."
JANUARY 30-31
Golden Gate Kennel Club Dog Show
Cow Palace, Geneva Avenue and Santos Street, 415-404-4111
www.goldengatekennelclub.com
More than 2,000 dogs and 175-plus breeds vie for "Best in Show" and compete in dog agility demonstrations daily.
JANUARY 30 – FEBRUARY 28
Chinese New Year Parade and Celebration
Chinatown, 415-680-6297 www.chineseparade.com
The festivities ushering in the Year of the Monkey include a Chinese New Year Flower Fair (January 30-31) Miss Chinatown USA Pageant (February 13), and the Chinatown Community Street Fair (February 20-21). It's all built around a fantastic parade from Market and Second Street to Columbus Avenue on Saturday, February 20. Chinese New Year Day is Thursday, February 8.
FEBRUARY 2016
FEBRUARY 6 and 9
Mardi Gras San Francisco Style
Fillmore Music District and West Bay Conference Center, 1290 Fillmore St.
Celebration includes a free concert in the Fillmore Plaza on February 6; the celebration resumes on February 9 with a New Orleans-style processional through the Fillmore corridor culminating in Mardi Gras Masquerade Ball; local restaurants participate as well.
FEBRUARY 11
Union Street Has a Crush on You Valentine Wine Walk
Union Street from Gough to Steiner and Fillmore Street from Union to Lombard,
800-310-6563
www.sresproductions.com/union_street_valentine_wine_walk.html
This annual tasting event includes restaurants and merchants offering wine samples, finger foods and special treats.
FEBRUARY 11-25
San Francisco Independent Film Festival (SF IndieFest)
Roxie Theatre and various locations, 415-662-3378
This film festival screens the best of independent films and videos from the Bay Area and beyond.
FEBRUARY 12-mARCH 13
San Francisco City Golf Championship
Presidio, TPC Harding Park and Lincoln Park Golf Courses, 415-561-4661
This is the 100th year of the oldest consecutively played amateur, match play, golf tournament; offers men's, women's and men's senior championship flights as well as men's and women's open division flights; semi-final and final matches at TPC Harding Golf Course.
FEBRUARY 13
KNBR/Giants Winter Fanfest
AT&T Park, 415-995-6800
www.sfgiants.com or www.knbr.com
Fans can participate in an array of interactive games and displays on the Promenade and Club levels. Members of the Giants team will be on hand to sign autographs, pose for photos and participate in Q&A sessions.
FEBRUARY 13
San Francisco Chronicle Wine Competition
Fort Mason Center
More than 5,000 wine lovers converge to enjoy breathtaking views of the Golden Gate Bridge, outstanding food, conversations and a bit of education, as they peruse samples from more than 800 wineries.
FEBRUARY 13-21
Tulipmania Festival
Pier 39, 415-705-5500
Thousands of brilliantly colored tulips from all over the world coupled with free, guided tours.
FEBRUARY 14
Kaiser Permanente San Francisco Half Marathon & 5K
Golden Gate Park, 415-759-2690
www.rhodyco.com and http://getfitkpsf.com/
One of the most scenic half marathons ever features a course throughout Golden Gate Park and along the Pacific Ocean with both starts and finishes together in the park.
FEBRUARY 18-21
San Francisco Tribal & Textiles Arts Show
Fort Mason Center, Festival Pavilion, Marina Boulevard and Buchanan Street, 310-455-2886 http://caskeylees.com/SF_Tribal/SF_Tribal.html  
Featuring an assortment of museum-quality masks, textiles, sculptures and jewelry from more than 100 galleries from around the world.
FEBRUARY 18-25
Mostly British Film Festival
Vogue Theatre, 3290 Sacramento St.
This week-long film fest spotlights works from the U.K., Ireland, Australia, India, New Zealand and South Africa.
FEBRUARY 19-28
Noise Pop Music Festival
Various locations, 415-375-3370
San Francisco's premier independent music, film and art festival is a full-scale cultural happening, which also includes gallery art shows, a music-themed film festival, an indie-designer trunk sale and educational panels.
FEBRUARY 20
Chinese New Year's Treasure Hunt
Justin Herman Plaza, 415-564-9400
Largest and most popular treasure hunt of its kind in the United States; inventive clues and unique, little-known treasure spots draw thousands of spirited participants who return year after year for this fun-filled event.
FEBRUARY 20-21(ADDITIONAL PROGRAMMING IN MARCH)
Black Choreographers Festival: Here & Now
Various locations San Francisco and Oakland
All-community event offering performances, mentoring, master classes, symposia and special events celebrating African American art and culture.
FEBRUARY 25–APRIL 16 (PRELIMINARY)
Annual Youth Speaks Teen Poetry Slam
Various locations throughout Bay Area, 415-255-9035
Youth Speaks, one of the leaders in Spoken Word performances, works with 45,000 teens annually and is a presenter of local and national youth poetry slams, festivals, reading series and more. Preliminaries take place in March followed by the semi-finals and finals, climaxing with the Grand Slam Finals at Davies Symphony Hall on April 16.
FEBRUARY 25-27
The Zinfandel Experience
Bentley Reserve and Pier 27
Zinfandel, often called America's heritage wine, is the draw here. Join in celebrating Zinfandel's 25th anniversary. Savor the flavors of this authentically American varietal and experience its distinctly classic personality at several extraordinary events. More than 250 wineries participate in this food and wine tasting which draws some 10,000 wine lovers.
FEBRUARY 26-28
Pacific Orchid Exposition
Fort Mason Center, Festival Pavilion, 650-548-6700
The annual edition of the San Francisco Orchid Society's show dazzles with 150,000 flowers including hundreds of award winners selected by the American Orchid Society.
FEBRUARY 27-28
The Great San Francisco Crystal Fair
Fort Mason Center, 415-383-7837
More than exhibitors celebrating earth and spirit with a wide variety of gems and minerals (quartz, amethyst, tourmaline, etc.), jewelry, metaphysics, healing tools and the mystical arts.
FEBRUARY 28
Academy of Friends Academy Awards Night Gala
San Francisco Design Center Galleria, 415-995-9890
A gala celebration benefiting Bay Area AIDS/HIV organizations.
MARCH 2016
MARCH 5
Black Cuisine Festival
Bayview Hunters Point, 1751 Carroll Ave at Third St, 415-822-1444
Kiddieland, dancing, a soul food contest, marketplace and live music are among the draws and this annual tribute to black cuisine.
MARCH 5
San Francisco International Chocolate Salon
Herbst Pavilion, Fort Mason Center
Those with a yen for chocolate can indulge in artisan, gourmet and premium chocolate from more than 50 chocolatiers and confectioners. Non-chocolate exhibitors and artisans will be on hand as well including wineries participating in the San Francisco Invitational Wine Salon.
MARCH 5-22
Jewish Music Festival
Various locations throughout San Francisco, Berkeley and Oakland, 510-848-0237 ext 126 or 800-838-3006
Oldest festival of Jewish world music in the U.S. will take its final bow.  
MARCH 10-13
Ocean Film Festival
Cowell Theater, Fort Mason Center, 415-561-6251
One of the largest and most diverse of its kind, the festival features documentaries, animations, narratives and other traditional screen fare on topics ranging from ocean adventures to island culture and more.
MARCH 10-20
CAAMFest (Presented by the Center for Asian American Media. Formerly San Francisco International Asian American Film Festival)
San Francisco, Berkeley and Oakland, 415-863-0814
CAAMFest is the nation's largest showcase for new Asian American and Asian films; annually presenting approximately 130 works in San Francisco, Berkeley and Oakland. Since 1982, the festival has been an important launching point for Asian American independent filmmakers as well as a vital source for new Asian cinema.
MARCH 12
Bay Area Brew Festival
Pier 35, 415-345-7500
The event features dozens of international and domestic beers, and San Francisco's best food trucks.
MARCH 12
St. Patrick's Day Parade
Second and Market to Civic Center
One of San Francisco's largest annual parades and one of the longest-running parades in the U.S. is celebrated with live music, dance, beverages and traditional Irish cuisine.
MARCH 18
ODC/Dance Downtown Gala
St. Regis Hotel and Yerba Buena Center for the Arts Theater, 415-549-8508
ODC/Dance, San Francisco's internationally acclaimed contemporary dance company, presents its 45th annual home season.
MARCH 18
Dance Anywhere
Bay Area
Dance Anywhere ® is a simultaneous worldwide public art performance in which people from around the world, of all ages and artistic capacities will stop at noon (PST) and dance.
MARCH 19
Earth Hour
Major cities around the world, including San Francisco, show that the simple act of turning off lights for one hour can have a lasting impact on climate change starts at 8:30 p.m.
MARCH 20-APRIL 3
Macy's Flower Show
Macy's, Union Square, 415-397-3333
This annual floral tribute is a spring tradition; the two-week celebration includes guest speakers and special in-store events.
MARCH 27
Union Street Spring Celebration & Easter Parade
Union Street between Gough and Fillmore, 800-310-6563
http://www.sresproductions.com/events/union-street-easter-parade-spring-celebration/
More than 30,000 people turn out for "the biggest little parade in San Francisco," which features children's activities, alfresco dining, the Easter Bunny, a petting zoo and flowers from local garden clubs.
MARCH 30-APRIL 3  
2016 Spring Book Sale
Festival Pavilion, Fort Mason Center
www.friendssfpl.org
Held at Fort Mason Center's Festival Pavilion, the Spring Book Sale will feature more than 250,000 books, DVDs, CDs, books on tape, vinyl and other forms of media in more than 70 categories.
APRIL 2016
APRIL 1-3
Crossroads Film Festival
Victoria Theater, 2961 16th St., 415-552-1990
www.sfcinematheque.org
Cinematheque celebrates works of aesthetically radical cinema in Crossroads which showcases new film/video works by emerging and established filmmakers, including performance and works of "live cinema."
APRIL 1-3
Food & Farm Film Fest
Roxie Theater
A film festival focused on food also includes a few tasty bits from local chefs who create pairings for each day's films. Festival proceeds support Cooking Matters, a San Francisco-based nonprofit offering nutrition and cooking classes in low-income communities.
APRIL 3
Transamerica Rock n' Roll Half Marathon San Francisco
"The views are worth the climb" on a course which starts along the Great Highway at the northwest corner of Golden Gate Park and traverses some of San Francisco's most beautiful neighborhoods and the Golden Gate Bridge.
APRIL 5-10
Bouquets to Art
de Young Museum, Golden Gate Park, 415-750-3504
www.deyoung.famsf.org/exhibitions/bouquets-art-2016
Annual event celebrates the beauty of flowers combined with fine art. Extravagant floral arrangements from some of California's top designers and lectures by several world-renowned floral designers.
APRIL 7
Opening Day – San Francisco Giants
AT&T Park, 415-972-2000 (info), tickets at www.tickets.com
The San Francisco Giants open their season at AT&T Park with a four-game series against the LA Dodgers.  
APRIL 7-10
Disposable Film Festival
Castro Theater, 429 Castro St.
Opening night is at the Castro Theater, followed by events and workshops throughout the city for the balance of the weekend. Selected by Moviemaker Magazine as one of the world's "coolest film festivals," the DFF has been for more than a decade a pioneer in bringing the best online video across the globe from the personal screen to the silver screen.
APRIL 9-10, APRIL 16-17
Cherry Blossom Festival
Civic Center and Japantown, 415-563-2313
www.sfcherryblossom.org
This annual festival is one of California's most prominent celebrations of Asian traditions. Two consecutive weekends of performances, crafts, food, martial arts and exhibitions.  A colorful parade will be held on Sunday, April 17 starting at the Civic Center and ending in Japantown.
APRIL 14-20
San Francisco Green Film
Various venues, 415-767-1977
Films, visiting filmmakers and guest speakers from around the globe cover environmental topics surrounding clean energy, green chemistry, food, housing, trash, water and art in the environment.
APRIL 18-24
Swinging Skirts LPGA Classic
Lake Merced Golf Course
www.swingingskirtslpgaclassic.com/
A world-class golf tournament featuring the top players from the LPGA and showcasing some of the top international talent from Taiwan.
APRIL 21-24
The Gray Area Festival
Gray Area Art & Technology Theater, 2665 Mission St., 415-843-1423
www.grayarea.org
Conference, performances, workshops and an exhibition surveying culture through the lens of art and technology.
APRIL 21-MAY 5
San Francisco International Film Festival (SFIFF)
Various locations, 415-561-5000
The 59th San Francisco International Film Festival is an extraordinary showcase of cinematic discovery and innovation. Last year's festival featured 263 screenings of 158 films from 51 countries.
APRIL 22-MAY 1
Bay Area National Dance Week
415-920-9181
Bay Area National Dance Week is expecting its biggest festival to date, with an anticipated 600-plus free events including classes, performances, open rehearsals, lecture demonstrations, and the return of the popular Kickoff Event on Friday, April 22 in Union Square at noon.
APRIL 23
Earth Day SF Street Fest
24th Street between Mission and Bryant Streets
Multicultural entertainment, keynote speakers, earth friendly exhibitors, eco educational workshops, organic food and drink, kids zone and much more.
APRIL 23-24
Spring Open Studios
Hunters Point Shipyard, 415-822-0922
www.shipyardartists.com/open-studios/
Hunters Point, one of America's most art-centric neighborhoods, offers the opportunity for the general public to visit studios and purchase fine art from its makers.
APRIL 24
Opening Day on the Bay
415-999-6422
Kick off sailing season on San Francisco Bay with a festive boat parade and the blessing of the fleet.
APRIL 27-MAY 1
Art Market San Francisco
Festival Pavilion, Fort Mason
The Bay Area's only contemporary and modern art fair, Art Market San Francisco welcomes more than 70 established galleries, as well as innovative newcomers from across the country presenting a significant selection of contemporary and modern works of art.
APRIL 28-MAY 6
SFUSD Arts Festival
Asian Art Museum, San Francisco Civic Center, 415-581-3500
http://www.sfusdartsfestival.org/
The Asian Art Museum teams up with the San Francisco Unified School District to present a celebration of student creativity and arts education showcasing visual and performing arts by 11,500 students from 250 schools.
APRIL 29-May 1
New Living Expo
San Mateo County Event Center, 415-382-8300
Each year more than 10,000 attendees flock to New Living Expo to learn, explore, and even be transformed by thought provoking speakers, stimulating workshops, and unique products and services that support wellness.
APRIL 30-MAY 30
San Francisco Decorator Showcase
415-447-5830
http://www.decoratorshowcase.org/
With more than 35 years of excellence in design and the decorative arts and 20,000 visitors annually, this event is nationally recognized as one of the premier showcase houses in the country.
MAY 2016
MAY 1
How Weird Street Faire
Howard and Second Streets
Billed as a "street fair for the 21st century," the event includes nine stages of music over seven city blocks; food and vendors from around the world, and educational booths.
MAY 1-OCTOBER 31
Yerba Buena Gardens Festival
Yerba Buena Gardens, 415-543-1718
The Yerba Buena Gardens Festival encompasses nearly 100 artistic, cultural and community events from May through October in Yerba Buena Gardens. Events include popular and operatic music series, cultural festivals, dance performances, international music concerts, visual art exhibits, theater and spoken word performances.
MAY 7  
Uncorked – The San Francisco Wine Festival
Ghirardelli Square, 415-775-5500
Enjoy tastings from a variety of Bay Area wineries and experience the ambience of the waterfront and entertainment throughout Ghirardelli Square and along Beach Street.
MAY 7
Cinco de Mayo
Dolores Park, Dolores Street between 18th and 20th Streets
www.mncsf.org/ and www.sfcincodemayo.com
Bring a picnic basket and enjoy music, kid's activities, entertainment, food, arts and crafts all day. Family-friendly, alcohol free.
MAY 9-15
SFMade Week  
Citywide, 415-408-5605
SFMade presents a week-long celebration of San Francisco's vibrant manufacturing sector;  discover locally made products, the people who make them and where to buy them.
MAY 13-14
Himalyan Film Festival
Ninth Street Independent Films Center,145 Ninth St.
http://himalayanfilmfest.com/sf2016/
This recent addition to the film festival circuit showcases stories from the "roof of the world" — Nepal, Tibet and Bhutan and includes collaborative work of individuals and organizations committed to fostering a better community.
MAY 15
Bay to Breakers
The Embarcadero to the Great Hwy., 415-231-3130
Since 1912, tens of thousands of people have gathered in San Francisco to see the world's largest footrace unfold as more than 70,000 costume-clad runners and walkers make their way from San Francisco Bay, a few blocks from the Embarcadero, to the Great Highway where the breakers crash onto the Pacific Coast's Ocean Beach.
MAY 19-JUNE 5
San Francisco International Arts Festival
Fort Mason Center
Performances by more than 70 theater, dance and music ensembles from the Bay Area and 10 countries unfold in the space of three action packed weeks. The festival features a major arts exhibition as well as multiple educational, residency and outreach activities.
MAY 21  
Asian Heritage Street Celebration
Civic Center Plaza and Little Saigon, 510-637-0455
www.asianfairsf.com
A celebration of all Asian cultures, the Asian Heritage Street Celebration promotes and fosters Asian Pacific American identity; live entertainment and more than 100 vendors makes this one of the largest pan-Asian events in the U.S.
MAY 21
San Francisco International Beer Festival
Fort Mason Center, Festival Pavilion
Sample more than 300 incredible beers from some of the best craft brewers in the world as well as a variety of offerings from some of San Francisco's best restaurants. Must be 21 or over to enter.
MAY 28-29
Carnaval
Mission District, 415-206-0577
Celebrating its 38th anniversary, this is San Francisco's version of Mardi Gras and one of the largest annual public events in the city. It features exotic Carnaval dancers with a mixture of Latino, jazz, samba, Caribbean influences. Festive parade on Sunday morning draws upon a broad cultural pageantry.
MAY 29
Alcatraz Challenge Swim
www.alcatrazchallenge.tricalifornia.com
1.5 mile swim course begins near Alcatraz Island and finishes at the East Beach of Crissy Field located in the Golden Gate National Recreation Area's Presidio Park.
JUNE 2016
JUNE 2-5
San Francisco Silent Film Festival
Castro Theatre, 415-777-4908
The San Francisco Silent Film Festival presents silent films accompanied by live music. This festival promotes silent film as art and historical record.
JUNE 2-9
AIGA San Francisco Design Week
www.sfdesignweek.org, 415-626-6008
With more than 60 studio tours and 75 events throughout the week featuring tech inventions to culture changing products, human centered design, and emerging fashion to international architecture, San Francisco Design Week is an opportunity to experience the region's unique design talents, impact and innovations.
JUNE 2-16
San Francisco Documentary Film Festival (SF DocFest)
Roxie, Brava and Vogue Theaters, 415-662-FEST(3378)
These documentaries, while exploring fun and lighthearted subject matter, often uncover serious truths. Produced by the SF IndieFest.
JUNE 2-19
Best of PlayGround
Thick House, 1695 18th St., 415-992-6677
http://playground-sf.org/bestof/
PlayGround, San Francisco's incubator for a new generation of playwrights, caps off its season with the Bay Area's largest celebration of new works for the stage and screen – the annual PlayGround Festival of New Works.
JUNE 4
Little Saigon Larkin Street Festival
Larkin Street between Ellis and Eddy
littlesaigonlarkinstreetfestival.com
Street food, discounts from businesses in the area, crafts, music and traditional performances equal fun for the whole family.
JUNE 4-5
Union Street Festival
Union Street between Gough and Steiner, 800-310-6563
Now in its 40th year, this is one of San Francisco's largest, free art festivals offering an organic farmers market, arts and crafts created with recycled and sustainable materials, eco-friendly exhibits, gourmet food booths and live entertainment. It features clothing, jewelry and fashions from Union Street area merchants, as well as Craft Beer and Wine Tasting Pavilions.
JUNE 3-19 (Three Weekends)
Ethnic Dance Festival
Palace of Fine Arts Theatre, 415-474-3914
Returning to the Palace of Fine Arts Theatre, the first two weekends of the Ethnic Dance Festival will feature different groups of artists. The final weekend will feature the screening of a new documentary film about the festival, along with special dance and music performances highlighting exciting innovations happening in the Bay Area dance community.
JUNE 7-19
San Francisco Jazz Festival
SFJAZZ Center, 201 Franklin St., 866-920-5299
For more than 30 years SFJAZZ presented the San Francisco Jazz Festival in venues around the Bay Area; with the opening of the SFJAZZ Center in 2013, the festival is now concentrated in the Center and the surrounding neighborhood and offers more than 30 shows.
JUNE 11-12
North Beach Festival
Near Washington Square Park
www.sresproductions.com/north_beach_festival.html
San Francisco's oldest street fair delights with juried arts and crafts, live entertainment, Italian street painting, kids' chalk art area, animal blessings, gourmet food booths, beverage gardens and other surprises. Presented by the North Beach Business Association.
JUNE 12
Escape From Alcatraz Triathlon
Marina Green, 424-653-1900
www.escapefromalcatraztriathlon.com
The 1.5 mile swim from Alcatraz, 18-mile bike ride and eight-mile run through the Golden Gate National Recreation Area with a finish at Marina Green draws some 2,000 triathletes/relay teams annually.
JUNE 16-19
San Francisco Black Film Festival
African American Art and Culture Center and other Bay Area Venues
This celebration of African American cinema and the African cultural diaspora showcases a diverse collection of films from emerging and established filmmakers; more than 10,000 films have been screened from around the world since the inaugural festival in 1998.
JUNE 16-26
Frameline 40, San Francisco International LGBT Film Festival
Castro Theatre, 415-703-8650
Legendary showcase of lesbian, gay, bisexual and transgender cinema screens groundbreaking documentaries, features, touching short films and cinematic classics.
JUNE 19-AUGUST 21
Stern Grove Festival
Stern Grove, 19th Ave. and Sloat Blvd., 415-252-6252
The Stern Grove Festival celebrates the season of free Sunday concerts featuring renowned music and dance groups set in a beautiful outdoor amphitheater in the heart of San Francisco.
JUNE 25-26
San Francisco Pride Celebration and Parade
Embarcadero to Civic Center, Market St., 415-864-0831
San Francisco's 46th annual celebration of lesbian, gay, bisexual and transgender pride culminates with a festive parade from the Embarcadero to the Civic Center on June 26.
JULY 2016                                                                                            
JULY 2- OCTOBER 2 (Weekends only and Labor Day Monday)
San Francisco Shakespeare Festival
San Francisco, Pleasanton, Cupertino and Redwood City, 415-558-0888
Bring your family, friends, a blanket and a picnic to enjoy "A Winter's Tale" in a beautiful park setting!
JULY 2-3
Fillmore Jazz Festival
Fillmore St. between Jackson and Eddy Sts.     
Three stages of continuous jazz performances, more than 300 artists' booths, and international food courts with some of the best food and beverages that San Francisco has to offer.
JULY 4    
Fourth of July Celebration at The Pier
PIER 39, 415-705-5500
Dazzling fireworks, local bands, food, arts and crafts ignite this annual waterfront party. Fireworks begin around 9:30 p.m., weather permitting. Dress warmly.
JULY 15-16    
Salsa Festival on The Fillmore
Fillmore Street, various venues
http://www.salsaonfillmore.com
The Salsa Festival on The Fillmore closes off three city blocks and features free concerts, salsa lessons and outdoor dancing at the Fillmore Center Plaza.
JULY 15-24
Bay Area Playwrights Festival
Custom Made Theatre
http://playwrightsfoundation.org/
Local and national playwrights and professional directors, dramaturgs and designers work with the Bay Area's top actors to engage in an in-depth development process of six new plays. The work leads to two public staged readings of each play.
JULY 16-17
The Renegade Craft Fair  
Fort Mason Center
http://www.renegadecraft.com/sanfrancisco
The best makers of handmade goods from the Bay Area and beyond assemble for this free-to-attend marketplace for indie-craft culture, featuring interactive workshops.
JULY 17
AIDS Walk Sharon Meadow in Golden Gate Park
http://www.aidswalk.net/sanfran This annual walk to raise funds for the San Francisco AIDS foundation has inspired thousands of people to walk and donate in support of fighting HIV/AIDS.
JULY 21-24
San Francisco Frozen Film Festival
Roxie Theater
Showcasing the year's best new independent avant-garde pop culture films, the Frozen Film Festival takes its name from the distinct chill of the San Francisco summer.
JULY 21-AUGUST 7  
San Francisco Jewish Film Festival
Castro Theater and other Bay Area venues, 415-621-0556 (info), 415-621-0523 (tickets)
www.sfjff.org
Films from American and international filmmakers showcase the diversity and vitality of Jewish culture. The festival is the first, oldest and most prestigious celebration of its kind in the world.
JULY 22-24
J-POP Summit Festival
Fort Mason Center, Union Square, New People Cinema and Castro Theatre
This one-of-a-kind summer festival brings the latest of Japanese popular culture to San Francisco. In its seventh year, the J-POP extravaganza will expand to Fort Mason Center as well as Union Square presenting another lively two-day program jam-packed with music, fashion and fine foods.
JULY 23-24
Sake Summit
Fort Mason Center for Arts & Culture
Let sake flow! Sake tasting events feature a variety of major sake brands of Japan as well as key players in the sake business in the Bay Area, from distilleries, distributors to retailers.
JULY 23-31  
Japan Film Festival of San Francisco
New People Cinema, 1746 Post St.
Japan Film Festival of San Francisco is the first and only fully dedicated annual Japanese film event in the San Francisco Bay Area. Showcasing the latest in anime, live-action and documentaries straight from Japan, this week-long festival will take place in San Francisco's historic Japantown. 
JULY 31
San Francisco Marathon, Half Marathon, 5K Run/Walk        
Ferry Building, The Embarcadero
Enjoy the amazing city of San Francisco by taking part in one of the world's great marathons. The USAT&F Certified course is a "best of San Francisco" tour and includes a loop over the Golden Gate Bridge. Choose from running the marathon, half marathon, progressive marathon, 5K run/walk races or really take on the challenge with the "Worth the Hurt" 52.4 double marathon.
JULY 31
Up Your Alley Fair
Dore Alley between Folsom and Howard and adjoining block of Folsom between Ninth and 10th streets, 415-777-3247
http://www.folsomstreetevents.org/alley/
Similar to September's Folsom Street Fair, which is the climax of Leather Pride Week, this event has a more local appeal for leatherfolk and draws some 12,000-plus attendees.
AUGUST 2016
AUGUST 5-7
San Francisco's Outside Lands Music & Arts Festival
Golden Gate Park
This huge event in Golden Gate Park has upped the ante on music festivals going green and "leveraged San Francisco's food, wine, technology and activism cultures, "according to Rolling Stone, "for a one-of-a-kind world-class experience."
AUGUST 5-7
American Craft Council San Francisco Show
Fort Mason Center, Festival Pavilion, 612-206-3100
This is the largest juried craft event west of the Rockies, featuring more than 225 of the nation's top contemporary jewelry, clothing, furniture and home décor artists. 
AUGUST 6-7
Nihonmachi Street Fair
Japantown and Japan Center, 415-771-9861
A celebration of the Asian and Pacific communities in the Bay Area, with an emphasis on the nonprofit organizations that provide vital services. Live musical and cultural performances, Asian artisans, food, information tables, exhibits, and Children's World.
AUGUST 6-NOVEMBER 12
AfroSolo Arts Festival
Various venues, 415-771-AFRO (2376)
www.afrosolo.org
The 22nd annual event features celebrity and emerging African American artists in various performances such as a jazz concert, visual art exhibit, solo performances, a youth performance extravaganza and more.
AUGUST 14
Jerry Day
Jerry Garcia Amphitheater, 40 John F. Shelley Dr.
The Excelsior District celebrates native son and Grateful Dead leader Jerry Garcia with an outdoor concert and family fun.
AUGUST 18
Noe Valley Wine Walk
24th Street from Diamond to Chattanooga, 800-310-6563
sresproductions.com/noe_valley_wine_walk.html
Merchants offer wine samples, finger foods and special treats; attendees who wish to sample purchase tasting wristband prior to event and receive wine glass and map with all tasting locations.
AUGUST 20-21
San Francisco Street Food Festival
Pier 70
www.lacocinasf.org/ or www.sfstreetfoodfest.com/
La Cocina joins with Noise Pop and Midway to produce a two-day celebration of food, music and drink.
AUGUST 21
San Francisco Triathlon at Alcatraz
831-373-0678
AUGUST 25 - 28  
Eat Drink SF
Fort Mason Center, 415/782-2071
Chefs, wine and spirits are celebrated in this interactive urban food and wine festival featuring local talent and regional ingredients in a series of tastings, classes, dinners and events.
SEPTEMBER 2016
SEPTEMBER 5   
JLVelo Giro di San Francisco
Levi Strauss Plaza
Featuring more than 800 amateur and pro racers on a course covering northeast San Francisco, Il Giro (Italian for tour) begins at Levi Strauss Plaza and includes a day-long expo and a series of races for all levels and concludes with a pro race at 3 p.m.
SEPTEMBER 1-30   
Architecture and the City
Citywide, 415-362-7397
Sponsored by AIA San Francisco, the largest architectural and design festival in the U.S. includes a series of architectural tours, film screenings, exhibitions, design lectures, home shows and more.
SEPTEMBER 3-5
Sausalito Art Festival
Sausalito, 415-332-3555
Sausalito's yearly art festival has been showcasing stars from the contemporary art world since 1952. Browse fine art and crafts along the beautiful bay shore.
SEPTEMBER 7 
San Francisco Symphony's 105th Season Opening Night Gala
Davies Symphony Hall, 415-864-6000 (subscriptions available in March; individual tickets for concerts go on sale in July)
The San Francisco Symphony and Michael Tilson Thomas open the orchestra's regular season with an Opening Gala Concert.
SEPTEMBER 9  
San Francisco Opera Opening Gala
War Memorial Opera House, 415-864-3330
The season begins with the annual opening night gala.
SEPTEMBER 9-24
San Francisco Fringe Festival
Exit Theatre and other downtown venues,
415-931-1094 (info)
This annual festival is a marathon of 40-plus shows with low price tickets and a wide variety of alternative, classical, comedy, cabaret and new theater open to all performers on a non-curated basis.
SEPTEMBER 10
Annual Peak2Peak Walk
415-431-9255
Get a unique view of San Francisco's skyline and discover hidden stairways and paths on this 12-mile urban trek connecting neighborhoods, parks, and vistas as you walk the spine of the city, cresting 10 peaks along the way.
SEPTEMBER 10-11
Ghirardelli Chocolate Festival
Ghirardelli Square, 415-775-5500
Discover unique chocolate desserts and delicacies from Ghirardelli and beyond at this annual chocolate celebration.
SEPTEMBER 10-11   
Autumn Moon Festival
Grant Ave. between California and Pacific Streets, 415-982-6306
This event features multicultural entertainment, traditional lion and dragon dances, arts and crafts, lantern village, moon cakes and children's activities.
SEPTEMBER 11
The Giant Race
AT&T Park, 415-972-1881
The Giant Race features a half marathon, 10K, and 5K distances,that all lead through San Francisco's historic streets and finish on the field at AT&T Park – home of the San Francisco Giants. Families can participate in the Kids Race and Family Relay.
SEPTEMBER 11   
San Francisco Opera in the Park
Sharon Meadow, Golden Gate Park, 415-864-3330
Enjoy this outdoor venue and free admission to an opera concert featuring arias and ensembles by the stars of the San Francisco Opera and the Opera Orchestra.
SEPTEMBER 11
The Giant Race
AT&T Park, 415-972-1881
The Giant Race features a half marathon, 10K, and 5K distances that all lead through San Francisco's historic streets and finish on the field at AT&T Park – home of the San Francisco Giants.  
SEPTEMBER 18
Comedy Day
Sharon Meadow, Golden Gate Park, 415-820-1570
Laugh out loud … it's the free comedy "concert" featuring 40 of the U.S.'s and Bay Area's best comedians.
SEPTEMBER 21-25
Fall Big Book Sale
Fort Mason Center
http://www.friendssfpl.org/books/big-book-sale.html
Held at Fort Mason Center's Festival Pavilion, the Annual Big Book Sale will feature over 500,000 books, DVDs, CDs, books on tape, vinyl and other forms of media in over 100 categories.
SEPTEMBER 23-25  
Oktoberfest By The Bay
Pier 48 near AT&T Park, 888-746-7522
Bringing Munich's autumn beer festival to the Bay, Oktoberfest features non-stop singing, dancing, music, German food and beverages.
SEPTEMBER 24
Sausalito Floating Homes Tour
Sausalito, 415-332-1916
Self-guided tours include access to dozens of the most unique homes in the world; docents are onboard to describe Sausalito's incredible waterfront style and to answer questions.
SEPTEMBER 24-25
Muni Heritage Weekend
Citywide
Featuring vintage streetcars, special cable cars and possibly the introduction of one newly restored vehicle, the event celebrates San Francisco's diverse and fascinating public transit history.
SEPTEMBER 24-25
Bay Area Blues Festival
Main Street, Alhambra to Court Streets, Historic Downtown Martinez, CA
Two main stages, a merchant marketplace, arts and crafts, gourmet food booths, chalk art and much more are all a part of this annual homage to San Francisco's blues roots.
SEPTEMBER 25
Folsom Street Fair
Folsom Street between Eighth and 13th Streets, 415-777-3247
The "daddy of all leather celebrations," the Folsom Street Fair is the largest leather, alternative and fetish street fair in the world drawing some 400,000 attendees annually, dressed in leather, rubber, uniforms, drag or very little at all.
SEPTEMBER 30 – OCTOBER 2
Hardly Strictly Bluegrass
Hellman Hollow, Golden Gate Park
www.hardlystrictlybluegrass.com
This free celebration of music in the park includes a who's who of top entertainment.
OCTOBER 2016
OCTOBER 2
Castro Street Fair
Castro Street, 800-853-5950
Arts and crafts booths, live entertainment, dancing and music are all part of the fun at this gay-friendly street festival.
OCTOBER 2
Glide Bridge to Bridge Run
Golden Gate Bridge to Bay Bridge, 415-995-6868
Participants run from the Bay Bridge to the Golden Gate in this seaside 12K and 7K race.
OCTOBER 6
Union Street Wine Walk
Union Street from Gough to Steiner and Fillmore Street from Union to Lombard, 800-310-6563
www.sresproductions.com/events/union-street-wine-walk/
Restaurants and merchants along Union Street offer hors d'oeuvres and wine samples; attendees who wish to sample purchase tasting wristband prior to event and receive wine glass and map with all tasting locations.
OCTOBER 7-10
Fleet Week San Francisco
Aquatic Park and Pier 39, Fisherman's Wharf, 415-306-0911
Fleet Week is the Bay Area's opportunity to honor the nation's men and women of the Navy and marine services. Navy ship tours and air show. Reserved seating and corporate packages available.
OCTOBER 6-16
Mill Valley Film Festival
CineArts@Sequoia and 142 Throckmorton (Mill Valley), Century Cinema (Corte Madera), Lark Theatre (Larkspur) and Christopher B. Smith Rafael Film Center (San Rafael), 415-383-5256
Presented by the California Film Institute, the Mill Valley Film Festival celebrates the best in independent and world cinema; founded in 1978 it has established an impressive track record for launching new films and filmmakers.
OCTOBER 20-23
San Francisco Dance Film Festival
Brava Theater Center
http://www.sfdancefilmfest.org
A four-day event featuring the best dance films from around the world — and San Francisco's own backyard. From feature documentaries on choreographic luminaries to innovative experimental shorts, the festival offers something for dance aficionados and newcomers alike.
OCTOBER 1-NOVEMBER 6
ArtSpan/SF Open Studios
Various locations, 415-861-9838
San Francisco's most exciting artists open their doors to the public and reveal their latest projects, how they work and what's for sale.
OCTOBER 7-15
Litquake
Citywide, 415-440-4177
A San Francisco literary festival showcases hundreds of the Bay Area's finest writers for a week of readings, discussions, films, cross-media happenings and more.
OCTOBER 13-16
Sundance Stompede
Various locations, 415-683-1103
San Francisco's annual Country Western weekend for the LGBT community and friends. Join hundreds of cowboys and cowgirls as they dance their feet off with three days of workshops and three nights of open dancing.
OCTOBER 14-15, 21-22
Grand National Rodeo, Horse and Stock Show
Cow Palace, 2600 Geneva Ave., 415-404-4111
Bareback riding, steer wrestling, barrel racing, saddle bronco riding, team and tie-down roping and bull riding are among the competitive events.
OCTOBER 15
Potrero Hill Festival
Potrero Hill, 20th Street between Missouri and Arkansas Streets
www.potrerofestival.com/
The Potrero Hill Festival returns with a full day of fun, food, music and community activities. There will be special activities for the kids, including a puppet show and a petting zoo.
OCTOBER 15-16
San Francisco Trolley Dances
Site-specific performances parallel major Muni routes; artists and ensembles are matched with specific sites to create 8- to 15-minute pieces in response to the physical environment, architecture and history of the area.
OCTOBER 22
San Francisco Barbecue Festival
The Yard at Mission Rock
www.sfbbqfestival.com/
A celebration of the best Bay Area BBQ, this event includes local BBQ, a beer garden, music, games and the latest in BBQ tech all right in the backyard of AT&T Park.
OCTOBER 27-30
San Francisco Fall Antiques Show
Fort Mason Center, 415-989-9019
The oldest continuously operating international antiques show on the West Coast. The show includes 60 distinguished antiques dealers from America and Europe selling a broad range of antique merchandise.
NOVEMBER 2016
NOVEMBER-JANUARY
Illuminate SF
Citywide, 415-391-2000
More than a dozen permanent as well as temporary eco-friendly light art installations transform San Francisco nights into a citywide gallery of light. Tours and events based on these public art installations invite visitors to "embrace the power of light."