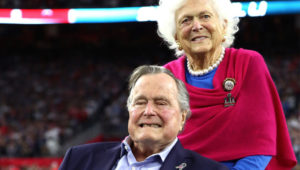 "I'm not surprised that George Bush is in the hospital" says David Kessler, grief expert and co-author - protégé of Elisabeth Kübler-Ross. 
Broken Heart Syndrome is real. Most of us experience it after a major loss. A few of us die from it. Hopefully, George Bush will pull through. 
Grief of Barbara's magnitude is likely to have compromised George Bush's health.
David sees this all the time in long term married couples. The loss of Barbara after 73 years has to take its toll.  One person dies, and then the other spouse follows. 
One of the biggest risk factors is age. It appears that most people who have broken heart syndrome are older than 50.
Countless people have it and it is undetected. Despite its serious presentation, it is usually reversible. The heart ventricle typically returns to normal

within 14 days

, and most patients recover with no long-term heart damage.
David has spoken before on Broken Heart Syndrome when Debbie Reynolds died soon after her Carrie Fisherdeath. 
David's work has been featured on CNN, NBC, Fox, PBS and Dr. Oz. He is founder of www.grief.comwhich has over a million visits yearly from 167 countries.