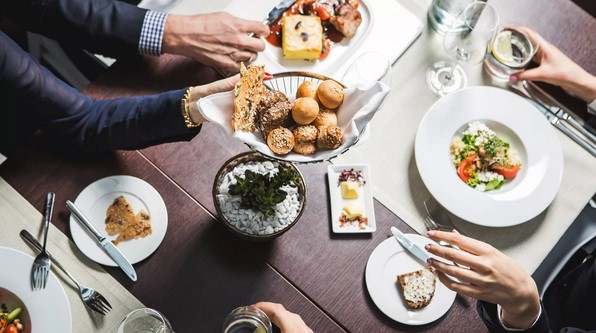 A busy lifestyle has become a norm for a lot of people these days and such a way of living comes with its own problems. We have to sacrifice some activities like having proper meals or going out with friends to save time and do the most amount of work possible. And you can't lead your life like that for a long time without there being any consequences regarding your mental or physical health. Therefore it is better to work on preventing these complications from happening. And a healthy balanced diet may be the main key to being a very efficient worker and staying in touch with your family and friends at the same time. Here are a few recipes that can help you have the best of both worlds.


Both vegetarian and vegan diets are on the rise of popularity right now. And there are quite a few proven health benefits of having less meat and animal products in your diet, including lower risk of diabetes, hypertension and obesity. It's also a lot easier to incorporate vegetarian meals in your everyday life than it may seem. You can simply cook the meatless versions of your favorite dishes!
Vegetable lasagna with white sauce
is a great example of a vegetarian dish that will satisfy any meat lover. There are also some ways to make the complicated process of making it quicker and more efficient. You can freeze grated parmesan cheese and use frozen vegetables for the filling.


Start by cooking the lasagna noodles according to the package instructions. Then make the béchamel sauce using milk, butter, shallots, spices and cheese. Sauté the vegetables of your choice and assemble the lasagna. You can freeze the leftover lasagna for later uses in an airtight container.


Business lunches are a much more common thing today for people of different professions. They also hold a lot of power because even decisions made in a more relaxed atmosphere, like a café, are still valid and important. And it would certainly be awful if such a meeting was ruined by something rather insignificant like poor quality food. That's why if you ever hold a business lunch in your office and you want to make a good impression on your colleagues and guests, make these
Nutella cookies
. They may seem a bit childish but that's the thing – all adults are grown up kids and all they need sometimes are comforting sugary snacks to lift their mood.


Start the dough by mixing all the dry ingredients and then beating butter, sugar, eggs and Nutella together in a stand up mixer. Combine everything and refrigerate overnight. In the morning, form the cookies and roll them in chopped up hazelnuts. Bake for 12 minutes and enjoy this wonderful dessert!


If you want to eat healthier but your lifestyle is way too hectic for you to have proper meals all the time, good quality snacks are in order. Take these
protein cookies
, for example. With just a few ingredients, low sugar yet high protein content they make for a quick and delicious on-the-go snack. Start by mashing some ripe bananas in a bowl and mixing them with oats, protein powder and peanut butter. Then if you want, add dark chocolate chips for more sweetness. Bake for 12 minutes and enjoy some of these healthy cookies that are also completely guilt-free!