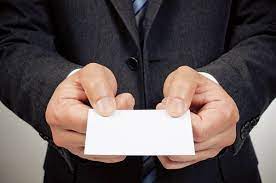 Almost all businesses nowadays have a business card. Business cards are important to easily showcase your brand, yourself, and your business. However, not all business cards are made the same. Some business cards are boring and never say anything about the business.
The major reason for a business card is to remind the card recipients of the company and the value it can add to their lives or businesses. The best business cards need to tell a story of you, your business, and your expertise.
Whether you're in the business of creating business cards or want to make your first business card, then this article is for you. We are sharing with your four creative suggestions to help you make your first business card stunning.
https://www.spaceprint.com.au/product-category/business-cards/ is your ideal company when you're looking to create your first business card.
1. Orientation and size
The size and orientation of the business card is the first thing you must consider. Orientation can be divided into the landscape, portrait, and square or special cuts.
The landscape format is the most common for most business cards. This format is quite easy to print on any printer. It is also easy to read the cards when sitting in a cardholder. However, landscape cards are way too common and hard to stand out from the competition.
We also have the portrait format which delivers a cleaner and more elegant appearance. Cards in a portrait format look great and are easy to print using any printer. However, the layout in this format is a little hard to read.
Lastly, you can choose the square or special cut design. This format is truly unique with a catching eye design. However, not all printers can print unique shapes. The cards are also difficult to fit in a business cardholder.
Make sure you consider the business personality and choose the right card orientation.
2. Material
Next, you need to decide on a suitable card material. The choices available include:
Paper – This is the most common material of choice. Paper is readily available in different shades of white. Make sure you choose thick and quality paper that will not fold easily.
Plastic - Plastic is the most durable and will not bend easily. However, plastic is way too expensive.
Stainless steel- This is one of the best materials that allow for more unique cuts at the edges. However, stainless steel is too expensive. It is also difficult finding printers that can print on it.
3. Printing and inks
Business cards can be printed in several ways. Depending on your budget, you can choose from 1 or 2 color printing, 4-color offset printing, 4-color Plus Spot Colors, and Foil Ink.
The 1 or 2 color printing is the most affordable and uses black or gray. Four-color offset printing is the most common using the colors of Cyan, Magenta, Yellow, and Black.
Four-color plus spot is the same as above but adds more colors. Foil ink is also attractive but most printers will not offer foil pressing.
4. Decorative effects and finishing
Lastly, make sure you have a clear picture of how your card will appear. Think of the card decorative effects and finishing. Some of the common decorative to consider include cutouts, emboss, and decorative UV.
Conclusion
Creating your first business card is the first step to branding your business. Let the card speak your business story and expertise.