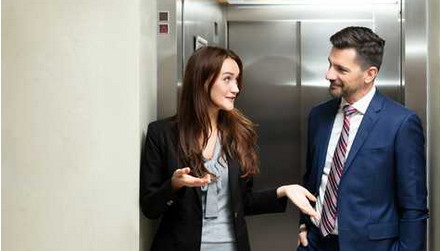 Do you struggle with explaining your career with professional or personal contacts, and you want to make a lasting impression? Whether you're looking for a job or building up your network, a well-crafted elevator pitch can help create a bridge between what you do and your communication. 
Read on to learn how to craft and deliver the perfect elevator pitch. 


What is an Elevator Pitch? 
You can think of an elevator pitch as a quick summary of yourself and what you do. An elevator pitch gets its name because it should only be as long as a short elevator ride–20 to 30 seconds.
This is enough time to give a stranger an impression of yourself, what you do, and the unique benefits you provide. Although these pitches can also be used for ideas and products, they're most often used to describe yourself and your unique brand. 


When to Use Elevator Pitches
Elevator pitches are especially useful at a number of different professional venues and events. They help you create a lasting impression with professional contacts as well as open up conversation opportunities. Here's a brief overview of some of the places you can use them:


Networking Events
Elevator pitches are good at opening up opportunities. Once someone understands what you do, they'll be able to see how your unique talents and experience can benefit them. 


Interviews
Whether you're participating in a video interview or one face-to-face, an elevator pitch can help interviewers understand how you can directly benefit the company. A practised pitch can show that you're aware of your own talents, and the company will get a better sense of how you would fit as a candidate.  


Online Profiles
Many people fail to properly introduce themselves in their online profiles. An elevator pitch can provide a quick way to introduce new followers to your community. It can also be a quick way for recruiters to see if your experience and talents are relevant. 


How to Write an Elevator Pitch 
Now that you know the benefits of elevator pitches as well as where to use them, here's a brief guide to get you going. Remember to pay attention to your body language as well as your facial expression. The way you make people feel also goes a long way in their first impression of you. 


Identify Your Goals
You'll first want to identify your specific goal to write or deliver an elevator pitch. Do you want an easy way to start conversations at networking events? Are you looking for a new job? Once you identify your goal, you'll have an easier time creating a pitch that works for you. Ask yourself what you want your audience to remember about you. 


Introduction
No matter what your goal is, you'll want to begin with a brief introduction. This can be as simple as a smile, shaking hands, and saying your name. An introduction is also important if you're using your elevator pitch on a social media bio. 


Summarize With Value 
You'll next want to summarize what you do while including benefits or value. Remember that if you don't include the benefits of what you do, people normally won't automatically see the value in what you do. You'll also want to make your summary short and sweet.
When you state a benefit that you provide customers, try to make it as specific as possible. Adding data here can pack a punch; numbers and percentages can be memorable if you tie them in with real-world results that a layman can understand. 


Communicate Your USP
You'll also want to communicate your unique selling proposition (USP). Your USP is what differentiates you from competitors. This may come easily to you, but it's normal if this is one detail that you struggle with. You can start by analysing your competitors and considering how your experience, skills, or offerings make you unique.


Engage
You're now drawing close to the conclusion of your elevator pitch. This is where a thorough understanding of your goals for the pitch comes in handy. At this point, you'll want to engage your audience with a question that helps steer them towards your goals. Keep the question open-ended so that you can easily start a conversation around it. 
If you're a graphic designer looking for a job, you can ask, "How does your company engage new leads?" You can see how no matter how they answer, you can tie in the benefits of graphic design with increased website traffic. 


Call to Action
Your call to action will depend on how you're delivering your pitch as well as your goals. If you're posting your pitch on social media, you can end it with a request to follow or sign-up for your email list.
At a networking event, you can end your pitch by handing professionals your business card and a request that they call you if they have any questions. You can even ask if you can follow-up with a call of your own or set up a lunch meeting in the future.


Practise
It's normal to go through several iterations of your pitch before you find the perfect one! Through my work at Bubblegum Casting, I've found that auditions are similar to interviews and elevator pitches. In our audition guide at my talent agency, we encourage aspiring actors to practise early and often in order to get their monologues and actions just right. Casting directors, much like networking professionals, are looking to see if your unique talents are of any benefit to them. 
Remember, practice really does make perfect. 


Making a Lasting Impression 
Once you craft an appealing elevator pitch and practice it, you'll never have to worry about how to describe what you do and who you are again. Your elevator pitch will help open up opportunities that may have been closed to you in the past. Professionals will have an easier time judging the merits of your career as well as what you can bring to the table in terms of employment possibilities.
Even better, elevator pitches are impressive. A smooth delivery shows confidence as well as the ability to take the lead. 
Adam Jacobs is the incredibly busy Managing Director of Bubblegum Casting and Hunter Talent. He works with some of Australia's biggest brands, media properties and agencies to secure talented children to work in Television, Film and Modelling roles. They've recently launched an office in LA too.