Written by

NewsServices.com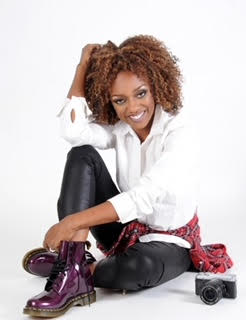 You have and continue to have tremendous success as a "Brand Builder". Tell our readers about how you found yourself in this unique and immensely creative career.
It's  hard to answer this question without giving you a glimpse of my story. Immediately after graduating college, I found myself working in advertising and at the largest, global ad firms, running campaigns for fortune 500 companies like 7-Up, Citibank, Pepperidge Farms, Kraft/Nabisco, Cheerios, Oreo Cookies  just to name a few, along with many non-profits. My feisty and determined personality and with my desire to learn and learn quickly landed me a position at the head of the boardroom table before I turned thirty. I climbed the corporate ladder quickly; becoming senior vice president, account director by the time I was 31. I traveled the world, managing accounts with million-dollar budgets. Most would say "Wow you made it big so young." I would say that the operative words are "corporate and management." Don't get me wrong, I gained a wealth of knowledge and skills during my years in account management, but I was a stifled creatively.  I was choking with creativity that no one cared to listen to because I landed a high-powered "manager" job where people were more interested in hearing me talk about strategy, budget and terms like "the bottom line is", "net net", "I've got a "hard stop", "on a strategic standpoint" and "we'll regroup on that and circle back to you." My job was to sell advertising campaigns whether I agreed on the idea or not. "Smile and push hard, Tricia. We need to sell this campaign, otherwise we risk losing the brand." The pressure was on, and I was slowly...well feverishly dying inside.
The thing is, I knew that every bone in my body was built to be creative. So how did I end up on this side of the fence? I put blame on the fact that as a young, clueless, un-mentored, 21-year- old, freshly out of college and determined to stay in NY instead of going back to Boston, Massachusetts, I was looking for a J.O.B. I did all the right things in college...studied hard, pretty-much lived in the university's television studios, and interned at major networks. Upon graduation, when the rubber met the road and decisions needed to be made, I went for the money.
Fast-forward, I was welcomed into the 6-figure club in my early thirties, and it grew from there. I visited almost every continent and met incredible people. But the people that meant the most to me were the commercial directors and the photographers whose fees were taken out of my brand budget. I would sign off on these incredible fees for these incredibly creative people. I was in awe; not because of how much they were making but because of what they were doing. Dear Lord, I envied them. I studied them. In my dreams, I was them. I would cry sitting in my first-class seat on the way to and from places like South Africa, New Zealand, Brazil, Argentina, Australia. At home, I was praised for being so "successful" regularly by my friends, community, sorority sisters (Alpha Kappa Alpha). So, what does one do? You grin and say "thank you" with the secretly saddest heart you can carry.
So, there I was. I'm married to the most amazing and understanding man in the world. His nickname, which our friends, family and his frat (Alpha Phi Alpha) adopted him as Mr. Fantastic. My then 3-year-old daughter, Skylar, who is a splitting image of me was our family now, but I continue to live out of a suitcase and sitting behind the director's chair.
After a long trip to Shanghai, China, I returned home, desperate to hold my baby girl. She took one look at me and gave me the head nod like I was Brother-man from the 5th Floor...reference Martin Lawrence sitcom show. I was officially fed up with my life. Something's Gotta Give! I was determined to reinvent myself.
In 2008, Toddlewood was born. This was before any other folks started trying their hand at recreating children to look like iconic figures. I started off with my daughter, Skylar as my muse. At 3-5 years old, Skylar was recreated to look like Diana Ross, Tyra Banks, Jada Pinkett Smith in The Matrix and a slew of others. The difference between my work and any others that followed is that I take the image to the next level. From hair, make-up, and customized wardrobe creations, this is what makes Toddlewood great. I taught myself photography and I self- graduated from YouTube University.
One day a friend called to ask for a story on my Toddlewood brand. I reluctantly gave her a short story during my busy schedule. She took it and ran. Then I got a call from a guy named Adam, from the Today Show. But let me explain, I have a lot of prankster friends. So, what would one do when they get a random call from The Today Show producer? You hang up on them. But this time, it wasn't a hoax. Fast-forward and after 6 years, Tricia and Toddlewood has been on most A-list news and pop-culture news shows around the world.
How? It all starts with an idea. Literally an idea that you wouldn't think would go far nor would take off beyond your wildest dreams. Never did I think my idea, you know, the ideas that no one cared to give it a time of day because I wasn't a "creative" while at the ad agencies, would acquire organic media coverage from Access Hollywood, Entertainment Tonight, The View, The Today Show, Huffington Post, Steve Harvey, Tamron Hall and so many more. The secret sauce is consistency, believing in your intellectual property and making sure your product is breaking all the rules. That's what you call "thinking outside the box." Don't talk about it, be about it. Then you've got to scale!
My latest projects "Toddlewood Engineers of Equality" and "Toddlewood TrailblazHER" are two passion projects designed to inspire and empower future changemakers and pioneers. This is my opportunity to make a difference and promote action. Both projects have become coffee table books that are selling and selling well. It's interesting, I've been asked many many years to create coffee table books with my work but not much motivated to go there until the George Floyd untimely death occurred. I am determined to use my platform to become a voice for change and celebrate the legacy of the future change makers that came before us along with present day change-makers.
I'm among "Our Kind Of People" now. I'm an official creative. In January 2021, I took my TV and Film degree and put it to use. I created and produced a new web series called "Foods & Dudes." A cooking, entertainment and talk show (barbershop-style) about Cooking, Culture and Conversation, led by a Black culinary artist teaching men of all ethnicities how to cook, all while engaging in popular, insightful conversation from sports, money, spirituality, relationships and
so on.
To my surprise, Food & Dudes has taken off like Toddlewood. Within the first year, it's garnered media features of NBC Morning news and The Kelly Clarkson Show, not to mention the ask for two of my Dudes to become contestants on the Peacock Baking challenge called "Baking It" which launched December 2021 and still running. You can find all episode of Foods & Dudes on www.FoodsAndDudes.com. My production company, The TMezz Creative Group has 4 other shows in the hopper awaiting green lights. This is a female-driven company, and we are ready to take over.
What advice do you have for young men and women of color aspiring to break into this field?
I would give them my marketing 101 tips. First, come up with an idea that isn't overly-saturated.
That's probably hard to do but there's something uniquely different about your product or service. Leverage that differentiation. Run with it and remember, consistency is key. Since social media is free, you need to understand it and embrace it,  it's not going anywhere any time soon. Use your platform to generate notoriety and attention. Do not give up no matter your age, gender, family situation or other. If your story is wrapped around reinvention, then do just that. The last thing you would ever want is to know that you didn't try.
How do you define success?
I define success with two words...Happiness and Freedom. I finally get to be myself. I often say that I was created to create. My quality of life is what makes me happy.
Success comes in so many forms for so many people. Some think it's about status, some feel it's about how much money you make and while money matters in the world we live in, I also want to be present; I want to enjoy what I do and to be inspired. I want to live to work, not work to live. But let's be clear, if you do it right, you can have it all. I love to travel. I love to see my work influence others in powerful ways, I love knowing that I'm building my empire and my legacy.
My production company, The TMezz Creative Group is doing big things, we've just scratched the surface. By the grace of God, all this is what success looks like to me.
www.Toddlewood.com
www.foodsanddudes.com