Written by

NewsServices.com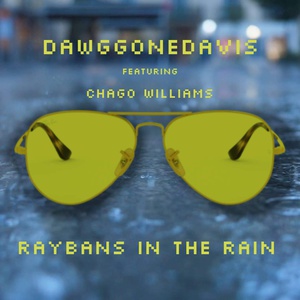 REBECCA DGD ft. Chago. G. Williams

"Raybans In The Rain"
With the release of the electric, hard rockin', uber-infectious"Raybans in the Rain," her fourth single featuring an irrepressible vocal hook by longtime Snoop Dogg producer Chago G. Williams, the Kansas City based rapper, rocker and songwriter long beloved as "DawggoneDavis" announces a name/branding shift – complete with a fresh, dynamic logo - to the simplified "Rebecca DGD."
Her loyal fans need not worry - only the moniker has changed. Rebecca's super cool, offbeat couplets and freewheeling freestyle are still intact and as bold and brash as ever. Thefollow-up to her latest international smash "Boulders Weeping – Cry No More" ft. former Gap Band member and gospel/R&B artist Dorian Paul, which reached #6 on the World Indie Music Chart, "Raybans in the Rain" takes Rebecca full circle back to the smart, fun-filled vibe she launched with in 2018; now with blistering guitar. Once again, she collaborates with the Euro connection she considers her secret musical weapons, German-based producer, saxophonist and multi-instrumentalist HellmutWolf and explosive electric guitarist Romain Duchein.
After a series of edgier, hard hitting socially conscious, pandemic era hits featuring Chago – including "Darkest Hour" (#5 on the Euro Indie Chart), "No More" (#11) and "Clean Slate" (#7) – the song is at heart a Rockin' celebration of summer, Rebecca's favorite season. The virus and its variants unfortunately may still be with us, but that doesn't mean we can't get out there, mingle safely and live our lives to the fullest. Cuz, "we love Rock and Roll."
Walking coolly and confidently through an outdoor mall in Hot July after picking up a pricey pair of Ray-Bans for upcoming photo and video shoots, Rebecca came up with the high-spirited opening lines, "We walkin' round like we da biz/We walkin' around like we da schizz" – and, engaging in her trademark practice of waiting patiently for inspiration to strike, built a narrative of pinballing images that zip in some unexpected directions yet collectively scream out the joyful freedom of grooving hard in the sunshine.
"The rap foundation of the song is a total summer attitude of feeling like I/we are awesome running around with these incredible standard Aviators on," Rebecca says. "Hanging out at the mall, I was doing a lot of peoplewatching, checking out these men and women just strutting around in the sun, looking like and thinking they're badasses. To me, Ray-Bans represent Don Henley's classic 'Boys of Summer,' with those Wayfarers on, baby. As the verses progress, I cover a lot of personal real life stuff, things I've gone through and survived to get to this point where I can declare that I'm free now and happy just being alive and healthy to wear those Raybans whatever the weather may be – starting with the important truth that if you 'Treat me like some dirt, I'm gonna flower." 
Rebecca captures the magic of how she's feeling in some of the brief couplets in the fourth verse: "Summer's come, work is done/music up, buttercups/Tires squeal, this is zeal/Scurry man, in a hurry." She also acts defiant in the wake of assuming her neighbors won't like her blasting music from her car as she cruises down the street: "Bye bye neighbors, with your fists of fury, Yay!" Chago masterfully underscores everything with hiskick-ass chorus: "Ohh, All I wanted is my head up high/I know the sun is gone and I'm all alone/I wear my Raybans in the Rain/Steppin' out, life's about changes/Step around, I scream aloud – "Look at me NOW!"
The rapper's always fertile imagination and well of memories takes us to one of her crappy jobs where she "screwed the pooch" and "put Jesus in it" to help her "multitask" and a volatile relationship ("chasing youth") with a man (Chris) who recently died from COVID. Her eclectic musical taste has her drawing references to everyone from Dobie Gray and Motley Crew to Grace Slick, Joe Walsh, Glenn Frey and Tom Petty to make her fascinating symbolic and metaphorical points. A few examples: "Don't be Dobie Gray wishing time away. . .I should have been with Motley Crew . .Records spinning worn and Slick/By the Grace of Rock. . .Rocky Mountain Way/the Eagles still fly. . .Oh hello, Thomas Earl Petty!" 
Rebecca may have started her unexpected, empowering journey towards the top of the global indie charts with exacting, wit-filled novelties like the autobiographical "Middle Age Woman – Hip Hop Style" and "Butt on Fiya." Yet over the past few years, the supercharged sociopolitical landscape and collective anxiety of the pandemic have demanded a much deeper dive into her ever-expanding artistry.
Keeping her wit and clever turns of phrase intact, she quicklyevolved into a hard-hitting chronicler of the times we live in, breaking through in 2020 and early 2021 with a total of five international hit singles. Besides the Chago featured hits, her 2020 smashes included "Judge Not Rap Yes" (which hit #3 on the Euro Indie Music Chart), "Weight of the World" (which debuted at #4) and "Checkered Future." The re-release of her poignant yet whimsical perennial holiday track "Here Comes Santa Dawg" topped them all, peaking at #2.
With her hilarious, erudite, self-effacing and no holds barred approach to baring her soul, Rebecca's tracks since her emergence in 2018 have received spins on an astounding 4600+ terrestrial, internet and satellite radio outlets throughout Europe, Asia, South America and the United States. Each of her songs has risen quickly on the World Indie Chart and Euro Indie Chart. Though definitely taking life and her career one compelling single at a time, in 2019, the the multi-talented performer compiled her first nine hits into a collection perfectly titled after her respect and passion for Neil Diamond music, Hot DawgestNight. Rebecca DGD has been on "fiya" ever since, recording her raps only when natural inspiration hits and sending them off to Hellmut, who is "so damn good I cannot wait to hear what he comes up with every song."  Now, the second Album is in production to Release in the Fall of 2021.
https://pages.facebook.com/Dawggonedavis/