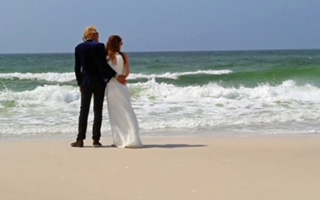 Over the past six months, while storming the charts and lighting up thousands of Rock and Adult Contemporary radio stations worldwide, rising international hitmaker AV Super Sunshine has  invited us to experience an alien abduction ("X-File: 8675309") and a "Super Cool" glimpse of his high school days. On his romantic, high spirited new single "A Wedding Song," he rewards our devoted listening with a joyful invitation to time travel back to 2017 to experience the bliss he and his wife/partner in all creative things Philomena enjoyed on their beautiful wedding day.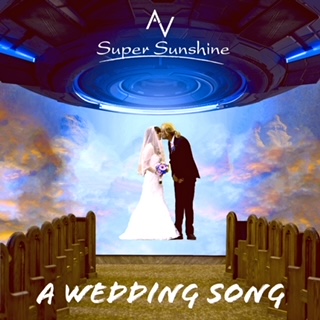 The sweet, upbeat and infectiously jangling track – truly a universal message of hope to a world in desperate need – is the second lead single from the veteran singer/songwriter's upcoming full length album, a rock driven tribute to Lady Gaga's classic EDM/synth-pop collection ARTPOP. Coinciding with its official release date, AV Super Sunshine is set to share acoustic performances of "The Wedding Song" on a multitude of prominent TV outlets, including "CBS Saturday," "The Kelly Clarkson Show," and the "Tamron Hall Show."
The psychedelic rock influenced single follows hot on the heels of AV Super Sunshine's global success with those previous hits. "X-File: 8675309," which adapts the iconic hook of Tommy Tutone's classic "867-5309/Jenny" as the springboard for an otherworldly musical narrative, spun on over 400 stations throughout the U.S. and Europe and hit the Top 40 on the DRT Global Rock Top 40 Airplay Chart – in the midst of the latest tracks by Marilyn Manson, Korn, Five Finger Death Punch, The 1975, Green Day and Blink-182.  
In reaching #6 on the DRT Global Top 50 AC Airplay Chart, "Super Cool" shared the Top 10 with the likes of The Weeknd, Ed Sheeran, Lewis Capaldi, Justin Bieber, Post Malone, Harry Styles and Taylor Swift. Testament to its cross genre appeal, the song also hit the Top 25 on the DRT Global Top 50 Rock Airplay Chart, alongside hits by Daughtry, Papa Roach, The Black Keys and Green Day.
Hooking our ears immediately, "The  Wedding Song" finds AV Super Sunshine wishing he could go back and be an attendee at his own wedding: "I wish we could be at our wedding on our wedding day." As the tempo kicks up, he wants to spread the love and happiness he and Philomena felt to everyone in attendance and friends who were unable to join them: "And paste happy hearts to all the smiling faces/Paint the whole sky blue for all who couldn't make it/Then give back all the smiling faces/Yes, give back to all the smiling faces/Our face amongst them smiling too." In the soulful interlude, as the groove intensifies, he restates his vow to Philomena "Cause I love you/I say I do." When he listens now, he envisions a trippy Peter Max styled Beatlesesque cartoon showing all those smiling faces.
"A Wedding Song" and the other tunes that will appear on AV Super Sunshine's  Art Rock tribute are inspired by the fascinating friendship that AV Super Sunshine cultivated on social media with Lady Gaga (Stefani Germanotta) in the Summer of 2014 during her "ARTPOP" tour. "I became friends with her on several of her pages," he says. "There, we talked about the music industry and songwriting. Often, we would try to entertain each other with song lyrics. Having never met the artist, I studied both her musical accomplishments as well as the lessons she has shared, looking for similarities in my own life and experiences.  In this way I was able to pen lines and songs that would be meaningful to her as well as myself. It was a lot of fun."
When AV Super Sunshine originally penned the bulk of the songs for the upcoming ARTROCK tribute, he included a tune called "Spider Wedding." He ultimately decided to put that song on his 2016 collection Bass Face because he felt the lyrics weren't inclusive enough for the Lady Gaga inspired project. Since most of Gaga's themes on ARTPOP revolve around love and because it was during her 'Art Pop' tour that Gaga became engaged to actor Taylor Kinney, AV Super Sunshine felt that his project still needed a wedding themed song.
"I like to write songs and lyrics which are real to me," he says, "words that I will be able to sing for the rest of my life because they are true. When the opportunity came up a few years ago to write another wedding song, I took it.  Philomena and I were celebrating our first wedding anniversary and the gift theme was paper.  I'm not much good at paper crafts so I decided to write her a song.
"As a gift, a wedding song made sense," AV Super Sunshine adds. "Philomena and I had reminisced many times during our first year of marriage about how much we enjoyed our wedding ceremony and reception and how great it would be if we could relive the day's events with our friends and relatives. This gave me the idea for a new wedding song that that could be relevant whether you are single looking forward to your wedding day or if you are already married and looking back at the day in fondness and remembrance.  A joyous song of celebration with no gender references helping make it truly universal. It's a song which captures the way Philomena and I feel looking back at our joyous day – and it's also a song for anyone who has ever experienced or will experience the simple joy weddings bring."
A Wedding Song  
Words and music by AV Super Sunshine 
I wish we could be at our wedding on our wedding day I wish we could be at our wedding on our wedding day Yes on our wedding day 
And paste happy hearts to all the smiling faces Paint the whole sky blue for all who couldn't make it Then give back all the smiling faces 
Yes give back to all the smiling faces 
Our face amongst them smiling too 
Our face amongst them smiling too 
I wish we could be at our wedding on our wedding day I wish we could be at our wedding on our wedding day Yes on our wedding day 
Cuz I love you 
I say I do 
Yes I love you 
I say I do 
You say it too 
I wish we could be at our wedding on our wedding day I wish we could be at our wedding on our wedding day Yes on our wedding day 
And paste happy hearts to all the smiling faces Paint the whole sky blue for all who couldn't make it Then give back all the smiling faces 
Yes give back to all the smiling faces 
Our face amongst them smiling too 
Our face amongst them smiling too 
I wish we could be at our wedding on our wedding